When Marlon Brown committed to the University of Georgia, it was broadcast live on ESPN. His entire high school was present.
According to Rivals.com, Brown was the fifth-best wide receiver in the country, and No. 53 overall in the 2009 recruiting class.
When Brown was just a freshman on Georgia's campus, he was an instant celebrity, expected to be the next A.J. Green, a Georgia receiver who went on to be the fourth-overall pick by the Cincinnati Bengals and an immediate Pro Bowler.
"It was pretty crazy," Brown recalls. "I would be on campus and people would stop me and ask to take pictures."
But Brown's college football career didn't play out the way he or others expected.
Nagging injuries limited him, and were just the precursor for a torn anterior cruciate ligament (ACL) that ended his college career. Brown never lived up to the lofty college expectations set forth for him at Georgia, and went from a five-star recruit to undrafted.
So how has he become a starting wide receiver for the Baltimore Ravens and the first rookie in franchise history to score a touchdown in each of his first two games?
The twists and troubles never shook Brown's conviction that he was going to be in the NFL. And when Jacoby Jones suffered his knee injury, a healthy Brown at long last found his opportunity.
He's finally showing his great potential.
"I was never going to get down on myself and give up," Brown said. "I knew that if I got a shot in the NFL, I would thrive there. I knew eventually people would be like, 'There's Marlon.'"
It's easy to see why Brown drew comparisons to Green. At 6-foot-5, 205 pounds, Brown's long and lanky, yet explosive. His long strides eat up yardage, and give him deceptive speed.
As wide receiver Torrey Smith simply said, "He's a playmaker."
Brown played with Green for two seasons in Athens, Ga., and entered his junior season looking like Green's heir.
He had a strong summer camp, but in the final week of practice for the season opener, Brown badly sprained his ankle. He also had a groin injury and separated the acromioclavicular (AC) joint in both of his shoulders. He only missed three games, yet made just 15 catches for 234 yards and three touchdowns.
"I was feeling 60-70 percent all season," Brown said. "I was playing on one ankle."
Brown again entered his senior year with a lot of hype after another superb summer. But on the final day of practice before the season, Brown pulled his hamstring. He thought, "not again."
Brown sat out the first game of the year, then came back with eight catches for 106 yards and two scores the next week in Missouri. Two weeks later, he caught five passes for 114 yards and a score. On Nov. 3, he hauled in three passes for 113 yards and a touchdown against Ole Miss.
He was finally blossoming. That was until Ole Miss safety Trae Elston went low and careened into Brown's left kneecap with his helmet.
Despite the fact he was almost immediately taken to the hospital still wearing his cleats, Brown thought he had yet another minor injury. That same night, as his teammates went out to celebrate a big win, Brown got the news from the team doctor.
His ACL was torn, his college career was over, and his expectations of being drafted into the NFL were likely gone.
Brown thought the team doctors were joking with him. After all the injuries he went through, an ACL was simply unbelievable. Then he saw the look on the doctor's face was unflinching.
Brown walked back into the empty locker room. By himself, he cried for 10 minutes.
"I told myself after those 10 minutes that I wouldn't cry anymore," Brown said. "It happened. You've got to deal with it. If you want to achieve your dreams, you have to work hard for them."
The very next day, Brown started doing rehab to get his body ready for surgery. He went under the knife the next week, and was out of the hospital the next day. Doctors gave him the option of staying in the hospital a second night, but he declined.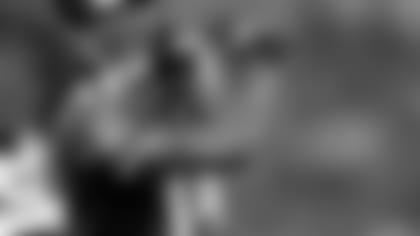 "Let's go to rehab," Brown said. "I want to get up out of here."
Brown went to the NFL Scouting Combine only to interview with a few teams, including the Ravens. He only bench pressed at his pro day. But he was still convinced that he was going to end up making it in the NFL.
"When I got hurt, it didn't change anything," Brown said. "The only thing it changed was that I wasn't going to get drafted. I was still going to play in the NFL."
The Ravens called Brown first after he went undrafted. But they offered the same signing bonus as the Texans, and Brown thought his chances of making the team in Houston were better.
Brown flew there only to find out Houston just wanted him on a tryout basis, declining to sign him until later in the summer when they could see how much progress his knee made. Harbaugh called the next day, and Brown told him, "Let's go."
Brown was signed on May 14, and went straight into rehab. He would wake up at 5:30 a.m., and sometimes beat the trainers into the team facility.
Brown was sidelined for nine months. As other rookies were making their impact in rookie camp, organized team activities and minicamp, Brown could just watch. He didn't get on the field until early in training camp.
"I think the best thing about him is just his toughness," Smith said.
"He tore his knee like a month after [Lardarius] Webb and [Darrelle] Revis and all those guys, and he didn't get the luxury of being eased in. They just threw him out there to see how he'd respond, and he did a great job, and I'm proud of him. He's a hard worker."
Ravens Offensive Coordinator Jim Caldwell's phrasing of Brown's return to the field was interesting. He said he was "released," as if a caged animal was suddenly on the loose.
That's how Brown has played. Caldwell said he could almost instantly tell that Brown was somebody that could make the team and help this season.
"You can see that he can certainly run, catch, and he was a big target. Not only that, he was a guy that could catch on quickly," Caldwell said.
"He does a very tremendous job in terms of grasping things quickly, at multiple positions no less. He works hard at it. Not only that, he has aptitude. You tie those two together and you have a guy that's going to be able to step in [and] play pretty early for you."
After sitting out the Ravens' second preseason game because of his knee, Brown had his coming out party in the Ravens' third, and most important, preseason game. He showed more chemistry with quarterback Joe Flacco than most of the team's other wide receivers.
"I think he's a good player, and I think he's going to have a good future for us," Flacco said.
Brown scored a touchdown against Carolina, then another in St. Louis.
He scored a 13-yard touchdown in Denver on an option route in which he had to read the defense and adjust accordingly. The timing with Flacco was perfect. Then Brown scored a key 5-yard touchdown against Cleveland by hauling in a tough pass just outside the goal line and diving in.
Counting the preseason, Brown has scored a touchdown in four straight games.
"It wasn't too big for him," Harbaugh said. "We're looking forward to seeing how he develops. We're kind of excited about it."