Rashaan Melvin has come a long way in one month.
A few weeks ago, he was an unknown name at about the bottom of the Ravens' roster – an undrafted prospect who had bounced around practice squads and never played in an NFL game.
Now the 25-year-old cornerback has the attention of future Hall of Fame quarterback Tom Brady.
Melvin injected much-needed life into an injury-riddled secondary, getting his opportunity to play after a cornerback carousel that saw the Ravens run through seven different starters because of injuries or ineffectiveness. He's now become entrenched in the starting lineup, and has helped elevate a unit that desperately needed somebody to step up.  
"He's really settled down that position," Brady said this week.
Melvin has started the last three games and played nearly every defensive snap since Asa Jackson went down with a season-ending knee injury. Opposing quarterbacks have tried to test Melvin – teams have thrown his way 22 times, according to Pro Football Focus – but he's allowed just 10 catches for 106 yards and no touchdowns.
Melvin's rise from the practice squad, to the roster bubble, to a starting role has come rapidly and by necessity. Like many players who toil at the bottom of NFL rosters, Melvin has waited for his opportunity to simply get on the field, and now he's out to prove he belongs.
"I want to make sure that everyone remembers me," he said. "There are a lot of people that don't know me already. 'Who is Rashaan Melvin? Who is that guy? Why is he out there? Can he play ball?' At the end of the day, I'm proving myself right."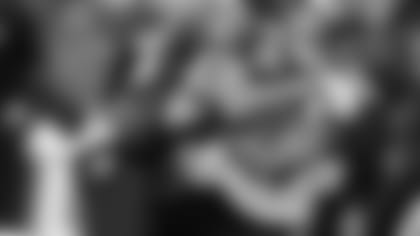 Melvin's path this season has followed a familiar script to his college career.
He was a walk-on to the football team at Northern Illinois, and it took him two years to earn a scholarship.
But once he got an opportunity, he capitalized.
The year after getting a scholarship, Melvin played in every game. The next year he took over as a starter and became one of the school's most decorated cornerbacks over the next two seasons. 
"I don't think he saw himself as a walk-on," former Northern Illinois Defensive Backs Coach Richard McNutt said. "That was the reality, but ever since I've known him, he's always seen himself as a starter. He's always seen himself as a player.  When you exude a certain level of confidence, it's going to come out in everything that you do. And it definitely came out in his play."
Melvin has never been short on confidence, a key attribute for a cornerback.
Even when he went undrafted in 2013 and watched 31 corners get picked ahead of him, he was sure a team would give him a chance.
"At the end of the day, that didn't matter to me," he said. "I just needed an opportunity."
Melvin's first opportunity came with the Tampa Bay Buccaneers last year, and he ended up spending the season on injured reserve. He came back this year and earned a spot on the 53-man roster out of training camp, but an ankle injury kept him on the sideline the first two games.
The injury needed about two months to heal, and the Buccaneers needed the roster spot. Melvin was handed his walking papers and had to rehab his ankle before getting another shot.
"Before I left, they all told me that I was special," Melvin said. "My whole mindset was that I could play in the league – I just had to be healthy enough to be able to go on the field and produce."
After five weeks of recovery, Melvin was ready to play and got a chance on the Miami Dolphins practice squad. Just 11 days later, the Ravens had a need in the secondary and gave Melvin a shot. They signed him to the active roster, and after four weeks of practice he was thrust in the lineup with Baltimore in the midst of a playoff push.
"I truly believe that proving myself right motivates me to become great whenever the opportunity comes," Melvin said. "I was always taught as a kid from my dad, 'Make sure everyone remembers who you are.' That's the reason why I step on the field, it's so hard for me to come back off. I'm playing to prove myself right. As a person, I take pride in proving myself right."
Melvin immediately made a difference when he stepped on the field in Week 15 against Jacksonville.
He had tackles on the first three defensive snaps of his career. He then broke up a third-down pass to force a punt. As he jogged over to the sideline, Melvin gestured for the M&T Bank Stadium crowd to get to their feet, showing off that confidence.
"It helps when you have success early," Defensive Coordinator Dean Pees said. "I think that built up confidence and he felt good about himself. He knew the other guys around him felt good and confident in him. And that's half of playing defensive back."
He hasn't backed down since.
"Am I surprised? Yeah, I am surprised," veteran cornerback Lardarius Webb said. "He'd never played in the NFL before. So when he came in for his first time, I didn't realize that his level of play would start off so high."
Melvin has drawn comparisons to former Raven Cary Williams, who started every game at cornerback during Baltimore's run to Super Bowl XLVII. Melvin (6-foot-2, 193 pounds) and Williams (6-1, 190) are both long, lean cornerbacks who worked their way up from the bottom ranks of the NFL.
Williams carved out a starting role for himself during his four years in Baltimore, and eventually went on to sign a big contract with the Eagles.
"Cary was a practice squad guy who came in on special teams, and got his way up, and then started to be lockdown. That's how I see it with [Melvin]," Webb said. "The sky is his limit." 
Melvin has a ways to go before reaching that point, but he's off to a strong start.
He played tight defense against quarterback Ben Roethlisberger and the Steelers' top-ranked passing offense in a wild-card victory, and now has the biggest test of his career going up against Brady and company.
"I focus on what I need to do," Melvin said. "I focus on my assignments, my keys, all the small details of my game to make sure that when I step on the field I'm able to compete at a high level."