It was a school night when teenage Pernell McPhee was walking across town in the projects of Pahokee, Fla. with his homeboy around 3 a.m.
Suddenly, McPhee's grandma burst out of a house and started yelling. She was drunk, says McPhee, and didn't know her grandson could see and hear her.
But she said something that night, something so awful that it changed McPhee's life. Even now he couldn't bring himself to repeat it.
It was then that McPhee knew he needed to get out of the place not-so-affectionately called "The Muck."
"My homeboy said, 'Did you just hear your grandma?'" McPhee said. "After that, I just started praying and reading the Bible."
There are a lot of NFL players raised in rough, poor neighborhoods without a father around.
Then there's Pernell McPhee.
When fans watch him relentlessly chase down quarterbacks, when they see the way he plays the game with an unmistakable hunger, it's because McPhee came from worse than most can claim.
And he never wants to fail for risk of falling back into it.
McPhee grew up in his great grandma's, Lela Osborne's one-bedroom apartment in the projects. She's not the same lady that came out yelling crazy things. There were six people living in that house – sometimes eight. McPhee slept on the floor many nights.
He routinely woke up on school days to the splash of ice cold water in his face, courtesy of Osborne. He ate a grilled cheese sandwich and walked out of the house with $2 in his pocket to get him by till dinner or beyond.
McPhee had three pairs of jeans and $5 5-XL black T-shirts that he wore nearly every day. He wasn't in a gang, but black and blue were his project's colors.
There were six people in that single-bedroom apartment living on one paycheck, which came only once a month. His great grandma was the "candy lady" on the block, selling candy and snacks out of their apartment to get a little extra pocket money.
McPhee didn't like going to school. He liked chilling on the streets smoking marijuana a lot more – something seen on many corners in Pahokee. McPhee says he smoked from ages 13 to 17. His high school football coach nicknamed him "Smokey."
McPhee's happy to say he hasn't touched it in seven years.
"I used to smoke marijuana all day every day," McPhee said. "I used to go to church high."
If he wasn't hanging out, he was fighting – somebody, anybody.
"You can't go out the door without fighting in Pahokee – a real fight," McPhee said. "I used to fight every day. I lost some and I won some. You from a project, I'm from another project, we see each other in school and we fight. That's just how it is."
He fought off attacking dogs, he jumped fences into a nearby canal that was also a hangout spot for alligators. In February of 2012, McPhee's cousin was found dead in that same canal. Five months later, a woman he considered a sister was shot and killed in her car.
But McPhee managed to avoid death (he laughed when he said he was once shot at) and some of the other major pitfalls that many kids in Pahokee fall into.
"I never carried around a gun, I never sold drugs, I never stole," McPhee said. "I stole from my grandma, but that don't count. I never robbed anyone."
Osborne, 81, was the source of light in McPhee's life. When the darkness around McPhee could have hardened him (and it did in a way), Osborne kept his heart soft.
McPhee first ran away to her house when he was 8 years old. His mother was giving him another beating – this time with a belt – when he reached up, snatched the belt and ran. He didn't go back.
McPhee lived with Osborne for the next eight years. She introduced him to his deep faith, and constantly tells him to "keep Jesus on his side." She's his best friend, and it's easy to see why. She has nothing but love for him.
"Trouble?" Osborne said when asked about McPhee's childhood. "I don't remember him getting in trouble. All I remember was that he was a very nice, sweet guy. He didn't talk back no matter what you said to him."
While Osborne's love helped keep McPhee out of major trouble, it was his high school football coach, Rick Lammons, who helped get him out of Pahokee. Lammons had watched McPhee grow up on the streets and knew he was capable of more.
"Pernell was one of those kids who was never a problem child or anything like that," Lammons said. "It was just that he wasn't real sure what he wanted to do. So I went and* *introduced football to him."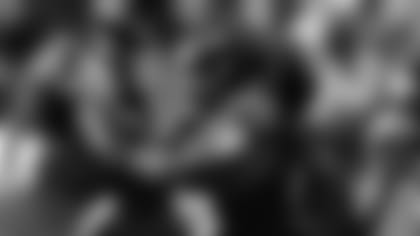 McPhee wasn't academically eligible to play football until his senior year of high school. He still practiced every day throughout his junior year, knowing he couldn't play in the game.
"That following year, his senior year, he played and dominated," Lammons said. "He straight dominated every single game."
McPhee became an instant team leader, not by way of his words but by his actions and constant hustle. Lammons prided his team on being the best conditioned in South Florida. They ran 40 to 50 100-yard sprints every day in practice. McPhee never complained. He was always out front.
For a boy that once had no aspirations, Lammons and football gave him a purpose. Lammons taught him the value of hard work. He preached to him that accomplishments grinded for are appreciated by the player and everybody else. Those simply given are not.
"It hit me. 'Yo, wake up man, or this is going to be where you're going to be for the rest of your life,'" McPhee said. "I never thought about my future. I never cared about it. When I was able to play football I just took full advantage of it. I went and raked shop every *day. I went hard *every day."
After high school, McPhee went to junior college, where his gifted athleticism and high motor caught the eye of major recruiters and led to a transfer to Mississippi State, where he again quickly became a team captain. The Ravens drafted him in the fifth round in 2011. They saw his hunger.
"We didn't know what he was, but we knew he was one of us," Linebackers Coach Ted Monachino said. "There is still an element of toughness and nasty in this game, and he's got that in major, major amounts. He can wreck games."
While McPhee had a standout rookie season with six sacks, injuries set him back the next two years. Finally healthy, he came into this season at the Ravens' deepest position on the roster with the goal of ripping away playing time from Pro Bowlers Terrell Suggs and Elvis Dumervil.
After all, after McPhee's two sacks last Sunday against Atlanta, he said, "If you ain't selfish, then you'll never be great. All of us out here are trying to eat."
In his fourth year, McPhee is having his most dominant season yet. He lines up both outside and inside, standing up and with his hand in the dirt, wrecking tackles, guards and centers alike. He's rated as the fifth-best outside linebacker in the NFL by Pro Football Focus (PFF).
"As a pure rusher, he's probably one of the better ones I've seen," said Dumervil, who leads the Ravens with seven sacks. "He's probably got a better finesse game than me. There's a move that he does that I can't even attempt to try to do."
McPhee has four sacks this year. He's running, running away from those Pahokee streets.
"Every day, I wake up and say, 'No matter what, I'm not going back for good,'" McPhee said.
McPhee still does go back to Pahokee during the offseason. He goes to that same one bedroom apartment, still argues with his great grandma over sleeping arrangements. She insists he takes the bed. McPhee says he ends up on the floor.
"A lot of guys are scared to go back to Pahokee. I go back because it makes me hungry," McPhee said.
"You ever seen crabs in a bucket? When one tries to climb up, one drags you down. That's how our city is. When I go there, they don't know what my intention is. I go there to feel that. I go into every game pissed off. The only thing I have to do is think about my little city. I'm pissed off about all the crabs trying to grab me."
McPhee probably won't ever have to move back to Pahokee. The buzz is starting that McPhee is pricing himself out of the* *purple and black, and may be in for a big payday.
McPhee is in the last year of his rookie contract, and teams around the league are more than happy to pay for pass rushers. McPhee could be headed down the same path as Paul Kruger (Browns) and Dannell Ellerbe (Dolphins) from two years ago.
And if he does, McPhee knows what his first order of business will be: getting great grandma.
"If I get one of those big checks, if the Lord blesses me, I'll go back into that neighborhood, grab that short little lady, and say 'Get in this car,'" McPhee said. "My baby's moving in with me."