Joe Flacco and Terrell Suggs were on opposite sides of the field.
The first-team defense was winning the day, and Suggs was making sure Flacco's unit knew it.
"Don't be mad because our swag is on a thousand million," Suggs yelled.
Flacco wasn't going to back down.
"Then what's my swag at?" he called back. "I get paid more than you. A lot more!"
And with that, Ravens training camp burst into laughter. Suggs, teammates, coaches, fans – everybody – was cracking up. Even Head Coach John Harbaugh couldn't hide a smirk.
Who's the leader of the Ravens now that Ray Lewis is gone? It's obvious.
"I am the leader," Flacco said. "Whether you believe that or not plays into what you think my personality is.
"I think I'm born to be a leader. I think that's why I play quarterback. I think that's why we have a good team."
Flacco has long been viewed as blasé Cool Joe.But he's also long been misperceived.
He has had leadership in his bones for a long time. It's just that people haven't seen it.
Flacco is never going to "Squirrel Dance" into M&T Bank Stadium to get his teammates and fans amped. But after winning Super Bowl XLVII, he has more confidence to show the person his family, coaches and teammates have long known to the rest of the world.
"When you're a rookie, it's different than when you're a Super Bowl-winning quarterback," Head Coach John Harbaugh said. "He's done such a great job every year of reading what he needs to be and applying who he is that way, which to me is a great gift."
'Prove To Everybody That I Could Play'
When Flacco came to Baltimore as a rookie in 2008, he had to focus on commanding respect from iconic Ravens before joining them as leaders.
Looking across the line of scrimmage, Flacco saw Lewis, Suggs, safety Ed Reed and linebacker Bart Scott to name a few. Even on his own side, there were veterans such as tight end Todd Heap, wide receiver Derrick Mason and running back Willis McGahee.
"My first job was to come in here and prove to everybody that I could play," Flacco said. "I didn't want to come in here and act like a big shot."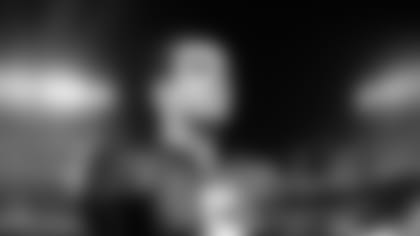 When Flacco came to Baltimore as a big-armed, first-round pick out of Delaware, he still had some convincing to do. Suggs, among others, had seen quarterbacks come and go in Baltimore, including first-round pick Kyle Boller.
Instead of calling him "Flacco," Suggs dubbed him "Falco," the name of the quarterback on the 2000 sports comedy film, "The Replacements."
Suggs campaigned for backup quarterback Troy Smith to be the starter, and when Flacco won the job, Suggs still called for Smith to get on the field. The Ravens created a Wildcat package for Smith, and dubbed it the "Suggs Package."
"One thing that you need in this league is a quarterback who's confident," Suggs says. "And I think when he first got here – that's how he got the name 'Cool Joe' – he maybe was a little reluctant to be himself and didn't let his personality shine. He found out pretty quick that he was in a locker room with guys that welcome that. We want you to have swagger."
Flacco gets his swagger from winning. And to win, he had to get good.
The rookie became an immediate starter and helped push the Ravens to an 11-5 regular-season record and an appearance in the AFC championship game.
"That's how he got my trust," Suggs said. "When you've been to the playoffs every year that you've been in the league, that's unique. Some of the greatest can't even say that."
"He gets respect for his prowess," Harbaugh added. "That's where it starts."
'Behind-The-Scenes Leader'
Unbeknownst to outsiders, as Flacco became more entrenched in Baltimore, and as the wins piled up, he expanded his behind-the-scenes leadership position.
Now that he had his teammates' attention, it became about building a bond with them.
"Any great leader is a great behind-the-scenes leader, because leadership is one-on-one. It's relationship –oriented," Harbaugh said.
Flacco has nurtured his relationships on the team. He sits in the middle of the Ravens' locker room, chatting with players of any position as they saunter by. He's on the cornhole boards just as much as the next guy (except the specialists).
"The relationships that we build around the locker room and that we build here in lunch time, they go a long way," Flacco said. "It's being one of the guys, and at the same time making them trust you."
Building trust also happens on the field, sometimes when things aren't going right. It's not just that teammates have to trust Flacco to do his job. They have to trust that he believes in them.
Growing up, Flacco and his father would watch quarterbacks on television and would see them yell at receivers for making mistakes. To them, that was only for the quarterback's benefit. It made it look like it wasn't their fault.
"You're a quarterback," Steve Flacco told him. "You've got to be big enough to live with that. You go to the sidelines, pat them on the [butt] and say, 'Hey, you're supposed to run an out there. You know that.'"
That's how Flacco handles errors.* *He doesn't yell at his teammates, at least not often. He'll often walk off the field with a player, simply talking to them about what happened. If a receiver is dropping passes, he'll frame it as a "we" problem instead of calling them out individually.
"It's a small thing, but it matters," wide receiver Torrey Smith said.
'Not Taking Crap From Anybody'
Steve remembers one game when Audubon High School put in some of its bench-warmers and kids on the other high school team started picking on them. Joe, who wasn't too keen on lowering the boom, starting cleaning house.
"Joe was the first one over there to bowl over the guys who got involved with that," Steve recalled. "He was saying, 'You're not pushing my guys around!'"
That's still a sentiment Flacco carries to this day.
There's daily communication between the team and coaches. While much of that happens without the blink of an eye, there are times over the course of the season when messages go through the leaders. Flacco has taken a prominent place on the team's leadership council.
"I've had conflicts with John. They're not bad conflicts, but they're conflicts," Flacco said. "Sometimes it's when maybe John is getting on the offense a little bit. Well that's my group, and I've got to step up and make sure John realizes I'm not going to take [crap] from anybody.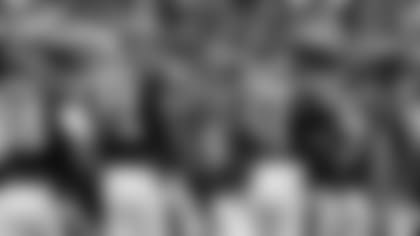 "When guys feel like somebody steps up, they're like, 'Wow, I can't believe he did that.' It's just another way to gain that trust."
Harbaugh said Flacco has challenged him like that since early on in their five years together. They've built that kind of strength in their relationship that they can handle it.
Flacco described it as being like a family. No matter what's said, everybody knows it's coming from a good place.
It goes both ways too. Other times, Flacco stands up to his own teammates in delivering the head coach's orders. Harbaugh said Flacco has been a very valuable asset in terms of team communication.
"Even if you agree with the guys in the locker room, sometimes you have to say, 'Hey man, this is John's way, and this is what we're going to do. I'm not listening to your sob story,'" Flacco said. "There's a fine line with that where you can gain respect from both sides."
One of the first public displays of Flacco's fire came in 2010 when the Ravens were playing in Carolina.
Mason was upset about Flacco not seeing him come open on a key third down. Rarely one to bite his tongue, the veteran receiver demanded to know what Flacco was looking at. Flacco jawed back at him. The sideline spat ended with Mason grabbing Flacco's facemask and teammates having to separate the two. 
Harbaugh conceded that it was perhaps a growing moment for Flacco in establishing his rule. Flacco didn't have the NFL experience of some of the other guys, but he was taking over. He was going to be understood, and respected.
"Personal confrontation is not his thing," Harbaugh said. "He loves confronting ideas, concepts, issues. He loves that and he's really good at it, and I think that's one of his greatest strengths. But he'll confront a person if he has to. He's not going to back down."
'Leader – Like It Or Not'
The Ravens were getting their Super Bowl rings about a month ago when Owner Steve Bisciotti stepped to the microphone. After addressing other members of the organization, Bisciotti turned to Flacco.
"You are the leader now – like it or not," Bisciotti said.
It could have been taken as a direct challenge from the boss. Flacco laughed.
After leading the Ravens to a Super Bowl victory, being named the game's MVP, and getting a record-setting contract, Flacco's confidence is at an all-time high. He's always been self-assured, but now people are starting to see it more on display.
In March, Flacco poked fun at Lewis' pregame speeches, saying he used to chuckle to himself and didn't understand what he was even talking about. When asked whether it was weird not having Lewis around at training camp, Flacco brushed it off with humor.
"All the three reps that he was in there, yeah, you'd know that he was in there," Flacco said. "He'd jaw back and forth with you, acting like he's Superman."
When Flacco talks to the media, it's now a must-see event. It used to be a rest-assured snoozer.
"When you're comfortable in what you do, your confidence can show a little bit more," Flacco said.
Flacco's verbal sparring has been a highlight of training camp.
When safety James Ihedigbo got amped after fake-sacking Flacco, the quarterback told him he could shove his celebratory fingers where the sun don't shine (in not so PG terms). When Suggs unnecessarily shoved tight end Alex Silvestro to the ground, Flacco called him a punk.
"I think it builds camaraderie, I think everybody likes it and it gets everybody more involved in the practice," Flacco said of the trash talk. He then cracked a grin. "I think Suggs has a little more experience in the matter, so I don't know if I'd want to go too deep into it with him. It's fun."
Suggs, the man who Flacco had to convince of his leadership early on, is now perhaps the quarterback's biggest supporter.
Suggs will take on a huge leadership role this year on the defense, but when asked who he would pick if there could only be one leader on the team, he pointed to Flacco.
"I would say it's Joe," he said. "A lot of us have been here, and out of eleven years, I didn't get a ring until he got here. So I'll say it's him."