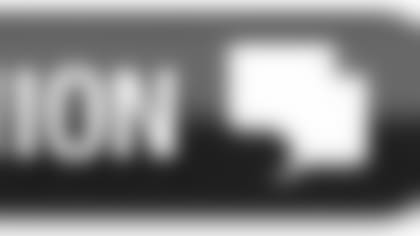 On why Michael Oher was a good first-round pick...
I like the pick of **Michael Oher** in the first round. Everyone knows that most NFL games are won at the offensive and defensive lines. Given enough time, all QBs can complete passes and all receivers can get open. I think the Ravens have one of the best, if not the best, offensive lines in all of football. Their youth and talent should make the Ravens contenders for a long time.
On whether trading up to pick Oher was a good idea...
A trade to move up three picks? I hope they did not give too much away to move three spots. This guy better rock the O-line.
On why the Ravens should not have drafted Michael Oher...
What a complete waste of two draft picks. He would have been there at the 26th pick anyway, so why waste a fifth-round draft pick to move up a couple of spots, especially for an offensive linemen. Hello! How about a linebacker to replace Bart Scott or **Terrell Suggs**, because we still have not signed him.
Devin MorrisonMadison, MD
On whether the Ravens should have drafted a wide receiver...
I never doubt Ozzie and the way we draft, BUT where is the WR???? I think most would concur that we may have been able to get past Pittsburgh last year if we had a receiver to complement **Derrick Mason**. I hope who we have can get it done!
Jerry ConnollyPasadena, MD
On why Paul Kruger was a good pick...
The Ravens are lucky to have **Paul Kruger** and Kruger is lucky to have the Ravens! I've watched Kruger throughout his career and there is no doubt he'll be a huge contributor to the Baltimore defense. When he gets his chance he'll raise some eyebrows, look for him.
Bryant Bunnell
Salt Lake City, UT
On why Paul Kruger was a bad pick...
I like the pick of Oher, but I think you totally wasted the second pick on Kruger! There were many better all-around players available at that time. Whatever happened to the 'we will pick the best player available at the time theory,' not the theory of what we need? Not happy with the second pick!
David Ruthenberg
Bel Air, MD
On why the Ravens' 2009 Draft was only mediocre...
An average draft. Good first day. Oher will be a monster. Mediocre second day. The third round pick is a mystery to everybody. Seems like a major leap ahead of better corners. Also, needs at wide receiver, and corner depth--not to mention kicker--were left unaddressed. One can only hope for some wonderful undrafted free agents or a trade. Only time will tell, but at this instant I give it a C.
Sid ChernickPikesville, MD
On what Michael Oher will bring to the Ravens' offensive line...
Going into the draft I never would have expected taking a tackle with our first round pick. We definitly can use a tackle, but it never crossed my mind. With the selection of Michael Oher, I think we solidify a dominant offensive line for the future. Oher, **Jared Gaither**, **Ben Grubbs** and **Marshal Yanda** are all promising lineman who are all under the age of 25. With this pick, it allows us to protect **Joe Flacco** with less blockers, potentially allowing **Todd Heap** to go out on more routes, etc. It also will work very well with our unbalanced line formations, even if he doesn't start immediately. It was a great value pick, and with all the dealing done after, we didn't lose any picks.
Mark Boggs
Fredericksburg, VA
On why Ozzie Newsome selected Oher over a more flashy player...
I know a lot of fellow Ravens fans wanted the team to make a more "sexy pick" with our first-rounder than Oher. But, when a projected top 10-12 pick falls to us in the mid 20's at a position of need, I not only understand, but I also commend **Ozzie Newsome**, **Eric DeCosta** and their staff for making this trade/pick.
Jermaine ButlerBaltimore, MD
**
On why the Ravens' current WR corps is good as is...
Ozzie has a point when he says that they need to keep Joe Flacco upright. He's not gonna throw it on his back. **Demetrius Williams** has got the potential to be a deep threat and we also have **Yamon Figurs** who is fast. Flacco is still developing so the blame shouldn't be put on last year's available receivers. Hopefully one of the second year receivers can break out also. Who knows? Overall, I think Baltimore is in pretty good shape to make another run for the Super Bowl this year.
Johnathon Alvarex
Edinburg, TX
On why the Ravens should have definitely drafted a wide receiver...
I think Paul Kruger was a good 2nd pick at 57; however I think the Ravens should have taken a "sure-handed" wide receiver for the first pick. Derrick Mason is the only reliable receiver and Joe deserves another target to optimize his value! I thought the Ravens would have gotten Hakeem Nicks or Kenny Britt or even Brian Robiskie! I hope they can get Anquan Boldin somehow from the Cardinals. If Mason gets injured again, they need a sure-handed and savvy sub!
Ellen Radeloff
Salisbury, MD
On welcoming the Ravens' 2009 Draft picks to Baltimore...
I just wanted to welcome all the new players to the Raven family. I was expecting a WR in the draft but Ozzie and Co. must think we have enough talent there not to select one this year. I know we picked up a couple WR's in last year's draft and we really didn't get to see them play. I am pretty happy with this year's draft. I think all the players we added this year in the draft and free agency are going to only improve our team. Ozzie and Co. definitely added depth. I liked the way the staff worked the draft board. I can't wait for the season to begin. Now we have to work on getting Suggs signed long term and hope for no hold outs. Let's go Ravens!!!
Quinton MitchellAnchorage, AK