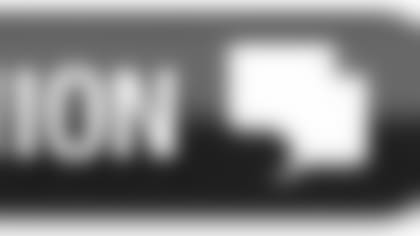 On why Haloti Ngata is underrated…
I think the reason **Haloti Ngata** consistently gets overlooked is due to the high profiles of **Ray Lewis** and **Ed Reed**. Everyone seems to recognize how great our defense is and almost all of the glory is attributed to Ray or Ed. To their credit, both have been pretty vocal, along with Rex Ryan when he was here, in singing Haloti's praises, but all the analysts seem to think that the sole reason for our success is due to these two players, and to a lesser degree **(Terrell) Suggs**.
---
Oliver Scott
London, England *
On the media saying the Ravens' defense will be less dominant in 2009…
I am so tired of the national media saying that our defense will be less dominant due to the departures of defensive coordinator Rex Ryan and linebacker Bart Scott. What happened when we lost Marvin Lewis, Jamie Sharper and Edgerton Hartwell? What happened when we lost Mike Nolan and Adalius Thomas? Nothing. Our defense just reloaded and kept its ranking among the best on the NFL. **Greg Mattison** will be just fine without Rex and **Tavares Gooden** will be as good, if not better, than the recently departed Bart Scott. And just like the other linebackers who left the shadow of the great Ray Lewis, Scott will return to mediocrity while Gooden and the rest of the Ravens' defense will take aim at the top of the rankings once again!
Bruce Raffel
Reisterstown, MD
On Todd Heap being overrated…
I know this will upset some people. But, I believe **Todd Heap** is one of the most overrated players on the Ravens, if not the entire NFL. When he is healthy he is a very solid weapon, but that's the problem. When is the last time he has been healthy? To me, in order to be considered a great player, you not only have to be very talented, but you have to stay healthy. If you have the most talent on the team, but you are always hurt, you are worthless. Injuries happen, but I think good players find a way to be on the field.
Chris ThornDavidsonville, MD
On Ray Lewis being underrated…
Ray Lewis has to be one of the most underrated players by the rest of the NFL for one reason. Most, if not all, non-Raven fans have no idea how Lewis affects everyone around him. He has been the constant when defensive coordinators come and go. He is the motivator that guarantees everyone on the defense is doing their job. He is responsible for many guys going to the Pro Bowl. Then when they leave, you never hear from them again. Most fans judge players by what they do alone on the field. They judge players by stats, and how old a guy is. Ravens fans know how much Ray makes everyone better. There is not one player on any NFL team that has that kind of effect on his entire team. When we re-signed Lewis, we instantly improved the entire team. That is why he is underrated by the rest of the NFL.
On Steve McNair…
I am shocked by the sudden death of Steve McNair. I think it surprised everyone that knew him. He was a great player that everyone loved, watched and looked up to. It is a time of sadness for NFL fans and players. I send my prayers to the McNair family. Everyone will always remember the strong and tough No. 9 with a smile on his face as an Oiler, Titan and Raven. I know Baltimore will never forget that 13-3 season he brought us. So I think the Ravens should put him in the Ring of Honor at M&T Bank Stadium and make a statue of him next to Unitas. We will miss you Steve McNair, No. 9.
---
Kathy Rolfes
Chincoteague,VA *
On Willis McGahee needing to work harder…
**Willis McGahee **has to put in the work. If he does, he is the number one back. If he does not work, it's another story. Last year he came to Training Camp out of shape and seemed to fall out of favor with the coaching staff. He needs to prove them wrong. If he comes in like last year, I would name **Ray Rice** the number one starter early and try to trade McGahee. Coming to camp out of shape would be more proof he is not serious; I hope that is not the case because his talent is a good fit for the offense.
---
Frank Guhrie
Greencastle, PA *
On Willis McGahee not receiving enough respect…
To tell the truth, I believe that Willis McGahee doesn't get the respect he deserves. He was definitely fighting injuries last year and still made sure he played when he could. On top of that, many people ignore the fact that he was one of the league's top rushers in 2007. People are so quick to criticize instead of giving him a chance. He had one bad season with us, and it was because of injury. But because he wasn't crying and sitting out of every game, he's not a dominate player anymore? I believe he will put all doubters in their place this coming season because he definitely still has the talent. I think Dallas knows.
The Ravens as a whole, I believe, are also underrated. We made it all the way to the AFC Championship and we still don't receive any respect. Every time we beat someone, there was an excuse that an analyst had for every team. But when we get that Super Bowl trophy once again, I want to see where the doubters are then.
---
Keith Hargis
Baltimore, MD *
On Dawan Landry being underrated…
**Dawan Landry** is severely underrated. Now that Jim Leonard is gone (a very good player in his own right), people are wondering who will replace him? The guy who lost the spot due to INJURY!!! Landry had a very good year prior to last and showed that he was good in run defense and could play the pass. Just give the man some credit instead of acting like the Ravens' world is coming to an end.
Justin Ewing
Jacksonville, FL
On John Harbaugh visiting the troops in Iraq…
I just want to give a sincere thanks to your Coach **John Harbaugh**. I am one of the soldiers that had the privilege to shake his hand and share some words with him. It says a lot about the coaches who decided to take the tour here to "the box." I'm sure they have better things they could be doing, such as preparing for the season, and I'm also sure that they didn't make any profit from the trip either. Your Coach Harbaugh shared a traditional Army value with us on this trip: selfless service. He helped lift the spirits of many by his actions in taking this trip. I have frequently heard celebrities, athletes, etc. say "that they support the troops," and I do not doubt that they do, but it is your coach's actions that separates him from many. So, on behalf of many other soldiers and Steelers fans alike, I just want to say, "Thank you for the support and we'll see you on December 27th!"
Staff Sergeant Parker, Brandon
US ARMY – Camp Victory, Iraq
More on John Harbaugh visiting the troops in Iraq…
First of all, I would like to thank the USO NFL Coaches for taking the time out of their busy schedule to come over to Iraq. My name is CW3 John M. Dill, from the 261st TTSB, Delaware Army National Guard that is presently deployed in Bagdad, Iraq. I have over 38 years of service and this is my first deployment to perform this mission. The coaches' visit has been the highlight of my career and my honor to serve with outstanding men and women of this great military. I personally want to thank John Harbaugh for making this a special moment in my life.
John M. Dill
Millsboro, Delaware