Baltimore Ravens Cheerleader Coaches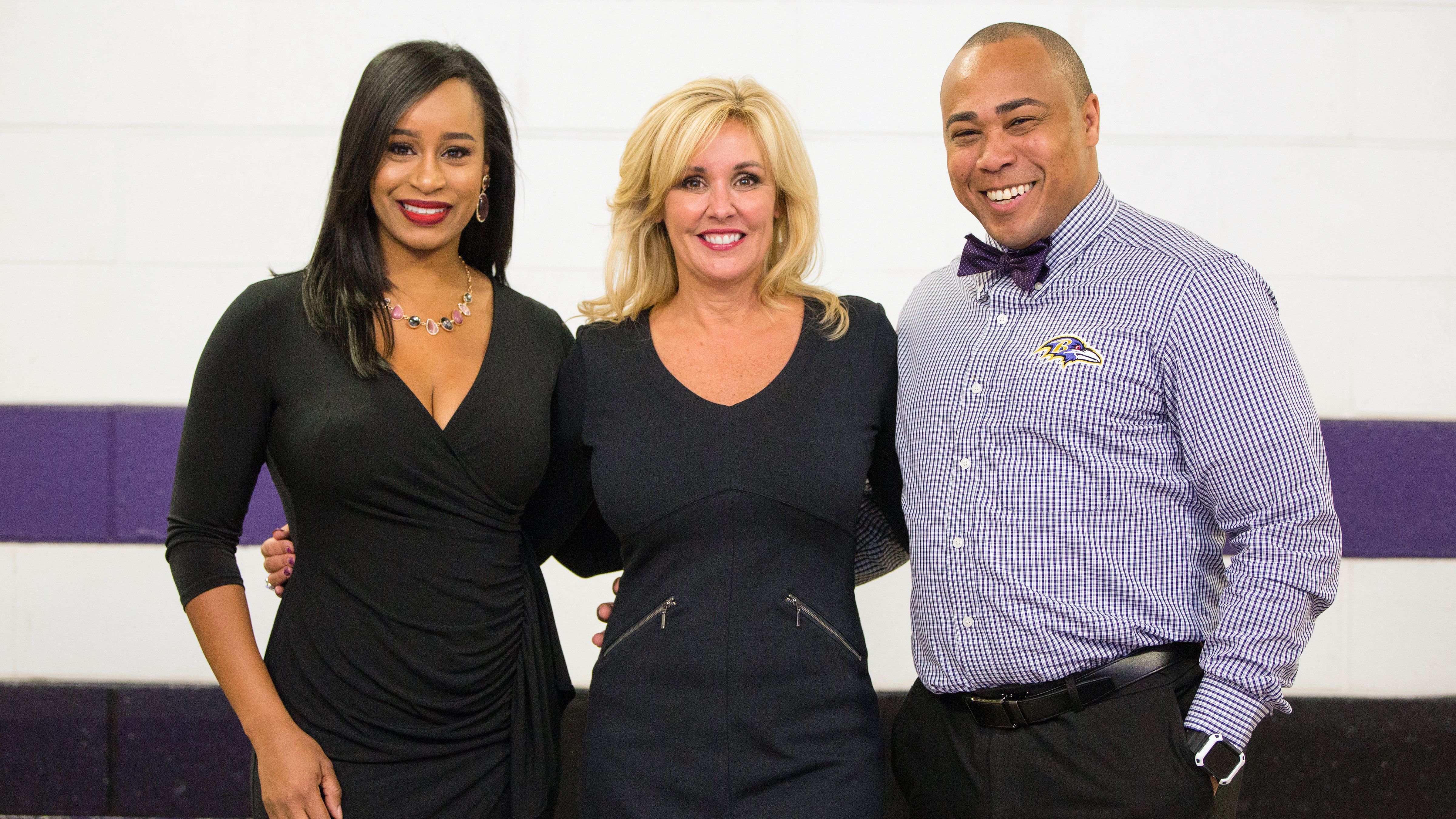 Left to right: Leslie Anderson, Tina Galdieri, Will Stokes
Tina Galdieri
Tina Galdieri, Director and Coach of the Baltimore Ravens Cheerleaders, has acted as the head coach of the program since its inception in 1998. She has played an integral part in the development of the first co-ed squad in the National Football League. Tina has dedicated and served in 15 overseas military tours with Armed Forces Entertainment. She has coached the squads during both Ravens Super Bowl Championships. In February 2016, she was one of the original inductees into the Baltimore Ravens Cheerleader Hall of Fame. She currently resides in Grasonville, MD with her husband John, daughter Gracie, and two Yorkies Kiki and Zeus.
Tina's passion for cheerleading and dance transcends business. She spent her college years as a member of the Terrapin Co-Ed Squad at the University of Maryland. During this time, she earned her bachelor's degree in Criminal Justice. Tina taught NCA high school camps from 1988-1993 and she accrued respect early on as a two-time collegiate All-American Cheerleader. After college, she cheered in the opening ceremonies of the 1996 Olympic Games and traveled to Spain to cheer on the World Football League Barcelona Dragons. As a coach, Tina has experienced similar success. She led the University of Maryland All Girl squad to an NCA National Championship in 1999. Aside from coaching, Tina is currently General Manager of the Varsity Spirit Brands Baltimore office.
Leslie Anderson
Leslie Anderson has been involved with the Baltimore Ravens organization since 2002. She was a cheerleader for eleven seasons, choreographer and corner coach for four seasons, and has been the Head Dance coach since 2018. During her time on the team, Leslie served as captain for eight years, represented the Ravens at the 2007 Pro Bowl in Hawaii, performed overseas on three Armed Forces Entertainment military tours, dedicated her time as a coach for the Lil Ravens Cheerleading program, and was a choreographer for the team. She was also a member of the squad during the Ravens Super Bowl XLVII Championship journey. In February 2018, she was inducted into the Baltimore Ravens Cheerleader Hall of Fame.
Leslie's dance career began at a young age and includes a background in ballet, jazz, and hip-hop. She has taken many master classes and trained with some of the world's most elite choreographers and dancers. As a result of her dance training, Leslie was selected to participate in private auditions for musical icons such as Janet Jackson and Mariah Carey. Leslie earned her bachelor's degree in Public Relations from the University of Maryland, College Park where she was also a member of both the cheerleading and dance team. She s currently the Director of Event Planning and Sponsorships for Varsity Spirit.
William Stokes-Murray
Will Stokes-Murray has been a part of the Baltimore Ravens Stunt Team since 1999, seven seasons as a cheerleader and fourteen seasons as the head stunt coach. As a former member of the stunt team, Will brings firsthand experience to the first co-ed stunt team in the National Football League. Before taking the position as head stunt coach, Will acted as captain for five of the seven seasons he spent cheerleading.
During his time with the stunt team, he performed in Iraq on an Armed Forces Entertainment Tour in 2005, cheered for the World Champion Baltimore Ravens in Super Bowl XXXV, and coached the team at Super Bowl XLVII.
Will began his stunting career as a gymnast. He began cheering in high school and continued his pursuit in college as a member of the Morgan State University cheerleading squad. While attending Morgan State University, Will earned a Bachelor of Science degree in Civil Engineering and currently acts as a full-time Project Manager for a large construction management firm in Arlington, Virgina. Will is also a well-decorated coach in all-star cheerleading. He has won Worlds three times (2009, 2010, & 2016) and two NCA titles.