2022 Baltimore Ravens Training Camp Frequently Asked Questions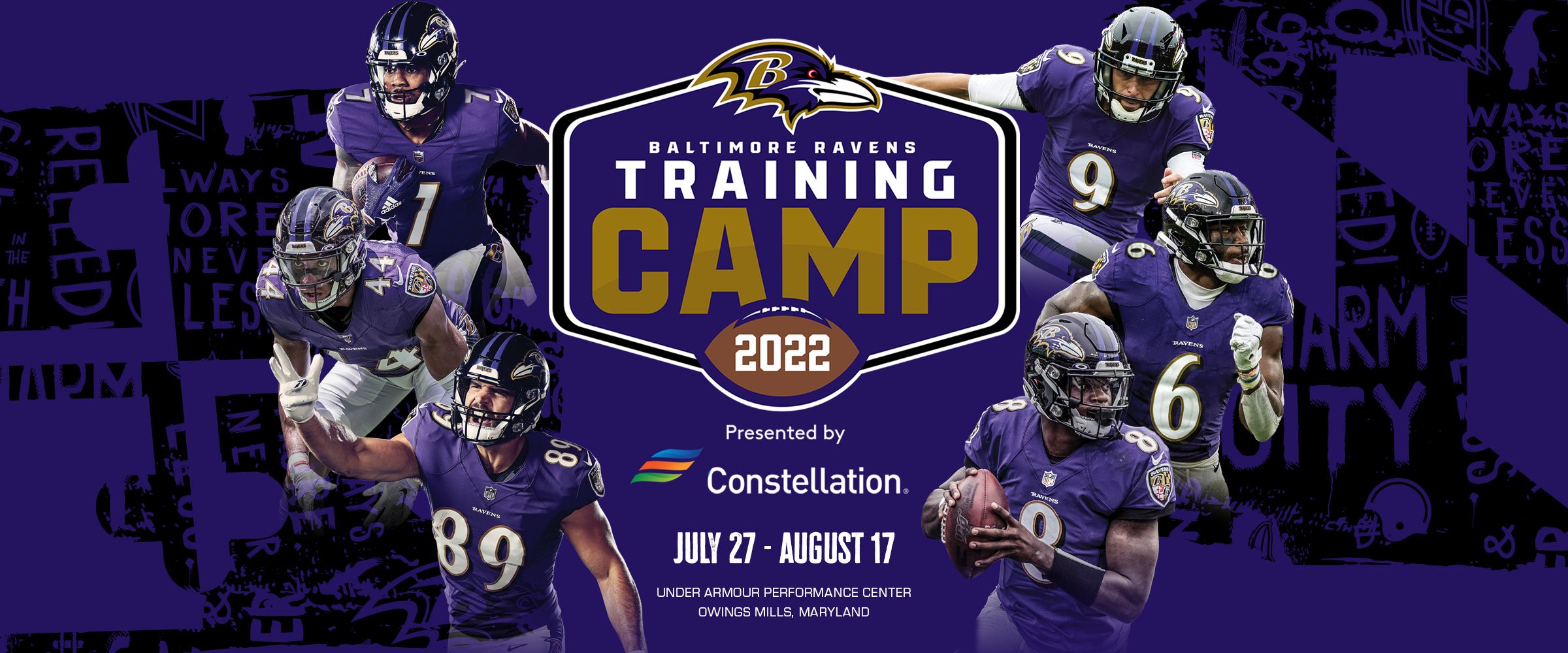 2022 Training Camp: Frequently Asked Questions
Bag Policy
Prohibited Items: Backpacks & duffle bags, Bags larger than 12 x 12 in. All bags will be searched upon arrival at security checkpoint.
Cell Phones
Unless there is an emergency, cell phones cannot be used during practice. Please "silence" your phones during practice.
Parking
Parking will take place at the Ravens Under Armour Performance Center (1 Winning Drive, Owings Mills, MD 21117). The online reservation is on a first-come, first-served basis, allowing fans to secure a parking pass that will admit one car's worth of people to the specific practice requested. Please note that there is a limited amount of parking passes available for each day.
You will be directed to a spot upon entry and must depart the parking lot within 45 minutes after practice ends.
Date
Your parking pass will only be valid on the date you chose and were confirmed for. Parking passes will be scanned upon entry and will only scan for the day they are valid.
Transferring your parking pass
Please contact us at TrainingCamp@ravens.nfl.net if you would like to transfer your parking pass to a friend or family member. We will ask the person who secured the parking pass to show their ID with their parking pass upon entry, so we can make note of any transfers. Please note, a parking pass cannot be used more than 1 time.
Entry/Guests
Practice typically runs for 3 hours but is subject to change. Autographs are open for children ages 6-14 at the end of practice. Players will have sharpies.
Accommodations
Covered bleacher seating will be available on the practice field perimeter and will serve as the primary viewing point for practice. The Ravens will provide free water to all guests.
Fan Zone
Training camp will also feature a Fan Zone which will include, food truck(s) where concessions will be available for purchase, interactive games, the Ravens Team Store and free giveaways.
Restrooms
Restrooms will be available throughout the grounds for fans to utilize.
Photo/Video
Taking pictures and/or video is not allowed during practice. Video and photos can only be taken before and after practice.
Prohibited items
Weapons or dangerous objects
Large bags/duffle bags
Video cameras
Camera tripods or monopods
Alcoholic beverages
Glass bottles
Air horns or horns of any kind
Artificial noise makers
Cowbells
Whistles
Flag/banner poles
Laser points/pens
Selfie sticks
Pets
All fans will be subject to inspection upon entry
Practice Date/Time
Due to unforeseen events, including, but not limited to inclement weather, football-related matters or any unexpected occurrence, practice can be cancelled or moved inside to the field house. Before coming to camp, please call 410-261-RAVE (7283) and press 3 for the most updated practice information. If practice is cancelled or moved into the field house due to any of the above scenarios, there are no make-up dates.