The rookie class returns to Baltimore Friday for the start of training camp, which makes this is a perfect time to tell you a little more about the No. 6 overall pick.
Baltimore's top pick, Ronnie Stanley, is well recognized for his standout career at Notre Dame, but hereare five things about the first-round pick you may not know: 
1) He was a star basketball player in high school
Stanley is an all-around athlete, and he was a prep star at one of the top high schools in Las Vegas. Stanley attended Bishop Gorman High School, where he also shined on the basketball court. He averaged 10 points, eight rebounds and four assists per game as a junior, and then helped lead the team to the Nevada class 4A state championship his senior season. Bishop Gorman finished Stanley's senior year ranked the 11th best team in the nation by ESPN.
Stanley won over animal lovers soon after getting to Baltimore. His story of walking into a BARCS animal shelter and adopting a pit bull went viral earlier this summer. When Stanley walked into the shelter, he told the employees he was "looking for adog that's been here a long time and maybe not-so-adoptable." He ended up leaving with a 6-year-old female pit bull looking for a healthy home.
3) He's already been on the cover of Sports Illustrated
Stanley can already boast to his new teammates about being one of just three players in the locker room to grace the cover of Sports Illustrated (Joe Flacco and Steve Smith Sr.  are the others). The left tackle was featured on the cover of last year's college football preview edition, alongside Cowboys second-round pick Jaylon Smith.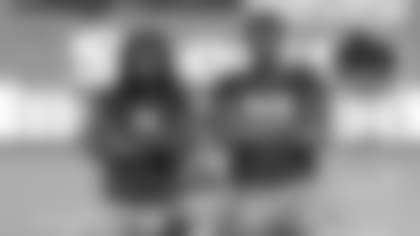 4) He's met Republican presidential nominee Donald Trump
Playing big-time college football comes with a few perks, and that includes meeting with presidential candidates. Stanley met Republican nominee Donald Trump at his hotel in Las Vegas and posted this photo on Jan. 9.
Stanley didn't seek out the easy classes during his time at Notre Dame. He majored in management entrepreneurship and he told reporters at the NFL Draft that he has interests in business once his playing career is done. Stanley showed his business acumen this spring by signing a shoe deal with the online retailer Zappos, making him the first celebrity endorser the company has ever hired.