It's been a jam-packed two weeks for the Baltimore Ravens.
Last week, Lamar Jackson agreed to a five-year contract extension and the Ravens added a six-member NFL Draft class. This week, Jackson inked his deal and spoke to the media for the first time in five months, another significant free-agent addition was made, and the rookies took the field for the first time.
Here are my thoughts on the past (wild) week, all in 50 words or less:
Jackson made it clear Thursday that he never wanted to leave Baltimore. There are many reasons why, but his promise to win a Super Bowl as a Raven, made on the night the Ravens drafted him in 2018, shouldn't be overlooked among them. It matters to him – a lot.
There's no doubt where Jackson's head is at after signing the deal. He wants the Lombardi Trophy. "I got five more years to prove it. I've got to make it happen within the five years. I've got great guys around me and hopefully we make it happen sooner than later."
When the subject of Jackson's trade request was brought up within the first question Thursday, he pointed the conversation ahead, not back. When speaking on The Lounge podcast, however, Jackson offered up that his trade request was "nothing serious." "That was just getting the ball rolling. That's part of business."
Jackson didn't specify which other teams reached out to him, only saying he wasn't interested. Josina Anderson reported that's what she heard too, and that she was told "it was also inferred to keep it quiet." Teams didn't want to upset their current quarterback, especially if they didn't get Jackson.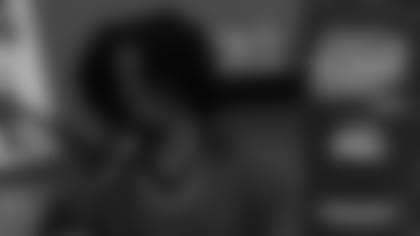 461: Lamar Jackson Joins The Lounge
Lamar Jackson stops by to talk about the emotions and backstory of the record-setting five-year extension, his outlook on the rebuilt offense, and his special connection with Baltimore.
John Harbaugh said the Ravens don't make conscious decisions about how much Jackson runs. Still, I expect fewer designed quarterback runs in Todd Monken's offense. That doesn't mean zero, because it's part of what makes Jackson special, but fewer. Winning trumps all, so you do what's required in crunch time.
Running less seems to be Jackson's desire. On The Lounge, he said, "I love our running backs. Let them do that job. That's for them. I'm the quarterback. Let me throw it. If something's not open, then I just do my thing. Then you'll see Lamar's special moments."
Jackson's statement that he wants to throw for 6,000 yards with the new weapons around him illustrates his mindset. Now he can fully show what he's capable of as a passer. Jackson said he feels like a "jack-in-the-box" ready to pop out of the metaphorical box he's been put in.
The addition of Rock Ya-Sin is critical because it allows the team's young, talented cornerbacks to develop on schedule. Brandon Stephens, Jalyn Armour-Davis, Pepe Williams and rookie Kyu Blu Kelly can all be fantastic players, but it would've been asking a lot to project them as Week 1 starters.
The Ravens' open nickel spot is one that hasn't been talked about enough. With Kyle Hamilton expected to play more snaps as a true safety replacing Chuck Clark, the Ravens have not just Marcus Peters' spot to fill, but room for another defensive back in a major role.
I already love the confidence rookie first-round pick Zay Flowers exudes. When he saw his No. 4 Ravens jersey for the first time, he said, "There's going to be a lot of touchdowns. I'm trying to retire this jersey, for real." You've got to have that swagger at wide receiver.