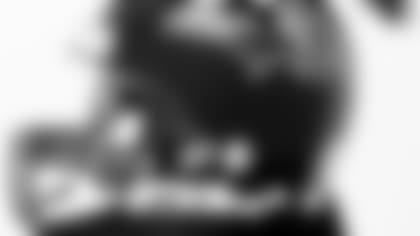 Even though their mascot is the raven, it's uncertain whether anybody here at the Ravens' facility in Owings Mills, Md. has actually been face-to-face with the real, live bird.
That all changed Wednesday, as players and staff at team headquarters had the opportunity to spend some time with a fellow raven - only this one had feathers.
Dan Walthers from Winding Woods Farm in Commerce, Ga., stopped by Baltimore's training facility to show one of the hundreds of birds that he breeds and trains.
With jet black feathers, the friendly bird took turns sitting on staff members' shoulders and a Ravens helmet for a photo shoot, proudly offering up throaty caws every now and then. A thick black bill with a white tip at the end protruded out from black eyes.
Like the Seattle Seahawks and Atlanta Falcons, the two clubs that feature a live version of their mascot flying across their respective stadiums in pregame introductions, the Ravens could join that club in the future.
For now, it was a chance to get up close and personal with what is known as one of the smartest birds in the world, able to respond to commands and even mimic speech.
While the staff was particularly fond of watching the bird hop around an empty office room, the players were less enthused to pick up what they considered a wild creature. With a little more interaction, maybe we can get it to sit on a pair of shoulder pads, as well.