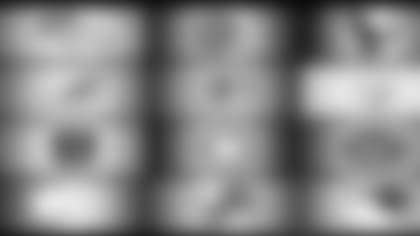 The Baltimore Ravens 2013 regular-season schedule features four nationally-televised games, including two Thursday night primetime specials. The Ravens open on Thursday, Sept. 5, at Denver and will host archrival Pittsburgh on Thanksgiving Night (Nov. 28) in Baltimore.
In back-to-back primetime games that fall in Weeks 15-16, the Ravens play at Detroit on a Monday night (Dec. 16) and then follow up the short week with a Sunday night battle at M&T Bank Stadium against New England (Dec. 22).
(In another nationally-televised game, Baltimore hosts Carolina on Aug. 22 in preseason play.)
Based on 2012 records (137-119, .535), the Ravens face the NFL's fifth-toughest schedule in 2013. As they aim to earn a postseason berth for a league-best sixth-consecutive season, the Ravens will play seven games – including three of their final four – against 2012 playoff teams.
In Week 2, the Ravens will open at home against Cleveland (Sept. 15) and then host Houston the following Sunday (Sept. 22).
Beginning with a trip to Buffalo in Week 4 (Sept. 29), the Ravens are slated to play four road contests in a five-game span, including tilts at Miami (Oct. 6), at Pittsburgh (Oct. 20) and at Cleveland (Nov. 3). During this stretch, the Ravens will host Green Bay on Oct. 13 and have their bye on Oct. 27 (Week 8).
After a Nov. 10 home game against Cincinnati and a Nov. 17 contest at Chicago, the Ravens will play three-consecutive games at M&T Bank Stadium in Weeks 12-14 when they host the New York Jets (Nov. 24), the Steelers (Thanksgiving Night) and Minnesota (Dec. 8).
After the two December primetime games against Detroit and New England, Baltimore closes out the regular season for the third straight season by playing at Cincinnati (Dec. 29).                                                                    
Baltimore is the only NFL team to make the playoffs in each of the past five seasons – with the Ravens also winning at least one ploff game in each.
The Ravens, who have made the playoffs in six of the past seven seasons, seized the franchise's fourth-ever – and second-consecutive – AFC North title in 2012.
Under Head Coach John Harbaugh, Baltimore has registered at least 10 wins in four of five regular seasons, with the Ravens tying New England for NFL's most total victories (63, including playoffs) since his 2008 Baltimore arrival. Under coach Harbaugh, the Ravens are 21-9 in AFC North play and 41-19 in conference (AFC) play, with each record ranking as the NFL's third-best mark since 2008.
2013 REGULAR SEASON SCHEDULE
| | | | | | | | | |
| --- | --- | --- | --- | --- | --- | --- | --- | --- |
| Date | | Opponent | | Location | | Time | | TV |
| Thurs, Sept. 5 | | at Denver Broncos | | Sports Authority Field at Mile High | | 8:30pm | | WBAL-TV |
| Sun, Sept. 15 | | vs. Cleveland Browns | | M&T Bank Stadium | | 1:00pm | | WJZ-TV |
| Sun, Sept. 22 | | vs. Houston Texans | | M&T Bank Stadium | | 1:00pm | | WJZ-TV |
| Sun, Sept. 29 | | at Buffalo Bills | | Ralph Wilson Stadium | | 1:00pm | | WJZ-TV |
| Sun, Oct. 6 | | at Miami Dolphins | | Sun Life Stadium | | 1:00pm | | WJZ-TV |
| Sun, Oct. 13 | | vs. Green Bay Packers | | M&T Bank Stadium | | 1:00pm | | WBFF-TV |
| Sun, Oct. 20 | | at Pittsburgh Steelers | | Heinz Field | | 4:25pm | | WJZ-TV |
| Sun, Oct. 27 | | BYE | | | | | | |
| Sun, Nov. 3 | | at Cleveland Browns | | FirstEnergy Stadium | | 4:25pm | | WJZ-TV |
| Sun, Nov. 10 | | vs. Cincinnati Bengals | | M&T Bank Stadium | | 1:00pm | | WJZ-TV |
| Sun, Nov. 17 | | at Chicago Bears | | Soldier Field | | 1:00pm | | WJZ-TV |
| Sun, Nov. 24 | | vs. New York Jets | | M&T Bank Stadium | | 1:00pm | | WJZ-TV |
| Thurs, Nov. 28 | | vs. Pittsburgh Steelers | | M&T Bank Stadium | | 8:30pm | | WBAL-TV |
| Sun, Dec. 8 | | vs. Minnesota Vikings | | M&T Bank Stadium | | 1:00pm | | WBFF-TV |
| Mon, Dec. 16 | | at Detroit Lions | | Ford Field | | 8:40pm | | ESPN |
| Sun, Dec. 22 | | vs. New England Patriots | | M&T Bank Stadium | | 8:30pm | | WJZ-TV |
| Sun, Dec. 29 | | at Cincinnati Bengals | | Paul Brown Stadium | | 1:00pm* | | WJZ-TV |
**Flexible Time Schedule
All game times & television networks subject to change.
All times Eastern
2013 PRESEASON SCHEDULE
*
| | | | | | | | | |
| --- | --- | --- | --- | --- | --- | --- | --- | --- |
| Date | | Opponent | | Location | | Time | | TV |
| Thurs, Aug. 8 | | at Tampa Bay Buccaneers | | Raymond James Stadium | | 7:30pm | | WBAL-TV |
| Thurs, Aug. 15 | | vs. Atlanta Falcons | | M&T Bank Stadium | | 7:30pm | | WBAL-TV |
| Thurs, Aug. 22 | | vs. Carolina Panthers | | M&T Bank Stadium | | 8:00pm | | ESPN |
| Thurs, Aug. 29 | | at St. Louis Rams | | Edward Jones Dome | | 8:00pm | | WBAL-TV |