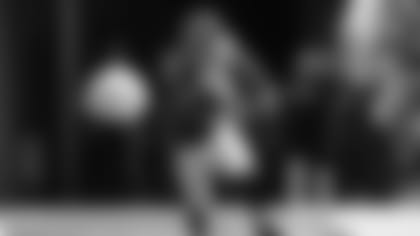 Tandon Doss wasn't feeling the Baltimore love after being part of the team's final cuts.
He may be getting some good vibes after his performance Sunday against the Browns.
In a tight, defensive dominated game, Doss' punt returns gave the Ravens a big boost. Doss had three returns for 43 yards, including 22 and 21-yarders.
"I had a little bit of bad blood in Baltimore," Doss said. "But hopefully I can start making good plays, get back on the good side and contribute to wins."
Doss entered training camp with an opportunity to claim a No. 2 or No. 3 wide receiver spot, but was beaten out by rookies Marlon Brown and Aaron Mellette.
After Pro Bowl returner Jacoby Jones went down with a knee injury in Week 1, the Ravens phoned Doss and signed him last Monday. Doss said the Ravens told him that he would be their kick and punt returner when he signed.
"It felt good to get that kind of confidence," Doss said.
Doss didn't even know Jones went down because he boycotted watching the nationally-broadcasted Ravens game in Denver.
"I had mixed emotions about it and decided not to watch any football for a while and get my mind right and refocus," he said.
Doss has kept a low profile upon his return. He wasn't in the locker room during any open media portions this week, and eschewed attention after Sunday's game.
"It felt good to get back out there and make a play," Doss said. "Anywhere my name is called, whether it's receiver or returner, I feel like I can make a play."
Doss did see some offensive action, but didn't make a reception.
He made his first return near the start of the second quarter, and ran through a couple tackles and even avoided his own man that got in his way to scoot up the sideline for 22 yards.
On his second return, Doss made an unblocked Brown miss, then burst up the middle and outside for 21 yards. His second return set the Ravens up at Cleveland's 42-yard line, and in position for their second touchdown of the game.
Head Coach John Harbaugh also pointed out that Doss was battling a strong wind, which made simply cleanly fielding the punts a challenge.
With Jones reportedly out for another three to five weeks, Doss will have an opportunity to continue making an impact.
"Tandon did a really nice job," Harbaugh said. "He really solidified us back there with Jacoby being out."