The Ravens' offensive line will face one of its biggest challenges of the year – quite literally – this weekend when the Cleveland Browns come to Baltimore.
Manning the point of Cleveland's defense is nose guard Shaun Rogers, a mountain of a man officially listed at 6-foot-4, 350 pounds, but has been known around the NFL to play at anywhere between 380-400 pounds.
The two-time Pro Bowler made a name for himself as one of the best in the league by stuffing the run during a seven-year tenure with the Detroit Lions, however Ravens offensive coordinator Cam Cameron thinks Rogers is much more than that.
"He's not just a run-stopper," Cameron said Thursday. "Sometimes guys get classified. But, he's not [only] a run-stopper, he can rush the quarterback. He's tackling guys on the sideline. He plays that position the way our guys play, to a degree. He plays hard. He plays sideline to sideline, so it creates a lot of problems."
Rogers is coming off a successful 2007 season where he posted a career-high seven sacks, and even returned an interception 66 yards for a touchdown against the Denver Broncos Nov. 4.
The Browns liked him so much, they traded a former starting cornerback – Leigh Bodden – to Detroit to acquire Rogers to key their defensive front, and it seems the transaction is already paying off.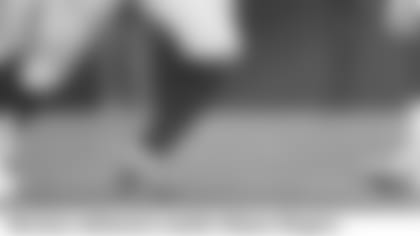 Last week, Rogers notched his first sack of the year, taking down Pittsburgh's sturdy Ben Roethlisberger for a 6-yard loss. He even added eight tackles, second-best on the team.
"They knew the area they had to improve, and they improved it," noted Cameron. "They improved it to probably the top five in the league in there. He's playing at a high level, playing extremely hard."
The Ravens have had experience with such a behemoth before in former Cleveland nose guard Ted Washington, who was regularly around the 400-pound mark.
But, center Jason Brown thinks Rogers is playing at a faster pace than Washington.
"You haven't heard a ton about him before, but he's been moving so well since he came to Cleveland," Brown said. "It's just about being consistent at the point of attack for us.
"I have to stay low, keep a low pad level and drive my feet. If I ever stop my feet, that's when he gets his motor going."
Joining Brown on a double team could be right guard Marshal Yanda or left guard Ben Grubbs, or the Ravens could use an unbalanced line, as they did often in Week 1.
The unbalanced line shifted right tackle Adam Terry to set up next to left tackle Jared Gaither, almost forcing the opponent to create a new center of attack, which in this case was Grubbs.
Grubbs said he's comfortable going up against someone of Rogers' build because he regularly faces a similarly-sized defender in 6-foot-4, 340-pound Haloti Ngata, one of the strongest players in the Ravens' locker room.
"You definitely have to maintain good technique when you're going against someone that big," Grubbs said. "But, we go against Haloti every day in practice, and I've seen him weigh in at 350. We're working hard to prepare for it."
For Baltimore, one critical point to slowing Rogers down will be ball control in the run game. The more fatigued someone of that girth gets, the easier it will be for the offensive line to clear the trenches. That means bigger runs on first- and second-down to reduce third-down passing situations.
"You start attacking any defense from the inside out," Cameron explained.
"It's a heck of a challenge for Jason Brown, but I know Jason," continued the coordinator. "I know he's up to the challenge. Our inside guys are going to have to do a good job on him."