John Harbaugh was walking through the locker room last Sunday on his way to his pre-game radio interview with Gerry Sandusky, which is taped two hours before kickoff.
It was 11:02 a.m. One of our practice squad players walked in a side door, dressed in his street clothes. Harbs walked over to him, placing his hand on this big man's shoulder. "Did you just get here?" The player nodded yes. "You're late. In the locker room two hours before, right? Got that?"
That's very much a part of who John Harbaugh is. He doesn't hope things get corrected. He doesn't guess if people understand. He doesn't let things slide. He addresses issues, large and small, all the time. He's relentless in the pursuit to be the best he can be and to expect and coax the most out of those around him.
That's what he did on a much larger, most visible scale when he met with Offensive Coordinator Marc Trestman last Monday morning and told the hard-working, intelligent coach: "We're moving in another direction. We're not where we want to be on offense."
Yeah, it's John Harbaugh's fault, too. He's the head coach. He's in charge of everything. But, he didn't sit and hope things got better. He acted. He pushed and prodded in the offseason; he demanded some things in game plans and during games. But, in the end, he didn't like what he was seeing. He saw players weren't at their best. He saw some frustrations. He saw something that needed to be addressed, fixed, and he made a bold move.
"We need to ramp things up on offense. We need to do some things differently," the head coach said on Monday.
Yesterday, John talked about his Sunday night and Monday morning. He lingered at M&T Bank Stadium after the loss to Washington. He thought about "where we are as a team, where we are going and how do we get to where we want to go. What moves can we make? What schemes need to be changed? Do we have the right coaches and players in the right spots?"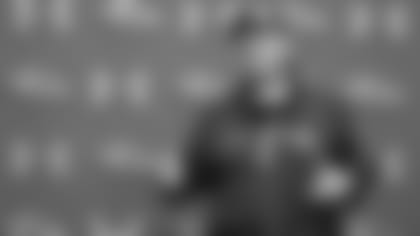 "I was kind of measuring everything about us, taking stock of our issues and problems, our strengths and weaknesses," Harbaugh recalled. "I made the decision to make the change from Marc [Trestman] to Marty [Mornhinweg.] I then let Ozzie and Steve know what I was going to do."
The head coach eventually went home, but not for long. He was at our Under Armour Performance Center before 3 a.m. on Monday. "I wanted to get the first look at the tape from the game – all three phases (offense, defense, special teams). I finished with that around 7 and then went to various assistants to see if they were seeing the same things I just watched."
Coach Harbaugh returned to his office, where he stood for almost 20 minutes, thinking about what he would say to Coach Trestman, Marty and his staff. He decided to run his thoughts by Ozzie Newsome, who was in the weight room on a treadmill. When he returned, he invited Marc to his office and delivered the news.
Once he did that, he asked Marty to take over as offensive coordinator and then brought his staff together to tell them of the change. I asked one assistant what John's message was to the group. "He told us that we had greatness in that room, and let's go show it."
People have asked me this week if I was surprised by the move. Not really. I know some players and assistants were expecting more from our offense, even with the injuries we've had on the line in these first five games. But, I've also watched John Harbaugh almost daily since January of 2008. Like with the practice squad player walking into the locker room two minutes late, John "confronts" everything.
I asked him about that yesterday afternoon. "We've talked about this as a team through the years. We confront everything, not anybody. We confront issues. We confront things. We're not confronting people. It's about relating to one another, respecting one another – loving one another – enough to get things addressed and corrected … to attack the issues, not the person. You're trying to fix something and get better. That's what it is always about," Harbs explained.
That's why Harbs made the change. For him – and the Ravens – it is always about the now. We will never have another opportunity for a 2016 season. How good can we be? How far can we go?
Look, we could be 5-0 with just a couple of plays made in each of the last two games. We could be 0-5, save for one or two plays succeeding in our three victories. But, we're 3-2, one game away from the best record in our division (Pittsburgh is 4-1) and the AFC. Some teams, like Buffalo and the team that beat us last Sunday, the Redskins, are celebrating and being saluted for getting to 3-2. We see 3-2 and say, "Let's find a way to win this Sunday against the Giants and get to the playoffs this year." (If the season ended today, which really is nonsense talk, we'd make the playoffs as a wild-card entrant.)
Dennis Pitta reflected on the coaching change. "It's something this offense needed. We were in kind of bad place, and it didn't seem like we were getting out of it. Hopefully, this will spark us. Marty brings an energy and excitement to our offense that we need." Pitta's friend and teammate Joe Flacco, who publicly shouldered some of the responsibility for Trestman's departure, understands what the change brings. "Marty is an exciting guy and brings a lot of confidence. He's very sure of what he's doing and what we're doing. He gets us all going, and everybody has a good outlook on the game plan," Flacco said.
There's a good vibe around this week. Clearly, there's added energy to the offense at practices. They know what's at stake. We need a win now.
We play loud music at these practices to simulate crowd noise. When we're going to play at home, the music blares when the defense is preparing. When we play on the road, like this Sunday, it roars when Joe is running the offense. First song out of the gate this week was Jay Z and Alicia Keys singing "Empire State of Mind."
The message wasn't subtle. Offense, get ready for the Giants and all the noise that comes with playing at MetLife Stadium.
It's clear that the key team leaders have stepped up this week – at least those healthy enough to practice. Terrell Suggs, with that booming voice, has been heard throughout the sessions. He's told young pass rushers, "It's time to grow up and make plays. Earn your money." (There's even humor from "Sizzle." Yelling at Offensive Line Coach Juan Castillo from 70 yards away, he shouted: "Take it easy on them boys, Juan. You only have three of them [that are healthy]. We need them Sunday.")
Eric Weddle has been a coach on the field. He's telling guys where to line up. He's predicting where the play will go. Defensive Coordinator Dean Pees looked at me yesterday and said, "I'm glad we got that guy. He's a hell of an addition." Flacco has been pointing, encouraging and repeating Coach Mornhinweg's messages. "Catch the ball," he shouted at a young receiver.
We'll need every coach and player to be at his best against the Giants. This won't be easy. None of our games are, are they? Be ready for another nail-biter and being on the edge of your seats. It seems to be our way this season.