We're featuring the Top 10 players in our history, as selected by our season ticket holders. It's part of our 20th season celebration. Each of the 10 appears on a ticket and program cover for our home games. 
This week against the Chargers, it's Ray Lewis, the 13-time Pro Bowler who helped us win two Super Bowls. Ray twice earned the NFL's Defensive Player of the Year award and was the MVP of Super Bowl XXXV. He is the only player in NFL history with at least 40 sacks and 30 interceptions (41.5 and 31).
Here are 20 questions with this certain Pro Football Hall of Famer:
"Absolutely! I'm 40, and I could, easily. The game has changed so much. [It's] much less physical. There so much less of ramming into each other. Remember, teams would run 35 to 40 times right up the middle. Smash mouth."
(Laughing) "It was me and that dude. It was special. We will be forever connected. Batman and Robin."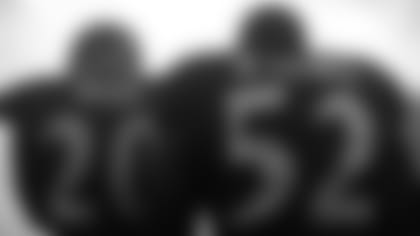 Who's Batman? *(more laughing)  *
"We know who Batman was."
"My brother and one of the greatest professionals I've ever been around."
"The big brother I never had."
"One of the rarest talents to ever throw a ball. We knew from the first day he practiced with us."
"Oh my gosh, he's everything I wanted to be as a man and as a father. We had such conversations, and I listened to every word he said. He breathed confidence into me."
"He is one of my closest friends, and I mean that in the deepest form of friendship. It's rare, way beyond player and owner. What he has done for my life, I can't repay. We will always be in each other's corners."
What does it mean to be a Raven?
"It's about a community, about hardworking people. It's about believing and giving hope. It's way beyond x's and o's and wins and losses. It's about winning and changing the world at the same time. It's about the team, playing the right way and having each other's backs. It's about having people say, 'I'm proud to be a Ravens' fan.'"
What was your "This is my NFL moment?"
"Opening day at Memorial Stadium [1996]. Football is back in Baltimore. [Oakland's] Rickey Dudley does this tight end shake route, and I intercepted the ball in the end zone. I remember everything from that. Looking around and watching those fans that had football taken away from them. I saw excitement. I saw teammates' faces. I was thinking, 'Wow, this is the League. This ain't college or high school. This is the NFL, and I did it.'"
Your most embarrassing football moment?
"I fumbled a kickoff my senior year of high school. I was bobbling the ball, and by the time I looked up, this dude hit me square in the center of my forehead. He knew he got me. I remember saying to myself as I went to the sideline, 'Don't you fall. (laughing) Don't you freaking fall!' I made it to the sideline, and I was pissed. That guy was screaming, 'We got him. We got him. He's knocked out.' I was so mad that I scored three touchdowns in the fourth quarter, and we won."
Your favorite or most memorable Ravens game?
"We had a lot of them. Big wins, Super Bowl wins. But, I'm going to pick the win in Baltimore when we beat the Chargers [2000], and that put us in the playoffs for the first time. That meant so much for the city and the team."
Best player you ever faced?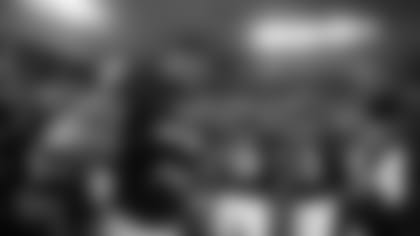 "There are too many to name. Before the AFC North, just think about the running backs that we had to see two times a year: Corey Dillon [Bengals], Eddie George [Titans], Fred Taylor [Jaguars] and Jerome Bettis [Steelers]. That's eight games, and they were tough, running 35, 40 times per game."
"Same thing, there are way too many to pick just one. Tony Siragusa is there, but then you have a Lorenzo Neal. Oh my God, there's Steve McNair and guys like Larry Webster, Anthony Pleasant, Eric Turner and Antonio Langham, Steven Moore and Rob Burnett. Some of the guys from the early teams when we were learning how to win. Wow, I could go on and on."
Perfect day for Ray Lewis?
"I try to make all my days perfect, to rejoice and be thankful for all of my opportunities and gifts. I do business early for three or four hours, and I'm enthused with all that I have going on there. That transitions into a great workout. Having conversations with my kids, hearing about all that they're doing and what excites them. I check in with my mom, sisters and brothers. Then I take an hour or two and get back to people who have called or texted. I try to end a perfect day by watching the sunset."
"She's the reason I am who I am. The crazy thing is that I'll never, ever be able to repay her for all she has done for me and our family. The greatest praise I can give my mom is that she told me 'No' so many times."
"Oh boy, the last time I cried was when my son had surgery. It was devastating because he tore up his knee. To see my son going through that procedure broke my heart. His eyes locked on my eyes as they put him to sleep, and he said, 'Daddy, you're going to be here when it's over?' Whew, the tears came down. I told him, 'I'll always be here.'"
"The greatest gifts and the greatest motivation in my life."
Do you have a hidden talent or hidden talents?
"There are two hidden talents. Dancing and probably singing. I'm really a fan of old school music. Oh my gosh, I love Gerald Levert and singing his songs."
What irritates Ray Lewis?
"Ignorant people. People who waste their talents. And, I really hate the current politics – that we can't figure out how to get along and get things done, whether you're Democrat or Republican."
Where will Ray Lewis be in five years and in 10 years?
"I want to continue to try and have an impact on people's lives. That's important to me. In 10 years, my kids will be out of college, and I'll be involved with them as they try to reach their dreams. And, I'd like to have time to be on a nice boat on a fishing creek, good cigar and enjoying life with my wife for the next 50 years. … And, I'll never stop working out."
Ray will be our "Legend of the Game" this Sunday when we host the Chargers. We need some of that "Ray Lewis karma" right now. He'll bring it. Let's beat the Chargers.
P.S. I could tell 20 Ray Lewis stories. Here's one:
We were in training camp at McDaniel College the summer after winning Super Bowl XXXV. I was in the school's weight room on a StairMaster when Ray, Rod Woodson and Shannon Sharpe entered. Three Hall of Famers. It was dinner time, and the players had completed two practices that day. They hit the weights hard. They were doing sets of 15 with the different weights they used. Now, Ray and Shannon outweighed Woodson by about 40 pounds, but Rod, with arms shaking, fought to keep up. They took turns picking the next exercise. Shannon selected curls at about their eighth or ninth set. My guess is that they were lifting 100 pounds. Shannon breezed through it, and Ray made it look even easier. By his fifth curl, I could see Rod was struggling. Meanwhile, Ray and Shannon seemed like they were not paying attention. Rod, with arms quivering and sweat pouring out, called out, "14 and 15."
"Woody," Ray called from across the room, "You only did 12." Woodson: "I did 15." Shannon: "You owe us three more." "Three more," Ray replied.
Rod was angry. "You two weren't even watching, and this is not my workout. You guys come with me in the offseason, and I'd make you sick. You wouldn't be able to finish my workout."
"I'll come to your workout," Sharpe said. "I'm there, and we'll see," Lewis offered.
"You owe us three," Ray said. 
With that, Woodson went back to the curl bar and pumped out four. "There's your three and one more."
Three greats driving each other to be better.
See 52 of the best photos of Ray Lewis through his 17 years as a Raven.