Justin Tucker lined up from 40 yards out with three seconds left and a chance to beat Texas A&M in the final installment of a heated conference rivalry.
According to Texas Head Coach Mack Brown, it was one of the biggest kicks in Texas history.
Brown walked over to consult Tucker when the Aggies tried to ice his kicker with a timeout. Tucker gave his coach a high-five and told him that they "messed up" by giving him more time to think about it.
Asked what he saw from Tucker in that moment, Brown simply said, "Confidence."
"Everybody on our sideline knew he was going to make the kick at A&M. There was not even any question," Brown said.
Of course, Tucker nailed it.
The Ravens put a lot of confidence in Tucker when they chose him over nine-year veteran and 2010 Pro Bowler Billy Cundiff. It's partly because Tucker has so much confidence in himself.
Tucker displays it with his driving, straight end-over-end boots. He exudes it when he's talking about his past and about his golden opportunity in Baltimore.
So is the rookie free agent ready for the big stage?
"He's kicked in front of 101,000 [people], he's played Oklahoma in the Cotton Bowl and played well, he's had the winning field goal at A&M," Brown said. "He will not change his personality on Sunday or Monday night when he's playing for the Ravens. He'll be able to handle that pressure."
Tucker's self-assurance comes from the solid background he received growing up in Austin, Texas.
The son of a heart surgeon, Tucker never had a hard time in class. He attended Westlake High School, which received a gold medal in the U.S. News & World Report of the best schools in the country.
Tucker was a standout athlete, not only at kicker. He was also recruited as a wide receiver and defensive back, which may partially explain why Tucker actually tied for the Texas team lead in special teams tackles last season with eight.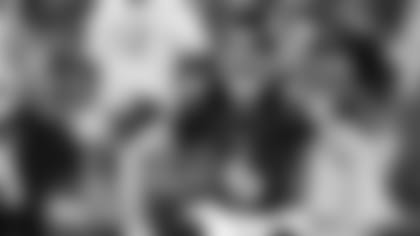 "I like to think I'm a little bit of a renaissance man, and that's helped me out during my life," Tucker said. "I'm trying to learn something new every day and something new off the field as well."
Tucker raps in front of his teammates. He sings opera for them too. That's just a glimpse the tip of his different hobbies, which have already come to light in Baltimore. Tucker said he never wants to be perceived as having a dry personality.
"He's done everything right in his life, so he has no reason not to be confident," Brown said. "He's a good student, a good person. He was never once in my office for anything bad, period."
That's not exactly true, as Brown later recalled. Tucker was called in after he went rogue and unsuccessfully tried a fake punt at Wyoming – from his own 6-yard line.
"He just said, 'Coach, I thought I could make it,'" Brown remembers. "So confidence, he does not lack."
When Tucker went undrafted out of college (which Brown attributed to teams being worried he was worn out after handling field goals, extra points, kickoffs and punting at Texas), he was still sure he would get picked up. The Dallas Cowboys (his childhood team), Chicago Bears and Baltimore Ravens all invited him to rookie minicamp.
The Ravens had also extended the offer to multiple veteran kickers, but were declined. They didn't want any part of competing with Cundiff. The 22-year-old Tucker accepted the challenge of trying to unseat a proven veteran under a long-term contract.
Tucker wouldn't say when he first felt he could actually win the job – whether it was right from the start, at some point during training camp when he was more consistent in practice, or when he hit a 53-yarder in last week's preseason game against the Jacksonville Jaguars.
He said his mind was on each individual kick, and he wouldn't allow it to wander.  But those around him started to take notice of Tucker's attitude.
"I saw that he had an attitude of, 'Why not me? Why can't I kick here?'" said Ravens longtime Pro Bowl kicker Matt Stover, who is now in the team's Ring of Honor.
"That is how I came into the league. It was a swagger, but it wasn't cockiness. It was channeled well. And I see that he's channeled well too with that. It's not cocky, it's confidence. There's a huge difference."
Stover and Tucker have more similarities than just their attitude.
Special Teams Coordinator Jerry Rosburg, who is credited with* *finding Tucker, brought up Stover's name and tape when he first got Tucker in the classroom. Rosburg saw some similarities in their technique.
"The thing that both of them do very well is their ball-striking ability," said Rosburg, who coached both kickers. "Hitting a straight ball in the division we play in when you are playing in Cleveland and playing in Pittsburgh in December and you're playing in New England in January, these things are really important."
Both kickers have similar approaches too. Tucker says some of the best advice he's ever gotten in his life came from his grandfather, Paul Tucker, Sr., on the eve of his high school state championship game: Just kick the ball.
Ever since then, that's what Tucker does. He doesn't overthink things. He just hits it really hard and as straight as possible; a tactic Stover prides himself on to this day.
"I think the way he approaches the kick is very similar, very simple," Stover said. "Kick the ball straight."
The similarities don't stop there. Tucker is 6-foot, 180 pounds. Stover was listed at 5-11, 180. They're both deeply religious, happy-go-lucky folks from Texas.
Tucker crosses himself before every kick. He even had a few points to the sky (Stover's signature gesture) after successful preseason kicks. It's something Tucker says he may make a habit.
"The guy's a legend around here," Tucker said of Stover. "The more I find out about him, the more I want to replicate and expand upon what he did in his great career here."
The two kickers chatted for about 10 minutes before the Ravens-Lions preseason game on Aug. 17. It didn't take long for Tucker to grow on Stover.
"After 30 seconds I was like, 'Oh yeah, this kid's going to be just fine,'" Stover said. "He carries himself very well, mature. I think he knows that the team's got a lot of confidence in him, but it's also a big risk. Knowing him, he's going to say, 'Why not me? Why can't I be the guy to do well?' I really see that in his attitude, and that's big."