The Ravens have lost an incredibly influential person in team history, as David Modell passed away Friday after battling lung cancer for nearly two years.
Modell, 55, was the son of former Ravens Owner Art Modell, who brought his team to Baltimore in 1996 and presided over it as owner until 2004.
David worked his way up his dad's organization, starting as a grounds crew member for the Cleveland Browns in 1975 when he was 14 years old, until he became the Ravens' first team president in 1996. He served in that position until 2004.
"I've known David since 1978 and, in many ways, we became like brothers," General Manager Ozzie Newsome said. "We both grew up with the Browns and became Ravens together. We shared thoughts beyond the business of football. Life, family, children, politics, religion – we touched it all. You can trace much of the good of this franchise back to David. His passing shakes me."
David was instrumental in establishing the Ravens in Baltimore. He was determined to embrace the city and have it embrace the Ravens in turn.
From the selection of the team name and colors and the move to M&T Bank Stadium in 1998, to the hiring of former Head Coach Brian Billick, David coordinated the efforts as team president. His fingerprints are still present on many Ravens traditions.
The franchise arrived in Baltimore in February of 1996, and there was a lot of work to do.
"We had nothing," said Senior VP of Public and Community Relations Kevin Byrne, who was also part of the move from Cleveland to Baltimore. "We didn't have a name, we didn't have colors, at that point we didn't even have an updated diagram of Memorial Stadium. David had to direct the formation of a football franchise in just a couple of months.
"The foundation he laid led to one of the model franchises, I believe, in the NFL. One of his keys, like his father, was he wanted the fans involved."
David coordinated the contest to name the team the "Ravens" and determine the team's colors. David wanted to put the process in the hands of the fans, and assembled focus groups and a telephone poll. In 1999, he once again involved the fans to vote for a new Ravens logo.
In 1998, David coordinated the opening of M&T Bank Stadium, which once again incorporated design elements after surveying fans, including the wide concourses still in place today. David was instrumental in establishing many gameday traditions as well.
David brought the "Marching Ravens" into existence after helping to keep the band alive after the Colts left Baltimore. He wanted Ravens games to have a college-like atmosphere, which also included a full female and male cheer squad, including stunts.
"He is the godfather of the Marching Ravens," said Band President John Ziemann. "I always told him he was the P.T. Barnum of the league."
David spearheaded the search for a new head coach after the 1998 season, and Billick won Super Bowl XXXV in the 2000 season. The group discussed and researched approximately 50 candidates before focusing on Billick.
"David Modell was a good friend and valuable partner to me and my family," Billick said. "His ever-present and upbeat energy, along with his constant support, were at the very core of our success with the Ravens. He was the first to reach out to me and invite me to consider the Ravens, and he made it easy and inviting to come here. He will be sorely missed."
There was no better example of David's desire to include the fans than after the Ravens won Super Bowl XXXV.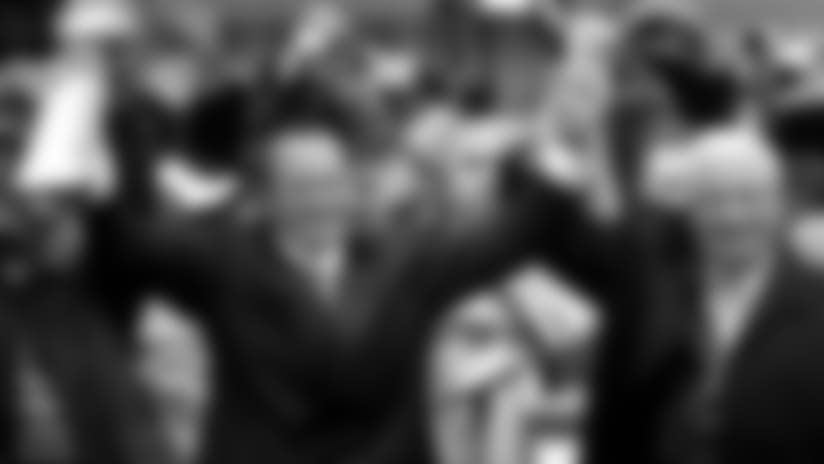 On the flight back from Tampa, somebody offered to clean the Lombardi Trophy after it had been held by so many players and family members immediately after the game. David refused. When the Ravens landed back in Baltimore and bussed back to the team's facility, they stopped just outside the gates at David's request to let a crowd of about 1,000 fans hold and take pictures with the trophy. It went on tour for a year after that.
"He wanted to get 100,000 fingerprints on it," Byrne said. "He wanted the community to enjoy the trophy."
David did it all during his time as an NFL executive, and did it with hard work, creativity and a sense of humor. While in Cleveland, he worked in every phase of the team except playing and coaching. He helped in the team's ticket office, public relations department and started the marketing division – a first for an NFL team. David also served on the NFL's Stadium and Expansion Committees. 
It can be difficult for the sons or daughters of successful people to establish themselves when they go into the family business. That's something that David talked about at times during his life.
"I do believe he got the credit he deserved. He earned it," Byrne said. "I hope that later in life he realized how much he was respected for what he did for the Ravens.
David is survived by his wife, Michel, and their twins, daughter "Fee" (Aoife) and son "Bertie" (Bertram).  From his first marriage, David is the father of daughters, Breslin and Collier, and sons, Arthur and David Jr. He's also survived by his older brother John.
Other Ravens, including Owner Steve Bisciotti, Head Coach John Harbaugh and linebacker Ray Lewis, are also morning David's loss.