PLEASE NOTE:The opinions, analysis and/or speculation expressed on BaltimoreRavens.com represent those of individual authors, and unless quoted or clearly labeled as such, do not represent the opinions or policies of the Baltimore Ravens' organization, front office staff, coaches and executives. Authors' views are formulated independently from any inside knowledge and/or conversations with Ravens officials, including the coaches and scouts, unless otherwise noted.
It was somewhat understandable considering the talent surrounding Carr in Oakland.
Nnamdi Asomugha (three-time Pro Bowler) and Charles Woodson (six-time Pro Bowler) were at cornerback and safety. There were also two other rookie cornerbacks, **Fabian Washington** and Stanford Routt, freshly drafted out of the first and second rounds, respectively.
Needless to say, there wasn't much room at cornerback for a 5-foot-10, undrafted rookie free agent.
Initially, Carr wasn't sure he would be able to hold his own. What rookie totally is until they've tried it? But it didn't take long for Carr to convince himself.
In his first NFL practice, Carr intercepted three passes.
"Right away, I knew, talent-wise I was good," Carr said. "Once I saw everybody else playing compared to myself, it was laughable that I didn't get drafted."
Since then, it's been a matter of proving to everybody else that he could play. In order to do that, Carr first needed the opportunity.
"After that, I was just like, 'I can't worry whether people think I'm good or they don't. I just have to play and know that eventually the cream always rises to the top,'" Carr said.
Carr rose to the top of Baltimore's cornerback depth chart this offseason when **Domonique Foxworth** went down with a season-ending injury. He remained there even as Washington and **Lardarius Webb** returned from their own ailments.
Now, as the Ravens have moved cornerbacks in and out of the spot opposite him, Carr has remained the constant.
"He's helped us big-time," Ravens Secondary Coach **Chuck Pagano** said. "It's not how you get into the league. It's what you do with your opportunities to stay there. He figured that out real fast."
A major reason why Carr wasn't drafted was because he missed the final six games of his senior year at Boise State.
Pagano, who was with Oakland when Carr came into the league, wasn't the coach who targeted Carr as a free agent signee. That was a special teams decision, Pagano said.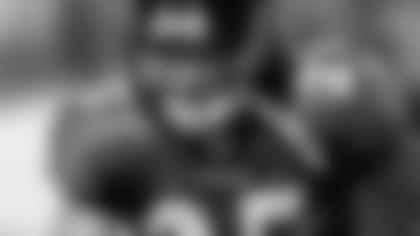 Thus, despite Carr's mini-camp cornerback debut, the honorable mention All-WAC special teams returner primarily served as the kickoff and punt returner in Oakland.
Carr gradually saw more time at cornerback and opened eyes with a 100-yard, game-sealing interception return in Pittsburgh, but notched just four starts at cornerback in three seasons. He was generally used late in games in dime packages (four cornerbacks).
"Chris was always like, 'Fabe, when they give me my shot, I'm going to show them,'" Washington said.
Carr felt "pigeon-holed" as a sort of utility player who could perform well in a variety of tasks, but wasn't good enough for a full-time role. Still, Washington said Carr's notebook looked like he was preparing as if he was the starter every week.
Carr wasn't about to give up on his belief that he could make it at cornerback.
"Players get accepted into a role and they just focus on that and never dream of anything else," Carr said. "No. If you're a backup, your goal should be to be a starter someday. You should always be trying to improve, to increase your value in this league so you can help your team out more and have more longevity."
When Carr hit the 2009 free agent market as a top punt returner (after averaging 10.1 yards per return in one season in Tennessee) he also looked for an opportunity at cornerback.
In Baltimore, Washington was already slated for one starting spot and Foxworth was penciled in at the other after signing a four-year deal about a month earlier. But Carr knew Pagano was familiar with his skills and he felt Baltimore was the place to play defense.
Carr took over as the Ravens' punt returner last season, but with veteran Samari Rolle deciding to retire, he also stepped in as Baltimore's nickel corner.
As the year went on, Carr's play improved and he eventually started five of Baltimore's final six games (including the playoffs). He notched an interception in the first of those six games (Dec. 13 vs. Detroit) and got another against Patriots quarterback Tom Brady in the playoffs.
By the time the 2010 season kicked off, Carr had an inside shot at keeping his starting spot due to Washington and Webb's injuries. When Foxworth went down with his knee injury, Carr was left as the only healthy cornerback with an NFL start on his resume.
Carr wasn't intimidated by the sudden thrust into the spotlight.
"I figured, 'Hey, I'm the starter until they tell me otherwise,'" Carr said. "'If I play the way I'm capable of, I'll be starting anyway.'"
There are a lot of confident players in Baltimore's locker room, according to Washington.
Carr is "high on the list."
It's a trait that Carr embraces. There's a difference between cockiness and confidence, and Carr has the latter.
"I honestly feel like if I'm on my reads and I'm playing my technique, I feel I'm as good as anybody," Carr said. "It's not being conceited. Regardless of whether anybody else ever thought that, that's the expectations I have for myself."
As Washington attests, confidence is something an NFL cornerback must have since they're often on an island, matched up one-on-one versus bigger wide receivers.
Washington said a lack of confidence is generally the problem for cornerbacks when they're not playing well.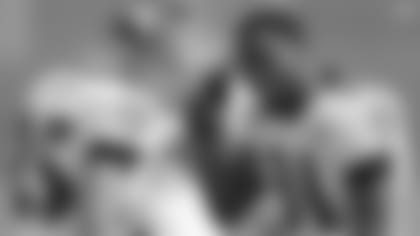 Thus, it's one reason why Carr has been able to maintain his steady performance.
"Your confidence in yourself should come from within," Carr said. "It shouldn't be precarious on what fans or coaches think. You should just strive to reach your potential. That's what you should be focused on."
The other aspect of Carr's game that teammates and coaches rave about is his intelligence.
Carr interned at the law firm of Hogan & Hartson this summer in addition to his offseason workout regimen. The former political science major was prepared to enter law school if the NFL didn't work out and still has plans for it afterwards.
That classroom knowledge translates to the football field as well.
If Washington and Webb have any questions about the game plan, they go to Carr first. While other Ravens were nervous about the short week heading into last Thursday's game, it didn't concern Carr because he knows it all by Wednesday anyway.
Washington confirmed that, saying Carr often predicts what plays the offense will run during the unit's film sessions.
"He's as smart as any football player I've ever seen," Washington said. "I'm good at film study. But Chris is on an **Ed Reed**, **Ray Lewis** level."
The tireless studying and note-taking has come together with Carr's physical talent to pay off this season. As Pagano put it, Carr is a technician who's in a rhythm.
In nine starts this season, Carr has a career-high 40 tackles, one interception and five pass deflections. Teams haven't thrown his way much in recent games, or much all season, for that matter.
"He's playing the best football I've ever seen him play," Washington said. "I knew he could play in this league. For a lot of people, it just takes a shot. When you get that shot, you gotta grab it. That's what he's done, man, and I'm proud of him."