PLEASE NOTE:The opinions, analysis and/or speculation expressed on BaltimoreRavens.com represent those of individual authors, and unless quoted or clearly labeled as such, do not represent the opinions or policies of the Baltimore Ravens' organization, front office staff, coaches and executives. Authors' views are formulated independently from any inside knowledge and/or conversations with Ravens officials, including the coaches and scouts, unless otherwise noted.
What unfolded at Heinz Field on Sunday was very familiar. 
Both the Ravens and the Pittsburgh Steelers engaged in a classic battle between the two AFC North rivals, where field goals, field position and physicality would decide the outcome.
The outcome was foreign, however, as quarterback Joe Flacco's late-game heroics secured a 17-14 victory, the Ravens' first in Pittsburgh since 2006. It also marked Head Coach John Harbaugh and Flacco's first victory at Heinz Field.
Flacco found wideout T.J. Houshmandzadeh for an 18-yard touchdown with 32 seconds left, marking the sixth fourth-quarter comeback of his career. It was also his first comeback with under a minute remaining.
With his poised performance against the Ravens' most-bitter adversary, Flacco took an important step in his maturation.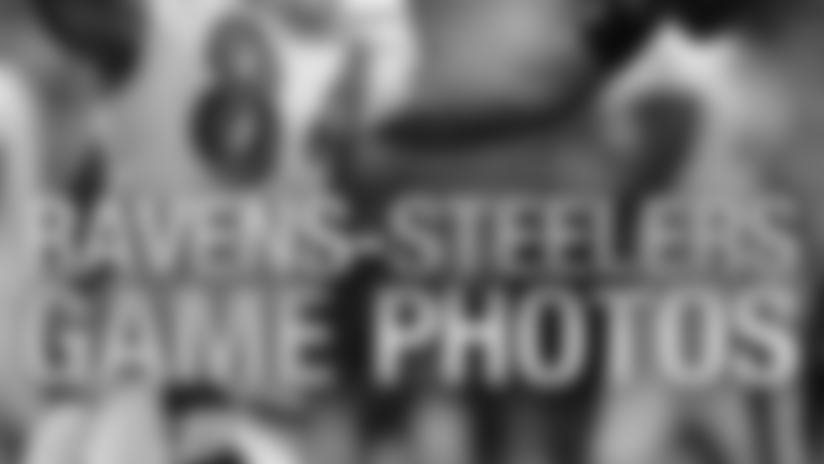 ](http://www.replayphotos.com/baltimoreravensphotostore/week-4-steelers-pictures/W04BR__0001024.cfm)
"When you go back and look at the [Joe] Montanas, the [John] Elways, you always remember those drives," said linebacker Ray Lewis, whose interception on the Steelers' final offensive snap sealed the win.  "We're talking about one of the best defenses in the game, and for Joe to do that... the throws he made, the decisions he made, taking what they gave him, that's what make a great quarterback. 
"That young kid is just starting to develop."
The Ravens improved to 3-1 overall, even after kicker Billy Cundiff missed a 46-yard field goal, Flacco threw one interception, Willis McGahee lost a fumble and the team committed seven penalties.
Regardless of whether Pittsburgh's Pro Bowl quarterback Ben Roethlisberger was under center or serving the final game of his suspension – Charlie Batch started for the Steelers – both the Ravens and Flacco needed to get over this black and gold roadblock. 
"I think that there's going to be a lot of defining moments for Joe, but this is going to be one of them," said Head Coach John Harbaugh, who also had not defeated the Steelers in their own place.  "And this is going to be one that all the Ravens fans out there are going to remember for a long time."
With the help of a solid day from the Ravens' offensive line, Flacco eluded the Steelers' ferocious pass rush and only took one sack.  The University of Delaware product distributed the ball to seven different targets, completing 24 of 37 passes for 256 yards.
As he took the podium in front of the assembled media, Flacco was also caught up in the significance of the win.
"There's not too many better ways to win a game when you're coming to Pittsburgh," said Flacco.  "I mean you blow somebody out and that's fun and all, but when the game is that close through it all and you go and win it on the last drive, once you win it, there's no other better ways to win a game.
"It was awesome, I couldn't be more proud of our guys."
The Ravens did have some early troubles.
Baltimore marched within range of a 46-yard field goal to open the scoring, but Cundiff was wide right on his attempt, and the Steelers roared back with a seven-play, 64-yard drive that resulted in a 1-yard touchdown run from Rashard Mendenhall.
Flacco was not deterred.  He calmly launched a 40-yard bomb to Derrick Mason on the subsequent series, setting up a 9-yard touchdown run by McGahee to knot the score.
Each team traded punts two times over before Cundiff redeemed himself with a 33-yarder just as the first half expired. 
But with the first possession out of the break, McGahee was hit hard by linebacker James Harrison and put the football on the turf.  Later in the third quarter, Flacco threw his sixth pick of the season.
Both times, the Ravens were bailed out by Pittsburgh kicker Jeff Reed, who missed 49- and 45-yard field goals.
The Steelers added another Mendenhall touchdown in the fourth quarter, but it was Flacco who became the late-game hero.
He put together the second fourth-quarter comeback in as many weeks, defeating the Cleveland Browns last week in similar fashion. Only that time, Cundiff sealed Flacco's drive with a game-winning field goal.
Now, the Ravens carry their positive momentum back to M&T Bank Stadium, where the Denver Broncos are next on the schedule.  And Flacco does it with a big addition to his resume. 
Even if Flacco wants to spread the praise, many in the Ravens' locker room are throwing it back on No. 5.
"Pittsburgh is a fun win," said fullback Le'Ron McClain.  "You don't understand how happy I am.  This is big for this team, this organization, Joe.