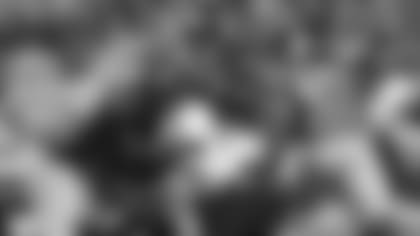 It didn't matter who was missing.
It was another classic Ravens-Steelers brawl at Heinz Field Sunday night.
And for the third-straight time in the regular season, the Ravens left Pittsburgh with a win over their arch rivals, 13-10.
It seemed only fitting that Baltimore did it with defense.
Pittsburgh scored a touchdown in the game's first 43 seconds, but the Ravens didn't allow the Steelers' yellow and black throwback uniforms to reach the end zone over the next 59 minutes.
Baltimore's defensive performance, combined with a Jacoby Jones punt return for a touchdown, made the difference in a win that puts the Ravens (8-2) two games ahead of their AFC North rivals with six regular season games remaining.
It was the eighth of the last nine regular-season games decided by four points or less.
"Whatever procedure my brother had, I think I'm going to need later tonight," Head Coach John Harbaugh joked minutes after his team barely held on for victory, referring to a heart procedure Jim Harbaugh had last week. "My heart's moving a little fast right now.
"It's never pretty in this game. We got a typical Pittsburgh-Baltimore game played. It was a great defensive struggle."
The Steelers (6-4) were missing quarterback Ben Roethlisberger, safety Troy Polamalu and wide receiver Antonio Brown – three key starters. Veteran Byron Leftwich stepped in for Roethlisberger, who has shoulder and rib injuries.
But Baltimore was also without key players, including linebacker Ray Lewis, cornerbacks Lardarius Webb and Jimmy Smith, defensive end Pernell McPhee and defensive tackle Terrence Cody.
For that reason, outside linebacker Terrell Suggs – one of the rivalry's most dominant characters – said the win just wasn't the same.
"It's bittersweet," Suggs said. "I'm glad to have the win, but we'd rather have those guys playing. It does good for the rivalry, it does good for football to have both teams have key components."
A national Sunday Night Football audience saw what it's accustomed to.
The Ravens had just 12 first downs, including only four in the second half. They were held to just two yards per carry and quarterback Joe Flacco was 20-of-30 for a paltry 164 yards.
"Their defense is good. There's no sugarcoating that," said running back Ray Rice, who rushed 20 times for just 40 yards. "That's a hard-hitting, physical defense and it was body blow after body blow after body blow. It was a heavyweight fight."
The Steelers were equally shut down. They went 5-for-17 on third down, despite entering the game leading the NFL in that statistic.
Pittsburgh's top threat, Mike Wallace, was held to four catches for 26 yards and Leftwich, who started his first game since 2009, completed just 18 of 39 passes for 201 yards.
The two teams combined for just 511 total yards.
While Pittsburgh's defense entered the game ranked atop the NFL and Baltimore's unit had uncharacteristically slid to 27th overall, the Ravens unit played like its old self for a night.
"I think it's two teams that play very similar styles," Harbaugh said. "They're two very rugged teams. They're always two good defenses. We're still in that category now. It's a great rivalry. It's what this rivalry is. It's the essence of this rivalry."
The Ravens players said they knew they were going to be in for a defensive slugfest as usual.
"We knew it was going to be an all-out war for 60 minutes and we came out and played a 60-minute game like the Ravens are supposed to," cornerback Cary Williams said.
The Steelers ambushed the Ravens at the start.
On the first play of the game, Leftwich heaved a deep ball to Wallace and Williams was flagged for a 42-yard pass interference. After an end around, Leftwich took off for the end zone himself.
The 32-year-old veteran is not known for his mobility, but he ran away from Suggs, then burst through an arm tackle by hard-hitting safety Bernard Pollard. At the end of a 31-yard scramble, Leftwich dove into the end zone to put the Steelers up 7-0 after only 43 seconds of play.
"That was a mistake that we made and it was mine. I own it," Pollard said. "Our team bounced back."
Baltimore responded by getting a turnover on defense – one of three on the night.
Veteran cornerback Chris Johnson, signed on Tuesday, forced a fumble from Wallace on what would have been a first-down catch. Safety Ed Reed scooped it up and returned it inside the red zone.
The Ravens offense couldn't punch it into the end zone, a problem that plagued it throughout the night, and settled for a 26-yard Justin Tucker field goal.
With Baltimore's offense slogging early on, Jones once again gave his team a shot in the arm.
The speedster fielded a punt along the left sideline, made a couple moves and turned on the jets to scamper from sideline to sideline for a 63-yard punt return for a touchdown that put the Ravens on top, 10-7, near the end of the first quarter.
It's Jones' third special teams return for a touchdown this year and second in as many weeks. Jones previously had touchdown kickoff returns of 108 and 105 yards.
"Jacoby came up big again," Harbaugh said.
"Them dudes did a great job on those gunners," Jones said. "When I caught it, I had nothing but room. They did a great job blocking and it just hit when you least expect it."
The offense found momentum in spurts, but couldn't sustain drives. Flacco found running back Ray Rice for an improvised 31-yard gain that set up a score. But Tucker missed his second field goal of the year from 41 yards out.
Cornerback Corey Graham got the second half started for the Ravens with his first interception in his second game as a starter. Suddenly, Heinz Field started rocking as Styx's "Renegade" poured through the loud speakers, cueing Steelers fans to get even louder.
The Ravens offense responded immediately with a 23-yard strike to Boldin. Rice had a spinning third-down conversion and the Ravens got three points out of it with a 39-yard field goal by Tucker to extend their lead to 13-7.
Pittsburgh responded with a 12-play, 80-yard drive on the legs of running back Jonathan Dwyer and a 20-yard gain to wide receiver Emmanuel Sanders aided by a helmet-to-helmet hit by Reed.
But Baltimore's league leading red-zone defense stepped up again, holding Pittsburgh to a 22-yard field goal that made the score 13-10 with 34 seconds remaining in the third quarter.
Graham, who was playing in his first Ravens-Steelers showdown, had two pass breakups in the end zone on the drive.
"It lived up to all expectations," he said of rivalry. "We haven't been playing the best the last couple weeks, or the whole season some people say, but we have to find a way to get wins and that's what we were able to go out and do today."
The Ravens defense stood tall three times in the fourth quarter with Pittsburgh only needing a field goal to tie.
The Steelers drove to Baltimore's 46-yard line and won a critical challenge for a first down, but the Ravens defense stiffened and Haloti Ngata collected his fourth sack of the season near midfield to force a punt.
Pittsburgh went into Ravens territory again on the next drive. This time the Ravens got a third-down stop via a crushing sack by safety James Ihedigbo, who said Harbaugh told him that he was brought to Baltimore to play the Steelers.
With Leftwich hobbled by a shoulder and rib injuries, the Steelers had one final chance to try to tie the game with 1:05 remaining. But it ended up being just an exclamation point for the Ravens defense.
Graham leveled tight end Heath Miller deep down the field to knock a catch loose. Pollard flattened wide receiver Jerricho Cotchery on the next play to cause an incompletion. After a mad lateral-filled scramble, the Ravens defenders put their seal on the slugfest.
"The good thing is we see them in two weeks," linebacker Jameel McClain said. "We go right back into it. It's going to be the same type of game. It never changes; it's been like that forever."