As the Ravens punting unit trotted onto the field with about three-and-a-half minutes to go and a three-point deficit to overcome, it seemed like traditional Baltimore football.
Kick the ball away and rely on the defense to make a stop.
But in an instant, a thought popped into the mind of Ravens head coach John Harbaugh. He went from "punt mode" to aggressive mode.
It was that gutsy call, coupled with a pinpoint play by quarterback Joe Flacco
and running back Ray Rice
, that sent the Ravens into overtime in a 20-17 win Sunday night. It was a play the Ravens have needed all season amidst so many close defeats.
"It was a play designed for me to win," Rice said. "That play was me on James Farrior. It's either you got me or you don't. For them to call my number in that situation shows me the confidence they have in me as a player."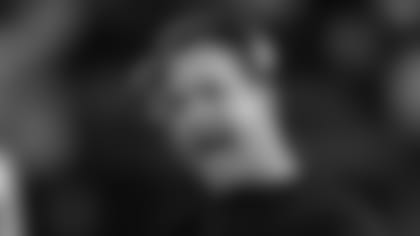 The punt unit was already prepped to take the field with the Ravens facing third-and-22 late in the fourth quarter. When the Ravens came up five yards short after a 17-yard Derrick Mason reception, Harbaugh carried through with his original plan.
Then he paused. Fourth-and-five from their own 46-yard line with 3:31 remaining in regulation, down by three.
As Rice said, "Not only is it fourth down, but it's fourth down with the game on the line."
"I thought about it for a minute, had a quick word with Cam [Cameron] and decided to call the timeout," Harbaugh said. "We talk[ed] about it just a little bit more and [went] for it."
Rice and Flacco did the rest. Rice went into motion and lined up wide to Flacco's right, across from Steelers linebacker James Farrior. Rice beat Farrior off the line and cut to the inside, an option route across the linebacker's face.
Rice caught the ball in stride over the middle, eluding Farrior's diving swat, and broke loose for a 44-yard gain. It put the Ravens in range for Billy Cundiff
's game-tying field goal with 1:56 left.
"That's a great play by Joe, that's a great play by Ray Rice. And those guys deserve the credit," Harbaugh said. "I guarantee you, it wasn't the decision to go for it that made that play, it was the way those players executed it."
Before the play, Rice was feeling down on the sideline after missing a block that resulted in Flacco getting hit from behind and fumbling inside Steelers territory earlier in the fourth quarter. Rice's 44-yard jaunt was just the confidence builder he needed.
With the game in the Ravens' reach in overtime, the coaches once again turned to their playmaking running back. After linebacker Paul Kruger
gave the Baltimore offense possession at Pittsburgh's 28-yard line, Rice carried the ball four straight times for a combined 19 yards, setting up Cundiff's 29-yard attempt to win the game.
The second-year back, who notched his first win over the Steelers in four chances, finished with 19 carries for 88 yards. His 136 total yards pushed his streak of games with 100-plus total yards to eight.
"What I was more impressed with was our play-calling at the end of that last drive," Rice said. "It was our will against theirs. We knocked those guys off the ball. We got the ball down the field. That's Ravens football and we got back to it."