The following is a modified excerpt from tomorrow's Cover Story on Ravens running back J.K. Dobbins. Check back tomorrow for the full feature.
As J.K. Dobbins approached his senior year at small-town La Grange High School, the hype was huge – even for Texas football standards.
Dobbins piled up 5,149 yards in his first three high school seasons. As a junior, he posted 2,740 rushing yards and scored 35 touchdowns, which led to a commitment to Ohio State.
Dobbins was the 4A preseason player of the year and part of the "Super Team" in Dave Campbell's Texas Football magazine – commonly referred to as the "Texas Bible." State records were within reach.
La Grange's first game of the season was at Liberty Hill, which was on the other side of Austin and about an hour-and-a-half drive away. The Leopards took two yellow buses to get there and Head Coach Matt Kates kept getting texts from his younger brother, the team's offensive coordinator, who was riding with his unit.
"He's texting me, 'J.K. can't even sit still. He is so ready to get going,'" Kates said. "He was always ready to go, but he was chomping at the bit to get his senior year going."
La Grange received the opening kickoff and on the first play from scrimmage, Kates called a power read. The defensive end closed like he's supposed to, so the quarterback gave it to Dobbins on an outside sweep.
He went about 12 yards and could have gone out of bounds, but Dobbins saw a single-high safety in the middle of the field, so he stuck his foot in the ground to work back. He'd done it hundreds of times, and Kates thought he might take it to the house. "He did it quite a bit."
A Liberty Hill linebacker was chasing the play and tackled Dobbins from behind – not too unlike the sandwich tackle that Dobbins got hit with against Washington Saturday night. Dobbins' right ankle was "grotesquely twisted" underneath him.
On the very first carry of his senior year, Dobbins suffered a broken ankle and multiple ligament tears.
"He's so fast and powerful that I think his own sheer force made it worse," Kates said.
An ominous storm cell rolled in and settled down over the stadium, refusing to budge. The game was stopped by lightning in the first quarter and after a 90-minute delay, officials from both teams decided to throw in the towel. The injury came in what ended up being a meaningless game – kind of like the Ravens' preseason finale.
"We go over there, get him hurt, play six minutes, and it ends up being a no contest," Kates said. "Then we traveled an hour and a half back to La Grange and we got the news the next morning that he was out the whole season. It was a nightmarish 12 hours for sure.
"His senior year, there's no telling what he would have done. All the personal accolades were coming, but he wanted to win a state championship. After one carry, not even getting a chance to do it, I think that's what haunts him – and haunts me. When we see each other, it comes up every single time."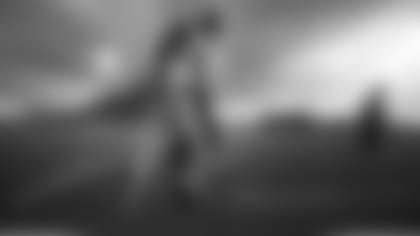 Dobbins had surgery the next week. He still didn't miss a practice except when it conflicted with his physical therapy and was still voted a team captain in the middle of the season. The Leopards finished 4-6, losing in the first round of the playoffs.
"Some of these kids are forgoing their senior year, then I think about what he went through," Kates said. "He would have done anything – I'm talking about anything – to get one more carry as a La Grange Leopard."
Dobbins was angry and anxious. He was worried that Ohio State would yank his scholarship.
"Football is his life. He loves the game of football," said his mother, Mya Grounds. "Because that injury was the first time he's been injured like that, it's like, 'Are you going to come back stronger or weaker?' It was just the what-ifs that were kind of scary. He wasn't sure he was going to be able to come back like he was and it turned out he was stronger and better once he came back."
Every time his cast would get wet, Dobbins would get even more angry because he thought it would slow his recovery. Dobbins wanted to return for his senior high school season so bad that he and Kates had multiple doctors try to talk his mother into allowing a late-season return for the playoffs. Grounds hurt her ankle in high school and still felt the pain from it decades later, so she put her foot down. He would have to wait until college.
The next time Dobbins suited up for a game, he was a true freshman starter at Ohio State – a rare feat. His first game was on national television at Indiana. Dobbins galloped for 181 yards, breaking a 15-year-old school record held by Maurice Clarett for most rushing yards in a debut.
Back home in La Grange, the entire Leopards football team had gotten together to watch Dobbins' college debut. "Everybody was excited, but nobody was shocked, I promise you," Kates said.
Dobbins became a star overnight, and he was off and running once again.
"You never quit. You always finish it," Dobbins said earlier this month. "I don't like to lose. If you quit, you lose. When you get injured like that, it makes you realize who you are."
When Dobbins went down with his ACL tear in Saturday night's game, Kates was at home and saw it come across ESPN. He let out an "Oh my God" and text messages from others in and around La Grange soon started pinging his phone.
"Just sickening, sickening, sickening," Kates said. "He was prime to bust out and put the whole league on notice. It'll still happen, just not till 2022. If anybody knows how to handle it, it's him. I think he proved that at Ohio State with his career there. He'll be a rehab hero. Whatever they ask him to do, he'll do it tenfold."
Kates pointed out that one big difference between Dobbins' ankle injury and his knee injury is the finality of it. The ankle meant his high school career was over, but Dobbins' NFL career is still just getting started.
Dobbins called his mother from the FedExField locker room. Still living in La Grange, she was trying to get the game on TV when her phone rang.
"I was like, 'Why is he calling me? It's game time,'" she thought before Dobbins told her the news. He already had been told it was likely an ACL tear. "My heart dropped. I felt very hot, like I was about to have a panic attack."
Then Dobbins went into comforting mode. He knows his mother is a worrier (and a crier). Grounds recently got her first dose of the COVID-19 vaccine, as she was planning to fly to Las Vegas for the Ravens' regular-season opener. But she's not fully vaccinated yet, so Dobbins told her to stay home instead of flying to Baltimore for his upcoming knee surgery.
"He's in good spirits – better than I," she said. "He's the one that keeps me sane. He's telling me, 'Don't worry about it, it's God's plan. It's just like my high school year. I'm just going to come back stronger and better.'"