James Proche hears it. There's no avoiding the chatter around Baltimore that the Ravens need to add another wide receiver after trading Marquise "Hollywood" Brown during the draft.
But Proche and the rest of the Ravens wideouts already in the room are looking to do some shushing.
"Obviously, there is a lot of noise – a lot bad, some good – around our receiver room. We just want to quiet the noise with our play, with how we carry ourselves every day," Proche said on "The Lounge" podcast.
"You most definitely pay attention to it whether you want to or not. As a competitor, it does put a chip on your shoulder because you want to prove those doubters wrong."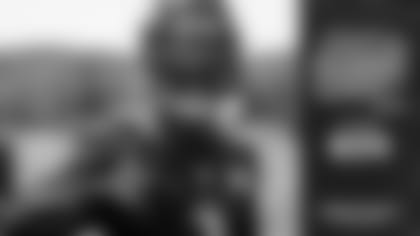 374: James Proche II Joins The Lounge
Ravens third-year wide receiver James Proche II talks about the opportunity he and the other young wide receivers have and the competitive drive that pushes him.
Brown has been the Ravens' top wide receiver since he was drafted in 2019. He posted 1,008 receiving yards last season with a whopping 146 targets (10th-most in the league). Last season, Proche and fellow 2020 draft pick Devin Duvernay saw a combined 67 targets.
In short, the door is open for this year's wideouts. Last year's first-round pick, Rashod Bateman, will get many more looks. Proche and Duvernay are next in line, as well as second-year wideout Tylan Wallace.
"A lot of opportunity. Blank slate," Proche said. "I paint the picture whatever way I want it, whatever way we want it as a team. … Earn your respect every day. Work at it, be consistent. Nobody is going to give you anything."
Proche knows that these offseason practices are not only for sharpening his game and showing outsiders that he's ready to seize the opportunity. It's also about showing his coaches and the front office that a veteran addition isn't needed.
Baltimore has often gone the veteran wide receiver route to bolster the room. Since Super Bowl XLVII, the Ravens have signed Steve Smith Sr., Chris Givens, Mike Wallace, Jeremy Maclin, Willie Snead IV, John Brown, Michael Crabtree, Dez Bryant and others. Last year, it was Sammy Watkins. Some of those signings were hits, but others didn't work out and took valuable reps from young drafted receivers.
The Ravens have been criticized for their ability to draft and develop young wide receivers. With coaches Tee Martin and Keith Williams going into their second seasons and four wideouts drafted between 2020-2021, the Ravens have an opportunity to see what they've got.
Last week, Head Coach John Harbaugh said he's "really excited" about the opportunity the young receivers have.
"I think at some point in time, you've got to put guys out there," Harbaugh said. "We all like to cling to the known, the names, whatever it might be, and the opportunity to throw those guys out there and see how they do …
"I can tell you this, they're working really hard. I mean, they understand the situation, and I think they're making the most of it. They've been here, really being honest with you, for almost months now. They've been here from the beginning working extremely hard every day."
Work is all Proche knows. He's the first player on the practice field catching balls off the Jugs machine. While he does sleep in a little more during OTAs, Proche sets his alarm for 5:45 a.m. in training camp.
Last season, Proche notched 16 catches on 20 targets. His final game was the blowout loss in Cincinnati, but Proche had his best game yet, hauling in seven of eight targets for 76 yards. That gave him a boost going into the offseason, and now he's looking to show he can do a lot more.
"I try to bring a game-like mentality to every portion of my life," Proche said. "It's being locked in, game-like, laser-like focus. I'm enjoying the now, but I want to always be prepared for whatever comes.
"I always had Year 3 planned on to be my year. … Year 3, that's when they say, 'Are you going to be in the league for a long time or not?' Right now, I'm just trying to prove myself that I belong here for the long run. It's the year."