Lamar Jackson's No. 8 is one of the hottest jerseys, but the quarterback could switch it down the line.
"If we win a Super Bowl, I'm going No. 1," Jackson said. "That's my first number ever. My dad told me, 'Get No. 1 because that's the best. You're the best.' That always stuck with me."
Jackson became a Heisman Trophy winner in No. 8. He became a first-round pick and a unanimous NFL MVP in No. 8. Now he wants to win a championship in that number before hanging it up.
"I want to retire No. 8 and No. 1. I want to do that here at the Ravens," Jackson said. "I want to win a Super Bowl with No. 8 on – do as much as I can with No. 8 on – and then come back and do the same thing with No. 1 on. I'm dead serious. I want to retire No. 8 and No. 1."
For Jackson, it's all about winning. He has compiled a 30-7 regular-season record during his three-year career, but three playoff exits before reaching the AFC championship sting him.
Jackson got his first playoff victory last season in Tennessee, but he said losing the following week in Buffalo erased it in his mind.
"I feel like it started over, like I didn't really win," Jackson said. "I'm back like I have a lot more to prove. I want to get to the big dance. I want to get to the big dance without talking about it as much this year. Take it one game at a time."
The night Jackson was drafted, he told the world that he was going to deliver Baltimore a Super Bowl. He's been chasing it ever since, and that won't change. But Jackson also feels he has sometimes gotten too wrapped up in looking ahead to the Super Bowl.
"I'm going to stand on that [draft night proclamation] until we get it, but we have to focus on the game that's in front of us," Jackson said. "If we're worried about the Super Bowl, these opponents are just hitting us in our face. We weren't even able to make it to the Super Bowl. So we have to focus on the task at hand, the guys in front of us each and every week. That's how we're going to make it to where we want to be.
"It's all about now. I want to focus on the Raiders – that's it. I don't want to speak about playoffs, Super Bowl, nothing like that. Everybody knows we want that, everybody knows we're chasing that. Nobody's shying away from it. But we have to focus on the task at hand. We can't peak too soon."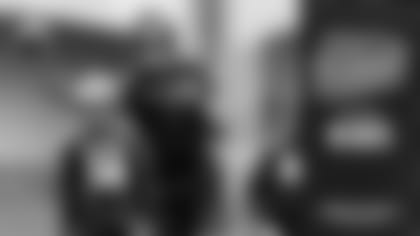 305: Lamar Jackson Joins The Lounge
Lamar Jackson talks about his contract situation, ongoing criticism, outlook for the passing attack, Super Bowl expectations and more as training camp kicks off.