The Ravens secondary had a forgettable night in Denver.
While cornerback Lardarius Webb certainly wanted to see his team win, he couldn't help himself from having a blast at Sports Authority Field at Mile High.
Webb played in his first regular-season game since tearing the anterior cruciate ligament (ACL) in his left knee, the second ACL tear in his five-year career. And it looked like the former Pro Bowl-caliber cornerback picked up right where he left off.
"It felt wonderful," Webb said. "Even though we were losing, I still just felt happy running around."
This time around, Webb is a changed man. He's more appreciative of the opportunity to simply play football every day.
"I just know it could be gone at any time," he said. "At any moment, it can be gone, and I can be on the sideline. So, enjoy it while I can."
Webb suffered his first ACL tear in his right knee on Dec. 20, 2009. It ended what was becoming a very promising rookie season in which Webb had emerged as a starter, even against Pittsburgh.
Webb returned the following season as the Ravens' third cornerback. He broke out in 2011, starting 15 of 16 games, notching 67 tackles, 20 pass deflections and five interceptions. The Ravens rewarded him with a six-year deal reportedly worth $50 million before he entered the final year of his rookie deal.
Last season, Webb entered the year with a lot of buzz about emerging as a Pro Bowl cornerback. Opposing quarterbacks got the message. Webb saw much fewer passes thrown his way and signal callers had just a 42.2 quarterback rating when throwing at him.
There was two-and-a-half minutes left in the first quarter of the Week 6 game against Dallas. Webb was covering Dez Bryant when the Cowboys wide receiver broke off a comeback route. Webb was looking back for the ball and didn't see Bryant cut. Webb awkwardly ran into him and grabbed for his left knee as he fell to the turf.
"I knew right away," Webb recalls.
Teammate Corey Graham, standing on the sideline, immediately put his hands on his head in disbelief. A group of Ravens defenders gathered around in prayer. Webb shook his head as he was carried off the field and straight to the locker room.
Graham took over for Webb and the Ravens went on a historic Super Bowl run, all with one of their best defenders on the sideline. Webb watched as the confetti fell on his teammates' heads.
"It was a good feeling on the sideline [of the Super Bowl], so I can imagine how good it felt to actually be out on the field and just be playing – make some tackles and make some plays," Webb said this offseason. "I feel like a champion, but I'm motivated to get back."
The questions about whether Webb would ever get back to being the same player with two surgically repaired knees began to pop up.
Webb couldn't help but think about it himself. After going through rehab once, Webb knew what to expect. He said it was easier the second time. But the mental struggle of wondering whether he would get back to being an elite cornerback was tough.
"The hardest thing to get back this time was just mental. It was getting my head right," Webb said.
Webb spent his offseason tirelessly working to get his knee in shape. He worked extensively with the Ravens doctors, never missing a rehab session.
"We all work hard, but when you're dealing with that type of pain and that type of injury, to get back to this level, it takes extraordinary work," Graham said.
Head Coach John Harbaugh also saw the work Webb was putting in to come back.
"I just think the guy is amazing in everything he does," Harbaugh said. "I love him to death. Nobody works harder. He's doing great and he's going to play really well."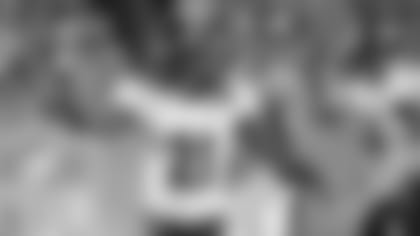 When it was time for Webb to make his return last Thursday, he meditated at his locker.
"[It was] just knowing, 'OK, it's there. I practiced on the knee and I ran on it,'" Webb recalled thinking. "'I worked my butt off for this moment, and it's time.' So I was just ready for that moment.
"It's a blessing, a privilege. Just knowing how important it is to be on that field. Knowing how much work I put in. I missed it, man. I missed it to the fullest."
Webb had a tough assignment against Denver's Eric Decker (a 1,000-yard receiver last year) in the opener. Webb got his hands on the first ball thrown at him, on the Broncos' first drive. Quarterback Peyton Manning didn't throw at him again until the second half – a clear sign of respect.
Webb finished the game targeted six times, fewer than both Graham and Jimmy Smith. Only one of the six passes was completed for eight yards. Manning had a record night with seven touchdowns and 462 passing yards, but he had a quarterback rating of just 39.6 when throwing at Webb.
"He was really, really impressive. He was Webby being Webby," Graham said.
It's easy to see Webb's confidence is back. He walked around the locker room wearing a skin-tight Spiderman shirt with "Webb" down the spine Thursday afternoon. He flashed Spider Man gloves at practice during training camp.
Still, Webb was hesitant to say he's all the way back. The Ravens will need him to play well this season, especially considering the way the secondary looked in the season-opening game in Denver.
Webb knows that, and was hesitant to toot his own horn after his first game. He said before the season began that he believes if he can stay healthy, he can be a Pro Bowl cornerback.
"I'm back, but I'm not all the way back yet," Webb said. "I still have a lot of work to do. I have to keep on going uphill."