Live from New York, it's Saturday Night! … With Ray Lewis.
In this week's episode of Saturday Night Live, the Weekend Update with Seth Myers featured a special appearance by "Ray Lewis," played by actor Kenan Thompson. In the skit, Thompson was wearing Lewis' jersey, had his face painted with Lewis' characteristic eye black, and was donning his skull cap.
Thompson played up the emotional side of Lewis, as he cried throughout the skit when talking about Super Bowl XLVII being his final game.
"Ohhhh Seth it's going to be amazing," he shouted.
Myers then pointed out that the 49ers are favored by 4.5 points heading into the Super Bowl, which brought out a passionate speech from Lewis.
"Oh Seth I can't listen that," he said. "I've been through too much to get here. I'm 37 years old. I got a torn triceps. I can't get this paint off my face. But I know it's all part of a higher plan – the world is amazing, Seth!"
Myers even struggled to hold back laughter at times, especially when Lewis talked about what would happen if the Ravens win the Super Bowl.
"Seth, if we win the Super Bowl – Ooooh – I'm going to go to the 50-yard line of the Super Dome, kneel down, and then I'm going to ascend into Heaven. I'm going through the roof, Seth!" 
Lewis Talks About How He's Changed
While SNL had some fun at Lewis' expense, the actual Ray Lewis sat down with ESPN's Sal Paolantonio this week to discuss the Super Bowl.
During that interview, which aired as part of ESPN's Sunday Conversation, Lewis discussed how he's changed since the Ravens won Super Bowl XXXV.
"There were things I didn't know about a man, know about fatherhood, I didn't have a clue about then," Lewis said. "I was raised without the teachings of a father, so the streets taught me a lot. The decisions that I was making then, I'd never thought about them twice. The decisions I make now, I think about them 80 times before I make one decision."
Paolantonio pointed out to Lewis that he's the only player left in the NFL from the 1996 draft, where he was the 26th overall pick. Lewis revealed that getting picked near the end of the first round was not only motivating to him early in his career, but that it still drives him today.
"I carry it. I've never stopped," Lewis said.
"Don't let met sugarcoat this, because I'll try to cover it up and I don't want to. I said when I was drafted, I said, 'The biggest mistake 1-24 made – you can't count one of them because it was Jonathan Ogden – but 1-24 made was not drafting Ray Lewis."
As Lewis prepares to take the Ravens into Super Bowl XLVII, he said that he's motivated by the opportunity to hoist the Lombardi Trophy with his teammates like Terrell Suggs, Ed Reed, Haloti Ngata, Ray Rice and Joe Flacco, who have never won a Super Bowl.
"As a leader, I want to do something for my teammates," Lewis said. "I want to give them a feeling that they've never felt before. And if I do that, then it's done. Then it's done."
Will Super Bowl Change Flacco's Negotiations?
As the Ravens head into Super Bowl XLVII, one of the storylines throughout the week will be how Flacco's performance will affect his upcoming contract negotiations.
But will his performance in the Super Bowl sway that figure one way or the other?
"I'm not sure," Flacco said during a live interview at halftime of the Pro Bowl. "You'd have to ask the guys in the front office that question. But it's not really my concern. My concern is with my teammates right now and making sure that we go out there and play the best game we can."
"At the end of the day, some people will look at what he does on Sunday afternoon, but I have an entire body of work to look at," Newsome said.
Monachino A Defensive Coordinator Candidate
The Ravens haven't lost any assistant coaches during the recent NFL hiring spree, but that trend could be in jeopardy.
"The Eagles' interest has apparently been directed to Ravens linebackers coach Ted Monachino, according to two NFL sources," reported the Philadelphia Inquirer.
Monachino has been with the Ravens since 2010. He was the outside linebackers coach for two seasons before being promoted to linebackers coach this offseason.
"He is considered around the league as an up-and-comer having worked under coordinators Greg Mattison, Chuck Pagano and Dean Pees in Baltimore," wrote Jeff McLane of the Inquirer. 
Head Coach John Harbaugh said last week that he expected all of his assistant coaches to remain with the team.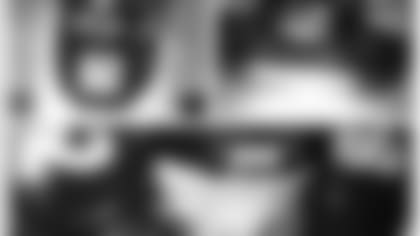 Pittsburgh Steelers center Maurkice Pouncey  is rooting for the Ravens to win the Super Bowl. It may sound crazy to have a Steeler rooting for the Ravens, but Pouncey is from Lakeland, Fla., the same hometown as Lewis. "For [Lewis] to go out on top would be memorable," Pouncey said during the Pro Bowl. 
Steve Flacco, Joe's father, says that the laid-back persona his son has in the media is spot-on. "Joe is dull. As dull as he is portrayed in the media, he's that dull. He is dull." [The New York Times]
Lewis' open expression of faith has unified the Ravens. [YahooSports.com]
An inspiring story that needed to be told for Ravens cornerback Chris Johnson. [The Baltimore Sun]
Actor and Ravens fan Josh Charles is looking forward Super Bowl XLVII. The Baltimore native and "The Good Wife" actor will present at the NFL Honors awards show in New Orleans Saturday night. [The Baltimore Sun]
Be careful buying Super Bowl tickets on the secondary markets. The tickets sell for a premium, and counterfeit tickets are a big problem law enforcement officials are trying to monitor closely ahead of the game. [FOXSPorts.com]
The Super Bowl caps a long comeback for the city of New Orleans, seven years after Hurricane Katrina. [FoxSports.com]