Pundits Are Unanimous in Ravens vs. Bengals Picks
The Cincinnati Bengals enter Sunday's game against the Ravens with an 0-5 record. All 56 pundits we looked at believe the Bengals will leave M&T Bank Stadium with an 0-6 record.
Of the 20 prognosticators who predicted the score of the game, 17 had the Ravens winning by double digits. The Ravens' average margin of victory was more than 15 points.
If the pundits are right, it would be an important win for the Ravens. They'd improve to 4-2 (2-1 in the AFC North) with a chance to extend their lead in the division over the second-place Cleveland Browns (2-3), who host the tough Seattle Seahawks (4-1) Sunday.
The Ravens, of course, are taking nothing for granted.
"The records don't matter in the National Football League," Ravens Head Coach John Harbaugh said earlier this week about facing the winless team. "Contrary to what people that don't actually have to play the games and go out there and perform or coach the games might think. It's not college football. The difference between teams isn't that great, and you better go out there and play your best every single week."
The Bengals have won two of the past three meetings with the Ravens and eight of the past 11. The all-time series is tied, 23-23.
"This is the Bengals. We haven't done too well against the Bengals the last six years, seven years," Harbaugh said. "They've had our number a number of times. It'll be a physical, AFC North battle. … We just expect their best, and we have to play our best to win the game."
Here's a sample of what pundits are forecasting for the game:
The Ravens' rushing attack will flourish.
Sporting News' Tadd Haislop: "NFL's worst rushing defense, meet NFL's best rushing offense. If this game is not as ugly as (or uglier than) expected, we can only chalk it up to the NFL being weird and unpredictable."
The Baltimore Sun's Childs Walker: "This Cincinnati defense is particularly ill-equipped to deal with the Ravens' running attack, and this will be one of the few comfortable wins left on the schedule."
Lamar Jackson will rebound from a subpar game against the Pittsburgh Steelers.
CBS Sports' Pete Prisco: "Lamar Jackson will have a big day throwing it and running it like [Arizona Cardinals rookie quarterback] Kyler Murray did against the Bengals last week."
The Ravens' advantage on special teams could be a key factor.
Penn Live's Aaron Kasinitz: "The folks at Football Outsiders concocted an algorithm — called special teams defense-adjusted value over average (DVOA) — to measures special teams performance, and it shows that the Ravens are the NFL's best in that area of the game. Based on this system, Baltimore's special teams units are 10 percent more valuable than average. … The Bengals, meanwhile, rank 18th out of 32 teams in special teams DVOA (special teams defense-adjusted value over average). Sunday, on the kick and punt teams, the Ravens have a significant on-paper advantage. And the Bengals know it'll be difficult to use a special teams play to springboard toward an upset win on the road."
The Ravens' pass rush is primed for a breakout performance.
The Baltimore Sun's Jonas Shaffer: "Sunday could be a breakthrough game for the Ravens. While the winless Cincinnati Bengals held the Arizona Cardinals to just one sack and three quarterback hits Sunday, they allowed eight and 12, respectively, the week before in a blowout loss to the Pittsburgh Steelers."
Ravens Wire's Matthew Stevens: "The Ravens defense, not known for its might this season, has a major rebound game this week. Cornerback Marlon Humphrey is having a stellar season and locks down the only other weapon the Bengals have, wide receiver Tyler Boyd. Baltimore's offense gets out to a quick lead and forces Cincinnati to play desperation football that the Baltimore defense capitalizes on. At the final whistle, we're left wondering if Baltimore's defense is finally back to its old form."
Ravens middle linebacker Josh Bynes again will boost the defense.
Baltimore Beatdown's Taylor Ciotola: "Middle linebacker has been a liability in the defense through the first five games of the season, but Josh Bynes came in off the street and performed admirably - recording an interception and five tackles against Pittsburgh. … Look for Bynes to continue his strong performance against a Bengals team that is missing their two starting wide receivers and a running game that can't get out of the backfield."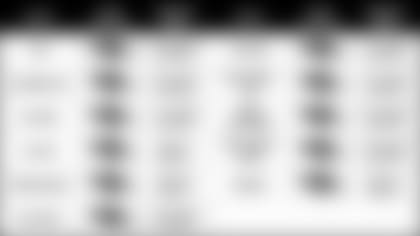 Former College Teammates Sam Koch, Zac Taylor Reunite
You know an NFL player is a seasoned veteran when he can look across the field on game day and see one of his college teammates is the opposing team's head coach.
That will be the case Sunday when Ravens punter Sam Koch and first-year Bengals Head Coach Zac Taylor take the field. Koch, 37, and Taylor, 36, were teammates at Nebraska, where Taylor played quarterback for two seasons, passing for nearly 6,000 yards and 45 touchdowns and earning Big 12 Player of the Year honors in 2006.
Taylor signed with the Tampa Bay Buccaneers as an undrafted free agent out of college, but he was cut during the preseason. He began his coaching career as a graduate assistant at Texas A&M in 2008. Taylor is the second-youngest current head coach in the league only to his previous boss in Los Angeles, Sean McVay.
"It's just kind of a testament to his hard work," Koch told The Baltimore Sun's Oyefusi. "At Nebraska, he was such a dedicated worker, such a great quarterback and most importantly, such a great guy. ... He's just one of those guys that you appreciate where he's come [from] and can wish him nothing but the best."
Taylor referred to Koch as "one of the toughest punters I've ever been around," during a media conference call yesterday.
"He was a great guy. I loved being around him," Taylor said. "He and I were friends when we were at school together. ... [I'm] happy for him that he's still going strong after all these years. He's had a great career. [He's] just one of those guys that you always pull for."
Ed Reed on Player Safety: Change Contracts, Not Rules
Ravens Hall of Fame safety Ed Reed said on "The Rich Eisen Show" that the NFL's new rules designed for player safety are hurting the sport. He said language needs to be put in player contracts in which players acknowledge the health risks of playing the sport.
"We need to put it in the contract: If you play NFL football, these are the consequences," Reed said. "There's choices and consequences in life to everything. There's consequences if you play football. Those consequences are CTE (chronic traumatic encephalopathy), concussions, debt. These are the things that come from it. Put it in the contract because people know that's what it is.
"Now they understand that they made the choice to play this violent game, and we don't have to tweak the rules for anything. It stays the same game for the most part of what we've come from."
The subject came up after Reed was asked about Ravens safety Earl Thomas' hit on Steelers quarterback Mason Rudolph last Sunday that resulted in Rudolph getting knocked out and concussed.
"No ill will in that hit. He was just doing his job. Rudolph held it as long as he could, and when he got rid of it, it's a bang-bang thing," Reed said. "You can't take that out of football, especially when you're giving guys helmets, which are weapons, you're giving them shoulder pads, which are weapons. And you got one guy on your back, another guy on your front trying to block the ball, and then he gets pushed forward by the guy on his back and into Earl."
Jackson fell out of the top 10 in NFL.com's quarterbacks index, coming in at No. 11. "Jackson's quest to prove he's a legitimate starting quarterback in this league is over. Done. The answer is (and always was) a resounding Yes!" Ali Bhanpuri wrote. "The bigger question dogging the former Heisman Trophy winner is whether he can play at an elite level week after week."