Coveted Coordinators Could Draw Head Coaching Interest
The Ravens have the NFL's top offense and defense since Week 7, and the success on both sides of the ball could draw head coaching interest for coordinators Greg Roman and Wink Martindale.
"Each dominant performance brings more talk that Roman and Martindale, the Ravens offensive and defensive coordinators respectively, could become prime candidates for head coaching vacancies this offseason," The Athletic's Jeff Zrebiec wrote. "It's still a little early to handicap their chances, but the best way for the Ravens to keep them is to win."
NFL Network's Mike Silver suggested earlier this week that Martindale's name could begin to emerge as head coaching jobs open up.
"Now we have Martindale, whose been quietly grinding his way up the ladder in Oakland, Denver, and now Baltimore showing his stuff." Silver said. "... We've seen Mike Zimmer, Bruce Arians, and most recently Vic Fangio, guys aren't necessarily 'sexy' hires because they've been doing it for a long time, ascend to head coaching jobs. I think that you're going to see Martindale's name pop up in the next few weeks."
Six weeks after the Ravens were 2-2 with a litany of defensive questions, the unit is finding its stride under Martindale with many new additions.
"These players have been making serious impacts on opposing offenses," Ebony Bird's Noah Zomback wrote. "Baltimore is now in contention to be the top defense for the first time this season."
Martindale's ability to scheme up blitzes and pressure has been a focal point of the defense all season, and it reaped its rewards against Deshaun Watson and the Houston Texans.
"The pressure was worth the risk. When the defense did not blitz, sending only three or four rushers after Watson, he was sacked twice and finished 11-for-16 for 82 yards — a solid but decidedly unspectacular 80.7 rating."
On the other side of the ball, the Ravens are the highest-scoring team this season and lead the NFL with 203.8 rushing yards per game. Roman was promoted to offensive coordinator in January, and his track record with dual-threat quarterbacks is showing with the emergence of Lamar Jackson as an MVP candidate.
In his "Fact or Fiction" column, NFL.com's Adam Schein said Roman would get his vote for Assistant Coach of the Year, and that's been the view of many pundits this season. It's also why Roman could be targeted as a head coaching candidate.
"Jackson is everything," Schein wrote. "He's majestic and simply dominant in every phase: great thrower, runner, leader, and winner, with a likability that's off the charts. Jackson, RB Mark Ingram, TE Mark Andrews and offensive coordinator Greg Roman absolutely pasted the Texans in Baltimore's win."
There were eight new head coaches in the NFL this season, and in a perfect world, I'm sure the Ravens would prefer to keep both coordinators. But Zrebiec noted the possibility of a deep playoff run could affect interest from teams who don't want to risk waiting to make a hire.
"Roman and Martindale have been at it for a long time, and they're both deserving of head coaching consideration," Zrebiec wrote. "The Ravens wouldn't stand in their way, but an extended playoff run could serve that purpose."
Ravens 2018 Draft Ranked as Top 10 Class of the Decade
Ozzie Newsome's last draft as general manager is rapidly becoming one of his best.
Bleacher Report's Matt Miller ranked the top 10 draft classes of the past decade, and the Ravens' 2018 draft came in at No. 10. Miller listed Jackson, Orlando Brown Jr., Mark Andrews and Bradley Bozeman as notable picks from the draft.
Newsome set the gold standard for draft excellence, selecting two first-ballot Hall of Famers with the first two picks in franchise history, and he capped his GM tenure with another beauty.
"The Ravens had 12 selections in 2018, a bountiful haul that allowed Newsome to load up his beloved team in his final draft before retirement," Miller wrote. "Newsome and assistant (now current) General Manager Eric DeCosta played the board, trading down and patiently assembling the core talent that would make up the AFC's hottest team."
The most impressive part is we're less than two years removed from that draft. That class is having an instant impact in leading the Ravens to an 8-2 record this season.
Miller said Jackson's selection at No. 32 looks like the best value in the entire class, but contributions from others shouldn't go unnoticed.
Brown and Bozeman have started every game this season. Andrews leads the Ravens in receiving and is tied for the NFL lead among tight ends with six touchdowns, and first-round pick Hayden Hurst has been a steady contributor as a blocker and pass-catcher at tight end. Not to mention, Gus Edwards has carved out a significant role in the backfield as an undrafted running back.
Fourteen of the 25 offensive players on the Ravens' roster are 25 years or younger, and Zrebiec believes the youth movement is the foundation of the offensive success this season.
"The Ravens are building something, creating a foundation that they expect to carry them beyond 2019," Zrebiec wrote.
While essential decisions loom surrounding the futures of Ronnie Stanley and Marshal Yanda in Baltimore, there's still confidence the "young core" can carry the load.
"Sure, it all revolves around Jackson staying healthy and playing well, but there's plenty of youth being served around him, too," Zrebiec wrote.
Ravens Solidify Top Spot in Majority of Power Rankings
The Ravens looked like the NFL's best team in a 41-7 rout of the Texans on Sunday, and that's solidified them in the top spot of almost every power ranking this week.
After rising to the No. 1 spot in just two publications we looked at last week, the Ravens made the jump in five of the seven publications this week. Only ESPN and NFL.com disagreed, keeping Baltimore at No. 2.
"The Ravens' winning resume and high level of play offensively and defensively, led by Lamar Jackson and their deep secondary, no longer can be ignored," Sporting News' Vinnie Iyer wrote. "They are the best team in the NFL now after their beatdown of the Texans adds to a November to remember."
Added Bleacher Report: "The Ravens are next to impossible to stop offensively, and the defense has steadily improved," Davenport said. "This is the second time in three games that the Ravens have blasted a first-place team, and there isn't a team in the NFL that's playing better.
In what's considered the toughest stretch of their schedule, the Ravens have beaten the Seahawks, Patriots, and Texans by a combined 65 points. To some pundits, there's no debate who the best team is right now.
"Oh, it's the Ravens," Ross Tucker said on The Damon Amendolara Show. "I do power rankings every Tuesday, and I had the Ravens No. 1 last week. I always go by what I think would happen if these teams played like a three- or a five- or a seven-game series on a neutral site right now, and I have the Ravens as the best team in all of football. The way they're playing, and the way Jackson is playing right now, I just don't think there's anybody as good as them, I'm not even sure it's close right now."
The Ravens also were ranked No. 1 in The Athletic's and ProFootballTalk's power rankings.
"The Ravens' defense deserves plenty of credit for holding Deshaun Watson and the Texans to just one touchdown in Baltimore's 41-7 on Sunday, but right now, this is a Jackson appreciation post," The Athletic's Lindsay Jones wrote. "He's in the midst of a transcendent breakout season and his MVP case just keeps getting stronger by the week. Many voters remember that in Week 11, in what was billed as the game of the week, Jackson was pulled a few minutes into the fourth quarter because his team was winning so handily."
"The only thing that will derail them at this point is a Jackson injury," PFT's Mike Florio wrote.
How much more will it take for pundits to unanimously agree? One voter shockingly had the Ravens ranked at No. 6. For the Ravens it doesn't matter, they just keep winning.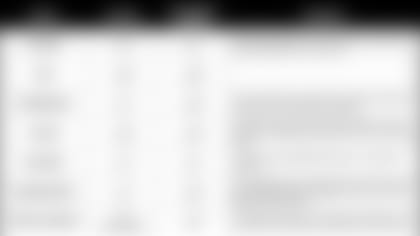 Former Ravens defensive back Lardarius Webb joined Glenn Clark Radio to talk about the Ravens' defense and the emergence of Chuck Clark.
The Athletic's Scott Bordow profiled Terrell Suggs' passion for cinema.