Predictions for Ravens vs. Rams
Be honest: When looking at the Ravens' schedule before the start of the season, you put an "L" next to their Week 12 Monday night game at the Los Angeles Rams, didn't you?
The Rams are the defending NFC champions and went 13-3 last year, including a 7-1 mark at home. Plus, there's that whole "East Coast team traveling to the West Coast" thing.
But that was then. The AFC North-leading Ravens (8-2) are riding a six-game winning streak, have the NFL's highest-scoring offense, and are currently the No. 2 seed in the AFC. The Rams (6-4) are in third place in the NFC West and are 1.5 games back in the race for the second NFC wild-card spot.
The Ravens are three-point favorites, and 52 of the 59 pundits picked them to win.
All that said, the Rams are still a very dangerous team and the Ravens, of course, are fully aware of that.
"Bouquets – they're bait. That's what they are," Ravens Head Coach John Harbaugh said earlier this week of all the praise being heaped on the Ravens. "No one can compliment us now. It's too late. We've got way too much work to do and we've got things to accomplish, starting with the Rams on Monday night. It's going to be a big challenge, and that's what I know our guys will be focusing on. I have total confidence in that."
Here's a sample of what pundits are forecasting for the game:
Lamar Jackson will put on another MVP-worthy performance and lead the Ravens to victory.
ESPN's Victor Cruz*:* "I just got two words: Lamar Jackson. I just think he's going to be the guy out there making play after play like we've been seeing all year long. They're going to put him in situations where he's going to have the ball in his hands making great decisions, whether it be running the football or whether it be passing the football downfield. I just think he's playing at such a high level right now with such confidence that it's going to be hard for anybody to stop. … I'm going with the Ravens in this one."
The Rams' No. 5 rushing defense will not be able to derail the Ravens' top-ranked rushing attack.
Ebony Bird's Chris Schisler: "In Week 11 the Ravens played a top five run defense and put up [256] yards on the ground. In Week 12 they'll have another 200 yards. Until somebody proves that this run game can be stopped, betting against it is ignoring the information in front of you."
Sporting News' Todd Haislop: "The Rams have put together four consecutive strong defensive performances, but it's hard to imagine their slowing down the rushing and scoring freight train that is Lamar Jackson and the Ravens. On the road but in a favorable, prime-time slot, expect the NFL's hottest team to keep rolling."
Rams safety Eric Weddle's familiarity with Jackson could be an advantage for the Rams.
NFL Network's James Jones: "Eric Weddle has been practicing against Lamar Jackson for a year. He knows how fast he is, he probably knows some of his favorite moves, he understands what the Ravens want to do with him, so he's going to be able to tell that defense how they want to use him, and I'm sure that will help as well."
A heavy dose of running back Todd Gurley, the return of wide receiver Brandin Cooks, and a strong defense give the Rams a chance to win.
NFL Network's Rhett Lewis: "I want to feel like they will feed Todd Gurley again and again and again in this game. They get Brandin Cooks back, which could make the difference. We've kind of seen that deep-threat pass game a little limited for the Rams in recent weeks since he's been out. So if they can get that back and continue to pound the rock with Todd Gurley, continue to utilize him as a receiver out of the backfield, I feel like the Rams have a chance, especially with the way their defense has been playing, which is really good. Jalen Ramsey has meant a lot to that team on that side of the ball. I feel like the Rams have a chance in this one to win. I'm not ready to pick it -- I'm still sticking with the Ravens."
NFL.com Gregg Rosenthal: "Look for L.A. to lean heavily on Todd Gurley, even with Brandin Cooks expected to return to the lineup. The Rams are now the team trying to limit possessions, lean on their defense and keep it close against 2019's 'It team.'"
The Rams' wide receiver corps could present problems for the Ravens.
Rams Wire's Cameron DaSilva: "As good as the Ravens defense has been in recent weeks, they've struggled against wide receivers this season. According to Inside Edge, Baltimore has allowed 178.6 yards per game to wide receivers, which is the sixth-highest mark in the NFL. Their 13.9 receptions per game allowed to wide receivers is also the sixth-most in the NFL. After the catch, Baltimore has had trouble wrapping up wideouts. The Ravens give up 4.7 yards after catch per reception this season, tied for seventh-most in the league. That should give way to a strong performance by Cooper Kupp and Brandin Cooks, as well as Robert Woods, if he returns."
The Ravens defense will harass Rams quarterback Jared Goff, who has thrown 10 interceptions and fumbled nine times this season.
Sports Illustrated's Todd Karpovich: "The Ravens have already beaten some of the league's most elite quarterbacks in Russell Wilson, Tom Brady and Deshaun Watson. ... The Ravens are going to keep [Goff] under pressure and force him to make mistakes."
The Ravens are likely to win the turnover battle.
Penn Live's Aaron Kasinitz: "15.3 percent of the Rams' offensive drives end in turnovers, the sixth-most in the NFL. … Los Angeles is 2-3 when coughs the ball up at least twice. The Ravens defense has forced at least two turnovers in four straight games, all victories. So a couple takeaways might illuminate the easiest path to a primetime road win Monday night."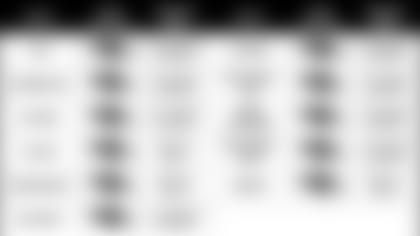 Michael Vick Won't Tell Jalen Ramsey How to Stop Jackson
If former NFL quarterback Michael Vick has an inkling on how to stop Jackson, he isn't telling Jalen Ramsey.
"Soo uhh @mikevick how would you stop someone like … well kinda like yourself but the 2019 version??" Ramsey said. "I need tips for the game."
Vick, who has served as a mentor to Jackson, responded to Ramsey's request during an appearance on NFL Network's "NFL Now." It was a hard no, even though Jackson is on pace to shatter Vick's single-season rushing record for a quarterback. (Vick ran for 1,039 yards with the Atlanta Falcons in 2006, and Jackson is on pace for 1,261 yards.)
"I never give away a game plan on how to stop any man that lines up behind center," Vick said. "I know what gave me problems, and the same thing that gave me problems might not give a guy like Lamar any trouble throughout the course of the game. It's up to the defensive coordinator to put the game plan together that's going to make sense."
Vick added that it might not make a difference even if he was willing to offer some suggestions to Ramsey.
"I think at the end of the day, you can't stop him, you can only contain him," Vick said. "At some point, he's going to do what Lamar does best, and that's make you pay when he's improvising. He's done it throughout the course of the year. It's how much you can limit that from happening as the game goes on."
Offensive Line Coach Joe D'Alessandris Is an Unsung Hero
Offensive linemen rarely get the credit they deserve for an offense's success, so it stands to reason that offensive line coaches also fly under the radar. Inside the Castle, however, coaches and players know how valuable Ravens Offensive Line Coach Joe D'Alessandris is.
"While quarterback Lamar Jackson's unique ability as a runner and offensive coordinator Greg Roman's versatile schemes are at the root of the offense's] success, some say D'Alessandris' group deserves a good deal of credit," [Penn Live's Kasinitz wrote. "A 65-year-old with the white hair and rosy cheeks of a kind grandfather and the triceps of a menacing linebacker, D'Alessandris doesn't often appear on television screens on Sundays. He doesn't hold the loudest voice on the Ravens' practice fields, either. What he has is experience coaching for four different NFL teams, five college programs and two Canadian Football League franchises."
When Harbaugh was asked after the Ravens' rout of the Houston Texans last Sunday what the key factor is to the offensive line's outstanding performances, Harbaugh replied: "Joe D'Alessandris does a great job. He's a great football coach. It starts with that."
As Kasinitz noted, D'Alessandris does have a talented group of players to work with, starting with All-Pro guard Marshal Yanda and left tackle Ronnie Stanley.
"Center Matt Skura was entering his second year as an undrafted roster hopeful when D'Alessandris arrived in Baltimore in 2017," Kasinitz wrote. "The Ravens drafted right tackle Orlando Brown (third-round pick) and left guard Bradley Bozeman (sixth round) in 2018 even as both players faced questions about their athletic ability.
"Under D'Alessandris' mentorship, all three players have solidified their place as starters and helped Baltimore's offense churn out yards and points at a franchise-record rate."
Ronnie Stanley Is Ravens' Most Underrated Player
Speaking of flying under the radar, Pro Football Focus chose the most underrated player on every team, and Stanley was their pick for the Ravens.
"The 2016 sixth overall pick has never had a bad season as a Baltimore Raven and has always been among the top left tackles in the NFL," PFF's Anthony Treash wrote. "In 2019, though, Stanley hasn't just been among the best; he has been the best. Along with being the highest-graded left tackle (82.4), Stanley has recorded the highest pass-block grade among all offensive linemen (91.5). He is allowing pressure at a rate that's 1.3 percent lower than any other tackle in the NFL.
"Players like David Bakhtiari, Terron Armstead and Laremy Tunsil have all been known as the league's marquee left tackles. Heck, Tunsil was a first-round pick in 2016 then traded for two more first-round picks before the start of the 2019 season. While those guys are getting the spotlight, Stanley has been better than all of them."