Predictions for Ravens vs. Raiders: La Canfora Alone in Oakland's Camp
Of the 53 pundits whose predictions we compiled, 52 are in agreement that the Ravens will beat the Oakland Raiders on Sunday. The outlier? CBS Sports' Jason La Canfora.
A Baltimore victory would pull the team back above .500 at 6-5, and drop Oakland to 2-9.
It should also be noted that most pundits are expecting rookie quarterback Lamar Jackson to get his second NFL start this Sunday, though the Ravens have not ruled out Joe Flacco (hip).
Here are a few predictions that pundits see happening, which will lead to a Ravens victory:
The Ravens pull away from the Raiders and win big.
"The Ravens have generally handled their business against overmatched opponents over the past two seasons, and they'll do so again in a win over the Raiders. Ravens, 27-13," The Baltimore Sun's Childs Walker wrote.
"The Ravens are going to beat the Raiders regardless of who plays quarterback, and regardless of whether they are eating leftover turkey in the huddle," FanSided's Matt Verderame wrote.
Jackson and Baltimore's rushing attack will continue to thrive against a Raiders defense that has struggled similarly to Cincinnati's.
"Here's what we do know: The Raiders aren't getting to Lamar Jackson. They couldn't sack Vinny Testaverde if they wanted to -- and I mean Vinny Testaverde right now," NFL.com's Elliot Harrison wrote.
Jackson shows off his arm far more than he did in his first start.
"This is also a chance to let Jackson loose as a downfield passer against no pressure and bad coverage," Iyer wrote.
"Jackson's second straight start comes against a Raiders team that is in rebuilding mode and minus several key players with injuries. It's another ideal setup for Jackson, who might take to the air more than he did in his first start," PressBox's Bo Smolka wrote.
The travel takes its toll on the Raiders.
"The Raiders are also playing consecutive road games, and this is a long trip and an early start. Jackson will win again," CBS Sports' Pete Prisco wrote.
After one of its best showings of the season, Oakland's offense can't overcome Baltimore's defense.
"This Baltimore defense is going to be playing lights out this weekend. The Raiders just cannot consistently move the ball down the field. They can't manage long drives. Baltimore Ravens, at home, win this game," ESPN's Darren Woodson said.
"The Ravens' defense, meanwhile, should be up to the task against an offense that averages 17 points," Smolka wrote.
"Baltimore's front seven should have a field day with Oakland's offensive front, which has allowed [Raiders quarterback] Derek Carr to be pummeled repeatedly," Harrison wrote.
"I got Baltimore and I got Baltimore because of that defense. Lamar Jackson, I like what he did a week ago being able to run the ball. Having some of those college style runs I think is going to be beneficial to help that defense and keep them off the field. I like Baltimore at home because of that defense," ESPN's John Fox said.
As for the outlier, La Canfora did not offer a reason for picking the Raiders. Let's all just hope that he's wrong.
Raiders Get Creative When Trying to Solve the Lamar Jackson Problem, Use a Cornerback in Practice Simulations
How do you prepare to face a quarterback that's as dynamic and fast as Jackson? It's a difficult question that, thankfully, the Ravens don't have to answer.
The Raiders have gotten pretty creative when trying to attempt to solve the question. Apparently, Oakland has had undrafted rookie cornerback Rico Gafford, a member of their practice squad, play quarterback throughout practices this week.
"Given the fact Rico Gafford hasn't played quarterback since his sophomore season at Des Moines East High in Iowa, and only did so in an injury pinch, it'd require a special set of circumstances for him to reprise that role in the NFL," Las Vegas-Review Journal's Michael Gehlkin wrote. "Baltimore Ravens quarterback Lamar Jackson qualifies."
The move actually makes a lot of sense considering Gafford is one of the few players in the NFL that is as quick as Jackson.
In fact, Gafford may even be a tick faster, if you trust his word. During his pro day at Montana, Gafford says he ran the 40-yard dash in 4.22 seconds. Jackson didn't run the 40 at the combine, but is reported to have run it in 4.34 seconds during his pro day at Louisville.
Maybe a race between the two could be organized at some point. I know I'd watch. Quickness and 40-yard straight-line speed are two different things, however.
As for how Gafford has been used in practice, Raiders Head Coach John Gruden revealed it's been a pretty simple process, saying "He'll get a ball and will run around, and we'll try to run him down."
You have to imagine it's been an interesting few days of practice for Gafford, who seems to have enjoyed getting to simulate Jackson for the week.
"I love running," Gafford said. "That's the one thing about me: I love running. I'm a track guy. Anyone who knows me can tell you I run. I run a lot, and I run fast. I'm just going to do the best that I can … to be the best Lamar Jackson I can be, other than him."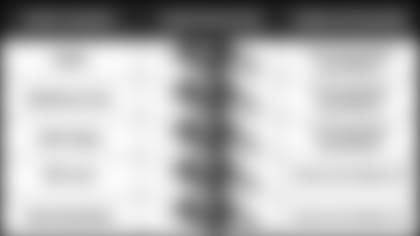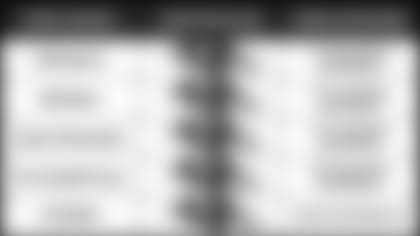 Slowing Jared Cook Will Be Tough Test
The Raiders offense is missing a few key players that it had at the beginning of the year, namely injured running back Marshawn Lynch and wide receiver Amari Cooper, who was traded to the Dallas Cowboys. One talented piece the unit still has though is Jared Cook, whose 577 yards rank fourth among tight ends, and 45 catches ranks fifth.
Baltimore's defense has done an excellent job in pass coverage for much of this season, ranking second in passing yards allowed per game (205.4). Despite this, Baltimore Beatdown's Logan Levy believes the group has struggled with covering tight ends, writing "the Ravens are seemingly allergic to guarding tight ends." The Ravens did a pretty good job against the Cincinnati tight ends, limiting them to four catches for 45 yards and a touchdown, though Levy would still like to see the group improve.
"Although those numbers may not jump off the stat sheets, the Ravens continue to struggle to limit opposing tight ends," Levy wrote. "Whether it is [safeties] Tony Jefferson, Eric Weddle, or [inside linebacker] C.J. Mosley, the Ravens just do not have an answer for tight ends."
Lericos believes the defense will be able to send extra help for Jefferson, who both he and PennLive's Aaron Kasinitz predict will be covering Cook most of the time.
"Jefferson's likely to cover Cook as much as any Ravens defender, and he'll also have chances to make plenty of tackles near the line of scrimmage against the Raiders' West Coast offense, which relies on quick passes," Kasinitz wrote.
"Neutralizing Cook would allow the defense to truly dominate Oakland," Lericos wrote.
Nick Boyle's Role in Offense Debated
Only two players caught multiple passes from Jackson against Cincinnati: wide receiver Willie Snead IV, who leads the team in receptions for the season, and, somewhat surprisingly, tight end Nick Boyle. Boyle is known more for his blocking than his playmaking ability, but he finished Sunday with four catches for 36 yards.
If Jackson starts, Kasinitz thinks the Ravens would be smart to use Boyle in a similar role to what he held against Cincinnati.
"Baltimore restructured the offense around Jackson's running ability while quarterback Joe Flacco sat with a right hip injury, which made Boyle's talents as a blocking specialist and occasional route-runner especially valuable," Kasinitz wrote. "Assuming Jackson's back behind center Sunday, Boyle could serve a large role in the offense and offer boost in the play-action passing game."
With the offense being more run-oriented with Jackson under center, having Boyle out there helps disguise what the offense is going to do. Russell Street Report's Carey Stevenson agrees, writing "maybe it's a tell that a pass is coming when you take Nick Boyle out."
That being said, Stevenson would still like to see rookie tight ends Hayden Hurst and Mark Andrews more involved in the passing game with Jackson. It's an issue of speed for Stevenson, writing "these designed boot action plays just take such a hit when the end result is throwing to a guy that runs a 4.86 40 [yard dash]."
"With all the jet sweep action the Ravens put on tape last week, a tight end screen on the opposite side could bear fruit as well," Stevenson wrote. "Both Hayden Hurst and Mark Andrews showed well as open field runners on the college level and it would be an easy way to get first year return of investment from them."
From Baghdad to Buses: Sunday Will Be New Chapter in John Harbaugh-Jon Gruden Relationship
Though this will be the first time they're coaching against in each other, this won't be the first time Head Coach John Harbaugh and Gruden have interacted.
Harbaugh and Gruden both were part of the NFL-USO coaches tour, which visits military bases around the Persian Gulf. The two were roommates with former NFL head coaches Bill Cowher, Tom Coughlin and Jeff Fisher when the group visited Baghdad, Iraq (four Super Bowl winning head coaches bunking in one room, how crazy is that?).
The two became friends on the tour, but that was put on the backburner when Gruden came to visit the Ravens' facilities as a member of Monday Night Football in 2012. Harbaugh wouldn't let Gruden in the building because the offensive coordinator for the Cincinnati Bengals, Baltimore's opponent that week, was Jay Gruden, Jon Gruden's brother.
"We said he couldn't come into the building to do the production meeting stuff," Harbaugh said. "He thought that was over the top. We went out to the bus. He was great though."
Gruden insists it wasn't a problem.
"I have a lot of respect for the preparation that goes into a game," Gruden said. "I think [the Ravens] won 42-13, so [Harbaugh] probably did the right thing."
Cornerback Jimmy Smith was mentioned in Pro Football Focus' "32 NFL Observations: Week 11." "Over the last two seasons, cornerback Jimmy Smith has played 56 snaps in the red zone," Nathan Jahnke wrote. "On those, he's been targeted six times, allowed just one catch and tallied one interception."