Stephen A. Smith: Lamar Jackson Isn't the Best Quarterback in the NFL Yet
Throughout the season, we've highlighted Lamar Jackson's doubters and naysayers, but he still can't seem to please every pundit.
Since he's taken the lead in the MVP race, the conversation has shifted. Is Jackson the best quarterback in the NFL?
ESPN's Stephen A. Smith doesn't think so.
"I believe he is a superstar in the making," Smith said on "First Take". "I think he's electrifying and sensational, and I have come on board. He is the leading candidate for MVP honors, right now.
"But you know how I am about the position. What is your job description? And for me, no matter how electrifying you are … running that football, you ain't a running back … in terms of you being the best quarterback, that answer is no he is not."
Max Kellerman countered Smith's argument and said Jackson is on the same level as reigning MVP Patrick Mahomes.
"Here's the scary thing about Lamar. He keeps getting better," Kellerman said. "Jackson and this Ravens team keep getting better!
"I love Mahomes. Mahomes is 24. Jackson is 22 years old. Mahomes has company."
Take away his running stats, and Jackson has been one of the top-performing quarterbacks this season. In his last four games, Jackson has thrown for 777 yards, 13 touchdowns, and zero interceptions. Add in his rushing stats, and that makes him the league's most dynamic talent under center.
That includes wins against some of football's top defensive minds in Bill Belichick, Pete Carroll, Wade Phillips and Romeo Crennel.
Jackson is playing at the highest level of any quarterback right now, and his likeability factor is off the charts.
Every Jackson Game Should Be in Primetime
Jackson shines brightest on the biggest of stages, and the odds-on favorite to win the NFL MVP this season is must-watch television anytime he steps onto the football field.
"Whoever made the schedule? Scrap that," Yates wrote. "I realize the NFL has a policy of only flexing Sunday games, but that might need to change. Every single minute that Jackson plays in the NFL for the rest of this season should be broadcast to as many households in America as possible, if the league has its own best interest in mind."
"Jackson is the best show in America and it's not particularly close. Just ask Hollywood. On Monday night, he dazzled again. Aside from the three first-half touchdowns, he didn't have an incomplete pass until the third quarter. There was no point in which anyone in the building thought the Rams would win this game. He's so good, he makes other quarterbacks less fun to watch. To say he's worth the price of admission is a massive understatement."
"Jackson's ability to turn the mundane into the spectacular caused fans across America to leave the remote on the table until they were sure his work was done for the evening," Trotter wrote. "I know this to be true because friends were texting me late in the third quarter and early in the fourth. One went so far as to call the game 'fun' to watch. Why? Because Jackson has special gifts that allow him to do things no other quarterback in the game can do at this moment, at least not with the speed and flair that he possesses. He makes you hold your breath because you suddenly believe the impossible is possible."
Pundits and fans were surprised Sunday's matchup against the San Francisco 49ers wasn't flexed into the late afternoon. But it was reportedly more of a network issue than a scheduling issue.
The Ravens only have one more primetime game this season (Thursday Night Football in Week 15 vs. the Jets), but Yates doesn't believe three for the season is enough. He suggested Baltimore's Week 14 matchup against the Buffalo Bills be flexed into Monday night.
The Pittsburgh Steelers and Cleveland Browns both started the season with more primetime games than the Ravens, but don't expect that to be the same in 2020.
For now, Yates says the primetime game that matters the most is on Sunday, February 7.
"Whether or not Jackson is given the national TV treatment for the rest of the season, the Sunshine State is exactly where it will end, in Jackson's hometown's backyard: 'Miami, home of Super Bowl LIV,'" Yates wrote.
Marshal Yanda, Matt Judon, Marlon Humphrey Make ESPN's 'Underrated' Team
The success of the Ravens has been recognized on a national level, but there are contributors who've flown under the radar.
At 35 years old, Yanda quietly continues to perform at a high level and anchor the right guard position in Baltimore. Yanda has elevated his game even as he's gotten older, and the Ravens are benefitting because of it.
"He has done this without committing a single penalty through 10 games, all while playing in front of the sort of quarterback whose brilliance in extending and lengthening plays can occasionally lead to penalties in Jackson," Barnwell wrote. "Yanda should be a first-team All-Pro for the third time this season, and in doing so, he should start engendering serious Hall of Fame discussion."
In a contract year, Judon has masked concerns about the Ravens' pass rush. He's totaled three sacks, six quarterback hits and two fumbles in the last two games.
"Baltimore's passer rating allowed increases by nearly 16 points with him on the sidelines, while opposing rushers average nearly 1.5 full yards per carry more without him between the lines," Barnwell wrote. "Judon is already well-known, but he needs to be treated like a superstar. Some team is going to pay the unrestricted free agent like he is one this offseason."
If you saw the Ravens' defensive dominance against Rams quarterback Jared Goff, you saw a standout performance from Humphrey. Barnwell believes Humphrey is trending towards solidifying himself as one of the top cornerbacks in the NFL. You could make the argument that he's already on that level.
"Humphrey is the one whom Defensive Coordinator Don 'Wink' Martindale relies upon most, trusting him to cover the opposing team's top receiver a fair amount of the time, regardless of where they line up," Barnwell wrote. "Humphrey has responded by allowing opposing passers to complete only 51.8% of their throws when he's the closest defender in coverage, one of the best marks in football."
Power Rankings: Sunday Matches Up No. 1 vs. No. 2
The Ravens have established themselves as one of the top two teams in the NFL. Now it's just deciding whether you want to put them at No. 1 or No. 2 in the power rankings.
Coming off a dominant win over the Rams on Monday night, the Ravens were No. 1 in four of the seven publications we looked at. USA Today, CBS Sports, Bleacher Report, and Sports Illustrated all view Baltimore as the top team.
"There isn't a more exciting player in the league right now than Jackson," SI wrote. "... From here on out, each Baltimore game is a must-watch."
The remaining three publications that ranked the Ravens No. 2 (ESPN, Sporting News, and NFL.com), had the 49ers at No. 1. It's not entirely surprising since Kyle Shanahan's team is coming off a 37-8 thrashing of the Green Bay Packers on Sunday night, but the Ravens are the hotter team with seven straight wins.
"Jackson is the most exhilarating player in football," The Ringer's Robert Mays wrote. "Jackson makes professional defenders look absolutely hapless in ways that I've never seen before from a running quarterback, and his progress as a passer has been incredible."
There's a case for the Ravens and 49ers at No. 1, but what better way to settle it than a head-to-head matchup?
That's what we'll get on Sunday. And come next week, there shouldn't be any disputes.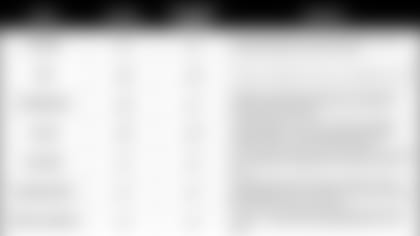 NFL Network's Mike Garafolo weighed in on the loss of Matt Skura.
If you haven't heard, Jackson is now the fastest quarterback in Madden history.