Don't Expect To See Same Ravens Team
When the Ravens begin next season as the defending Super Bowl champs, it will likely be a very different team that takes the field.
"General manager Ozzie Newsome made it clear the Ravens will not try to keep the band together at the expense of future financial pain, so it's safe to expect a lot of the names above to fly the coop," he wrote.
One name that Rosenthal expects to leave Baltimore is future Hall of Famer Ed Reed. The veteran safety has spent his entire 11-year career with the Ravens, but now he's an unrestricted free agent and may be able to get more money from a team with salary cap space.
"This is where things get tricky," Rosenthal said. "Reed is valuable, but clearly in decline. It would not be a shock if he got more money elsewhere."
In addition to Reed, Rosenthal also expects the Ravens to part ways with outside linebacker Paul Kruger and cornerback Cary Williams. That would mean the Ravens lose four key defenders from the championship team – Reed, Kruger, Williams and Ray Lewis – regardless of what happens with free agent linebacker Dannell Ellerbe.
Before the Ravens try to re-sign any of their defenders, the first big move of the offseason will be working out a new deal with quarterback Joe Flacco. Depending on the deal Flacco gets, the Ravens will then consider options like trimming Anquan Boldin's salary or working out contract extensions with other players to lower the cap figure.
"Wide receiver Anquan Boldin should stay, possibly on a reduced contract," Rosenthal wrote. "A new long-term deal for tackle Michael Oher or restricted free-agent tight end Dennis Pitta makes sense."
Lewis vs. Kaepernick – What Could Have Been
Much has been made about the 49ers' final offensive series in Super Bowl XLVII.
Colin Kaepernick's fourth-down pass to Michael Crabtree and the officials not calling a potential holding penalty on Jimmy Smith has commanded most of the attention, but Sports Illustrated's Peter King looked at a sequence earlier in the series that could have gone down in history.
The play he examined was the third-down call with the 49ers facing third-and-goal from the 5 yard line.
"As the play clock runs down to zero, and just a tick beyond, Kaepernick takes the Pistol snap and takes one step back, then forward, as if to run left, with [running back Frank] Gore as his escort. Gore was about to smash into safety Bernard Pollard when the officials all stopped the play," King wrote.
The 49ers called timeout just before the play clock expired to prevent a 5-yard penalty. Had they gotten the play off in time, Kaepernick would have been heading to the end zone with only Lewis to beat. 
"I'm sure it would have been a run," King said. "And I'm almost as sure this play could have come down to left tackle Joe Staley getting a block on the only free Ravens defender in the picture. Ray Lewis.
"So what if the play runs? What if Staley gets past the line and hits Lewis but doesn't finish him, and what if it's Lewis, on the last and arguably most important series of his 17-year career, having to stop this new phenom, the way he'd stopped so many young phenoms in his past. Stop him and the Ravens win. Don't stop him, and the Ravens lose.
The game obviously ended the way the Ravens wanted, but it sure would have been great to see Lewis make one final iconic goal line tackle to cap off his 17-year career.
Party Continues In Baltimore
Just over a week has passed since the Ravens won the Lombardi Trophy in New Orleans, and the thrill of the Super Bowl run is still very evident throughout Baltimore.
"I went to lunch in Towson one day last week and saw three older ladies sitting in Ravens t-shirts talking football," he wrote. "Then, later on, I was running errands and saw three little kids doing the same thing in another place. There's a college writing class I teach, and the Ravens wound up being the subject of part of one class last week. People around the area just kept talking about things involving John Harbaugh, Joe Flacco, Ray Lewis and even Jacoby Jones.
The support from the city was most apparent during last week's parade and celebration where more than 200,000 people crammed into downtown to see the team with the Lombardi Trophy.  But that wasn't the end of the celebration, and Seidel believes the way the Ravens* *overcame adversity throughout the season struck a chord with the local community.
"It's just amazing how much this victory meant to the city," Seidel wrote. "A football team brought the kind of happiness that many thought couldn't happen in this town after the Colts left."
Flacco An All-American Guy
Flacco's trip to New York Fashion Week has generated plenty of attention.
Even fashion icon Tommy Hilfiger is singing Flacco's praises.
"I think Joe Flacco is an All-American guy," said Hilfiger, who fitted Flacco for new suits at the fashion show. "He's got very big, big shoulders, we fit him well and we're very proud and honored to have him wearing the clothes."
Flacco isn't typically one to soak up the spotlight, but he seems to be enjoying his newfound celebrity. Flacco brought his wife, Dana, to fashion week with him.
"A lot of opportunities come up when you win a big game like that, so I thought it would be a lot of fun for the wife, and it's been great to see all these people and see all the cool clothes," Flacco said.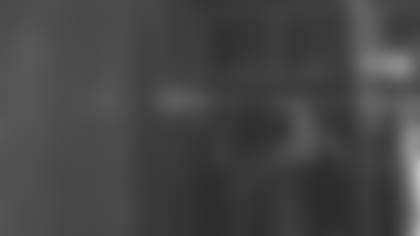 @TorreySmithWR Ray is really gone...feels weird [Instagram] * Ravens fullback Vonta Leach will not need surgery this offseason to repair knee and ankle injuries that hobbled him down the stretch, his agent told Aaron Wilson. [The Baltimore Sun] * Kicker Justin Tucker![](/team/roster/justin-tucker/4eea8994-ee0d-4667-8bf3-772543d157a0/ "Justin Tucker") was selected to NFL.com's All-Under-25 Team [NFL.com] * Check out this fly-on-the-wall documentary about the Manchester City soccer team (at about the one minute mark), where two of their players put on Ray Lewis and Patrick Willis jerseys for some fun ahead of Super Bowl XLVII. [Inside City 61] * Defensive linemen Terrence Cody![](/team/roster/terrence-cody/2e1da1e3-9f8a-4855-a156-39a100b9f0c2/ "Terrence Cody") did not grade out well this season. [The Baltimore Sun] * Could Super Bowl XLVIII move to Saturday? That's part of the weather contingency plan for next year's game scheduled for the New York/New Jersey area. [YahooSports.com] * Gerry Sandusky, the voice of the Ravens, put together this first-person account of the entire Ravens season. Take a look at the video to see the championship season from Sandusky's unique perspective.