Playing in front of a home crowd, the Indianapolis Colts' offense will have the added bonus of silence at Lucas Oil Stadium.
But as Peyton Manning does his typical dance of changing plays at the line with herky-jerky finger pointing and signaling, he'll have to worry about another type of noise.
That would be Ravens linebacker Ray Lewis, who uses the quieted audience to shout out defensive calls mirroring Manning's movements.
"It's just kind of like a chess match," Lewis said. "He comes up to the line; he's trying to put his players in the right position. I'm trying to make sure mine are in the right position, you know, trying to get through all the dummy stuff, whatever's not real and things like that.
"I just think it's great because he studies the game very well. I study the game very well. You just kind of get two brains going. It's just really having fun – that's all it is."
Over the years, the two future Hall of Famers have combined for some epic sparring matches.
In six regular-season meetings, Manning has tossed 13 touchdowns and averaged 283 yards through the air.
Lewis boasts two sacks and 74 tackles (averaging 12.3 stops per contest).
The biggest stage that featured a Lewis-and-Manning face-off would have to be the 2006 AFC Divisional Playoff round, where the quarterback was able to eek out a 15-6 victory after throwing for only 161 yards and two interceptions.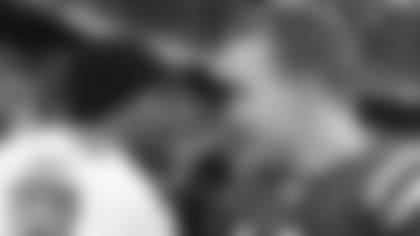 Lewis totaled 23 tackles that rainy January evening, tying for the second-most in his career.
Sunday's game is about more than just the pair of rivals, however. As usual, the Ravens are bringing a stout defense – ranked first in the NFL – against a prolific offense that is totaling 245.5 passing yards per game.
"It's always classic rivals anytime we play these guys," Lewis noted. "They know what they get, we know what we get. He's probably the best quarterback in the game, and he probably has one of the best receiving corps in Reggie Wayne, [Dallas] Clark and [Marvin] Harrison and all those guys over there.
"You've got to appreciate playing these kinds of games when you have the type of defense we have and the type of offense they have."
The challenge for Baltimore is figuring out Manning throughout the course of the game. As the motor that drives the Colts' attack, he is more dangerous when he gets into a rhythm.
Calls Manning makes early might offer tips on how Indianapolis will respond later in the day.
"I don't know what percentages are, but the bottom line is what you deal with is that play," Lewis pointed out. "You try to remember this, remember that, see what's real and what's not real, and then the next couple of plays, or the third or fourth quarter, then you don't fall for the same things.
"Hopefully, if you can actually get into them, start studying like that, then I think you can have success against them, because if you don't, Peyton knows every coverage."
Plus, he knows how to navigate the pocket in the face of Baltimore's furious pass rush. The Ravens have tagged Manning for 10 sacks in the regular season, but none of those have come in the last three battles. Baltimore notched two in the playoff tilt.
"He's poised and probably handles the pocket as well as any quarterback in the league," said defensive coordinator Rex Ryan. "He's not going to win a 40-yard dash or something like that, but he's got a great feel. He knows where to step up. He buys himself more time that way.
"He and Tom Brady are about as good as anybody, and they'll have that great pocket awareness. He knows his blocking scheme to where he can step up, where his escape routes are and things like that."
After having an infected bursa sack removed from his left knee in the preseason, forcing him to miss ample time to work with the offense, Manning seems to be regaining his stellar form.
Last week, he led two touchdown drives in the fourth quarter and was helped by a defensive score to come from 17 points down in a 31-27 victory over the Houston Texans.
"Peyton Manning is one of the best to play the quarterback position, probably in the history of the game," stated head coach John Harbaugh. "When you watch him, it's a joy to watch him play, until you have to play him. Then it's a little different emotion that you feel. But we're looking forward to it."
Of course, there are other things the Ravens' defense does not eagerly anticipate.
While the cat-and-mouse game is something fans and analysts can chuckle about, the Ravens just want to line up and go.
"He's got to do his little games at the line, [hollering] and then nothing really coming and dummy calls here and there," said linebacker Terrell Suggs with a smile. "It's like, 'OK, Peyton, when you're ready to play football, we'll play.'
"We know it's coming, and he knows it, so we've just got to anticipate it and play with it."