The last memory Ravens fans likely have of running back Kenneth Dixon was from Christmas 2016 in Pittsburgh's Heinz Field.
Then a rookie, Dixon's hard running was instrumental in Baltimore taking a late lead in that game. He didn't score a touchdown that night but had three in his final four games – enough to get people excited about his potential moving forward.
But after a knee injury wiped out his entire 2017 season and more nagging injuries held him out of the Ravens' first two preseason games, Dixon is working to catch up. Now it looks like Dixon will re-take the field for the first time Monday in Indianapolis.
Count Head Coach John Harbaugh, who said he's happy for the third-year running back, among those who can't wait to see what he can do in a game.
"He looked good in practice the past few days, [he] looks like he's healthy, so to see him in a game will be exciting," Harbaugh said.
"I'll be holding my breath and looking forward to seeing him make one of his signature moves and make somebody miss and all that. If he can do that, that would be good for our team."
The Ravens have their starter in Alex Collins and Javorius Allen is a more-than-capable complement. But Baltimore needs another running back to step up, especially if there are any injuries.
Baltimore didn't snag a running back in the draft as the front-office would have liked. Undrafted running backs Gus Edwards and Mark Thompson have flashed, but Baltimore would ideally like a healthy and productive Dixon to emerge.
As a rookie, Dixon rushed for 382 yards on 88 attempts (4.3 yards per carry) and two touchdowns. He also can make a difference in the passing game, as he caught 30 passes for 162 yards and a touchdown.
How Alex Collins Can Become a Better Receiving Weapon
There's no doubt about Collins' rushing potential. According to Pro Football Focus, he was the best pure runner in the NFL with 973 rushing yards in just 12 starts.
However, Collins only added 187 receiving yards on 23 catches. There's a lot of potential for him to do more damage in the passing game.
"He's obviously very tough to tackle when he catches the ball, so anytime you can get the ball in his hands it's a plus for us," Flacco said.
So how will Collins accomplish that? Joe Flacco said it's all about establishing a better feel with his quarterback.
"I was just talking to him the other day about it on little check-downs – just finding my eyes and things like that. As far as him really becoming a big-time receiver, I think those things will be it," Flacco said.
"He's obviously going to be able to run by some guys out of the backfield when he might be the primary or the second-type guy. You're going to be able to throw some screens to him and things like that. I think if he can pick up a handful of receptions on just little, easy check-downs that we may have missed last year, just because we weren't on the same page, I think he'll turn his game to another level."
Joe Flacco Impressed With His Veteran Tight Ends
Flacco was asked Tuesday whether any of his new receivers have surprised him during training camp. Instead, he pointed to a pair of veteran tight ends.
There's been a lot of buzz about rookie tight ends Hayden Hurst (first round) and Mark Andrews (third round). The Ravens also doubled up at the position in 2015 when they drafted Maxx Williams in the second round and Nick Boyle in the fifth.
As Williams and Boyle enter their fourth seasons, Flacco said they're standing out as good all-around threats in the Ravens offense.
"You know what, it's funny. Our Quarterbacks Coach James Urban, a couple weeks ago I remember him saying, 'Did you know Nick Boyle is 280 pounds?' because he's out there making diving catches on corner routes and things like that," Flacco said.
"I think him and Maxx both … You talk about these new tight ends a lot and what they're going to do for our passing game, but I think you can't discredit the two of those guys and what they're capable of doing in both the run and pass game – obviously a little bit more in the run game – but really how capable they are of doing everything in our offense."
Matthew Judon Brings Awareness to Criminal Justice System
Outside linebacker Matthew Judon wore a T-shirt at his press conference that reference's America's criminal justice system, which he said he got from a teammate. The T-shirt says, "More than 60 percent of prison populations are people of color."
"We don't have an agenda or anything," Judon said. "We're not trying to stick it to the man or anything. We're just letting it be known."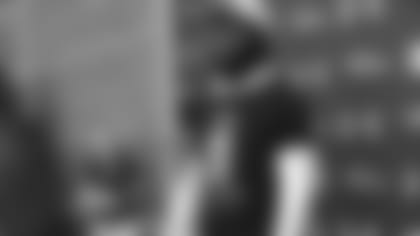 Players on PUP List Will Stay on PUP List
Guard Marshal Yanda came off the Ravens' physically unable to perform list (PUP) last week, but don't expect any other players to be removed anytime soon.
Harbaugh said cornerback Jaylen Hill (knee), inside linebacker Bam Bradley (knee) and wide receiver Quincy Adeboyejo (leg) will all go into the season on PUP, meaning they'll be out for at least the first six weeks of the regular season. Players on the PUP list do not count against the 53-man roster.
"As far as their relative progress, I really don't know. I don't get daily updates on those guys," Harbaugh said. "We'll see how it goes once the long-term portion of the injury is over."
Brandon Williams Named Tim Wheatly Award Winner
Ravens defensive tackle Brandon Williams has a big heart, just like former Baltimore Sun sports editor Tim Wheatley.
Wheatley, who was killed in a car accident in 2009, was active in helping those around him through community service. On Tuesday, the annual honor in his name was given to the Ravens' "Big Baby."
Williams is the official spokesman and ambassador for the Maryland Food Bank. He also adopted the Westport Boys and Girls Club in 2016 and hosts holiday meals, parties and other charity events for kids.
Wheatley's wife, Beth, and children, David, Will and Sarah, were on hand to present Williams with the award after Tuesday's practice.
"Just to all those out there that want to get into something, just help," Williams said. "It's really easy. Just lend a helping hand. It's not hard to just go out there and do some good out in the world and do some good in your community or [for] the next-door neighbor. Just lend a hand and the world will be a better place."