The Ravens could be getting a key part of their offense back on the field as tight end Nick Boyle is "getting close" to a return, Head Coach John Harbaugh said.
"He's progressing well. He's doing a good job. I think he's getting close," Harbaugh said. "He looks good in his workouts. … We're looking forward to getting him back."
Boyle is still trying to work his way back from last year's season-ending knee injury, which he suffered on Nov. 15. Boyle had a clean-up procedure in July, which delayed his return further.
He returned to practice on Sept. 1, the first of two practices before being shut down again and placed on injured reserve after the 53-man roster was set.
In early September, Harbaugh said he expected Boyle back somewhere around Weeks 4 or 5, but the Ravens have given him even more time to get right.
Boyle won't play in Sunday's game against the Los Angeles Chargers and the Ravens have one more game after that, at home versus the Cincinnati Bengals, before a Week 8 bye.
Once the big, physical blocker is ready to play in a game, it will be a big boost to Baltimore's rushing attack, which still ranks fourth in the league (148.8 yards per game) but has been slowed the past two games.
Mark Andrews leads all NFL tight ends with 400 receiving yards and has shown improvement as a blocker. Behind him, the Ravens have leaned on Eric Tomlinson as a blocker and Josh Oliver as another receiving threat.
Tavon Young Is Looking Like His Old Self
After missing three of the past five years with season-ending injuries, Tavon Young is back to playing an important role in the Ravens defense as a feisty slot cornerback.
Young had a standout game Monday night against the Colts, making four tackles, one sack and a pass deflection. He played a season-high 44 snaps.
"He's getting stronger. He can play more plays every week," Harbaugh said. "He's just about a year out from that [injury]; maybe a week, or two, past a year out. So, it's totally understandable. I think he's going to keep getting stronger. But he had his best game to date this year, and it was good to see."
Young suffered a torn ACL in Week 2 last year. Before that, it was a neck injury in 2019 and torn ACL in 2017.
In an appearance on "The Lounge" podcast this week, Young said that after last year's knee injury in Houston, General Manager Eric DeCosta immediately came with him to the locker room, where he was being evaluated, to offer encouragement.
"I was like, 'Just give me one more chance. Don't give up on me,'" Young said. "He was like, 'We got you, we're going to take care of you.' … It meant a lot. He's a great guy, a great person. He cares about the players. It's a family here."
Before the 2019 season, DeCosta signed Young to the richest deal of any nickel cornerback in the league at the time. Young has felt the weight to fulfill that trust in him, especially after missing most of the past two seasons, and now he's feeling back in top shape to do so.
"I feel like even before that game [Monday night], I wasn't rusty," Young said. "I feel like I knocked that off earlier than that – me personally. But yes, I feel like it was my best performance of the season so far."
Check out this week's full episode of "The Lounge" podcast with Young below and make sure to subscribe.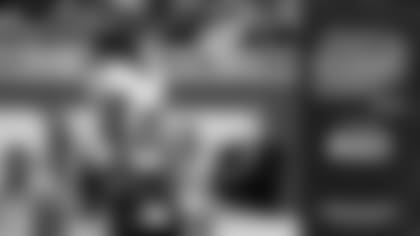 322: Tavon Young Stops By The Lounge
Baltimore Ravens CB Tavon Young talks about his multiple injury comebacks, his tumultuous game against the Colts, his role in the Ravens defense and going against the Los Angeles Chargers.
Young: Another Retaliation Penalty 'Won't Happen Again'
There wasn't anyone happier than Young when Colts kicker Rodrigo Blankenship missed a field-goal attempt at the end of regulation Monday night.
Young's unnecessary roughness penalty turned what would have been a third-and-18 on that series into a free first down for the Colts, allowing them to move into field-goal range.
Young retaliated after Colts tight end Jack Doyle shoved his head after the play. Young sprung to his feet and shoved Doyle, who flopped like he was a European soccer player.
Young knew as soon as he saw Doyle go down that he was going to get flagged. As he came to the sideline, he could feel everyone's eyes on him.
"When he missed, it was just like it's a new life, new life, another opportunity," Young said.
"Bad mistake by me by retaliating. That's not in my character. It was the heat of the moment. I texted Coach 'Harbs' about it, took full responsibility for it, talked with some of my teammates. It won't happen again."
Young Enjoys Blitzing in the NFL
Young had only one sack during his college career at Temple, but he's proven to be quite good in the role in the NFL.
Young's two sacks are tied for second-most on the team with Tyus Bowser, trailing rookie outside linebacker Odafe Oweh. Young also had two sacks in 2018, the best season of his career.
"It's fun," Young said of blitzing. "That wasn't a thing that I was used to doing in college or anything, but once I got here, I started playing nickel a lot, and blitzing, I figured I'd like it. It's fun."