There has been much talk of late about which running back would stand out each week for the Ravens. For the second straight game, McClain led the team in rushing, as he pounded away at the Bengals' defense for 86 yards on 25 carries. This came one week after he posted a career-high 88 yards in a 36-7 win against the Philadelphia Eagles.
McClain said he was thankful for the confidence offered to him by the Ravens' coaching staff.
"The coaches keep encouraging me," McClain said. "I'm catching my swagger. That was fun. I hope I can keep contributing to get this team to the playoffs."
McClain got the first start of his career even though **Willis McGahee** was healthy and active. McGahee, who went into the contest pacing the team with 489 rushing yards, did not receive a single snap.
The 260-pound fullback now has 545 yards on the season.
Head coach **John Harbaugh** said the Ravens will continue to switch up McClain, McGahee and rookie Ray Rice![](/team/roster/ray-rice/9d941a20-0c76-412d-85fd-165a029d59e6/ "Ray Rice"), who added 41 yards Sunday.
"[McClain} was our starter today," explained Harbaugh. "He played really well. We have three backs that can start. We have three backs that we're going to need in December to get where we need to go. I think that all three of those guys are starting quality backs in this league, so we need to use all three of them as much as we can."
Specifically regarding McGahee?
"It's strategic," Harbaugh went on to say. "We have a plan. We have a plan for Willis. He is going to be a big part of this team, no question about it."
As the 8-4 Ravens steel themselves to close out their season with three of four contests at M&T Bank Stadium, McClain's teammates are eager to see the bruising back wear down opposing defenses.
"He's a tough, physical guy - an old AFC type of runner," stated right tackle **Willie Anderson**. "We always kid with him and say, 'We need our big sack of ground-out back.' When it comes down to the stretch in December, the teams that have that kind of back and that kind of line usually dominate this division.
"You need that back that can pound the ball and get you 4 or 5 ugly yards sometimes. That's what leads to big plays down the field in the passing game."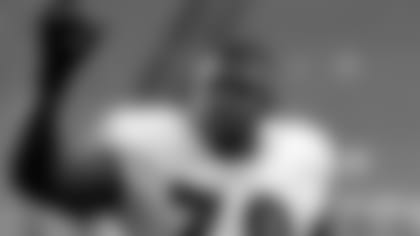 Anderson Returns to Cincy**
A Bengals first-round draft pick in 1996, Anderson made his first trip to the team with which he spent the first 12 years of his career.
After the win, Anderson was on the receiving end of a Gatorade bath from his new teammates. Then in the team-only post-game locker room, Anderson got a rousing ovation that ended with him breaking down the final huddle.
"Well, I'm on the podium now," he told the media with a chuckle. "I was never on the podium before. A win's a good win, as cliché as it is. It's still a division opponent, and we need as many division wins as we can. They've got their issues over there, but we've got our own issues. We can't go into a game and let the opponent's issues become our own issues."
Anderson continued to start at right tackle with Adam Terry being deactivated because of lingering effects from a concussion he suffered last week.
Leonhard's First Pick-Six
When safety **Jim Leonhard** jumped in front of a Jordan Palmer pass in the fourth quarter and raced 35 yards for a late touchdown, it was his first since high school.
"It was a little bit of a shock," said Leonhard, who crossed the goal line with 2:28 left in the game. "We had a blitz coming off that side, and he tried to throw the hot route and the receiver never got there. I was a little shocked that he threw it, but it felt great to get into the end zone."
Leonhard, who spent his first three seasons with the Buffalo Bills, also notched his first interception as a Raven.
Rookie **Marcus Smith** saw action as Baltimore's third wideout, in place of **Yamon Figurs**. It marked Smith's initial snaps with the offense. Smith had not played in a game all year. … The Ravens are thankful to have three of their next four matchups at home, continuing with a Sunday night contest against the Washington Redskins at M&T Bank Stadium on Dec. 7. "We are right where we want to be," said quarterback Joe Flacco![](/team/roster/joe-flacco/3e20766f-6520-4ca1-9901-44389aaea8b8/ "Joe Flacco"). "We put ourselves in the hunt. We have four games left and we need to continue to do what we've been doing. That starts next with Washington." … The announced attendance at Paul Brown Stadium was 63,871, but the crowd seemed much less than that estimate. … Special teams standout Brendon Ayanbadejo![](/team/roster/brendon-ayanbadejo/0e939635-1a76-4e0f-a8e4-525731af352f/ "Brendon Ayanbadejo") notched the first sack of his career in the second quarter when quarterback Ryan Fitzpatrick bobbled a snap. "My job was to get a jam on the receiver first, but I didn't get a jam," said Ayanbadejo. "I missed both of the guys that came out of the stack. I was like, 'Dang, I missed them both.' But then I saw the quarterback drop the ball, and I was supposed to rush anyways. So it was a freebie."