 is known for game-changing performances that can devastate opponents, but in the Ravens' 36-7 win over the Philadelphia Eagles Sunday, Reed topped even himself.
Reed snared two interceptions for the 36th and 37th of his career, a Ravens record. He returned the picks a total of 151 yards, including a 108-yarder for a touchdown that now ranks as the longest in NFL history.
The fourth-quarter highlight also snapped his own record that was originally set in 2004 with a 106-yard return against Cleveland.
"It's a blessing just to come out and read the keys and do your job," Reed said. "Everybody did their job on that play. And it'll just come right to you."
On his second interception, the Eagles had driven all the way to the Ravens' 1-yard line. Facing second-and-1, Philadelphia set up in what originally looked to be a run formation, but rookie safety **Haruki Nakamura** noted that wideout Reggie Brown was lined up at tight end.
"Haruki pointed out that 86 was on the end of the line, and it's usually a tight end, so we kind of knew it wasn't going to be a run to that side," Reed explained. "I was watching 86's feet when he was in the huddle just to find out where he was going. Once he went across the field it was pretty simple from there. Just keep trailing it. The quarterback never even saw me come from behind."
Reed caught the pass from Kevin Kolb in-stride and was off to the races. He had to break a tackle attempt from running back Brian Westbrook and a diving effort from offensive lineman Todd Herremans, before juking tight end Brent Celek en route to the end zone.
"I was just thinking, 'Just run,'" Reed admitted. "Once I saw Westbrook, I know he's a fast guy. I thought I ran out of bounds, and it was 'Just keep running, be smart.' And then it just sprung from there."
Reed first made the Eagles pay when he intercepted quarterback Donovan McNabb in the second quarter. He grabbed a pass intended for receiver DeSean Jackson and sprinted 43 yards to Philadelphia's 6-yard line.
The play was almost a waste when he tried to lateral to a trailing **Samari Rolle** and the Eagles recovered the fumble, but an illegal forward pass penalty was off-set by an unnecessary roughness flag on offensive lineman Jon Runyan.
"I thought I could throw a block or something and Samari could spring it, but I didn't know the whole line was chasing him," Reed said. "It was a terrible pitch. I usually don't lateral the ball that bad."
Judging by Ravens linebacker **Jameel McClain's** day, scoring a safety shouldn't be as rare as the act typically is.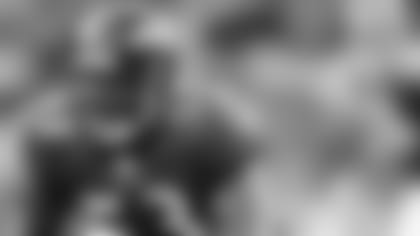 The rookie blocked a punt in the end zone for his second safety of the season, becoming the first player in franchise history to have more than one safety through an entire career.
Not bad for a player that never sniffed a two-pointer in four years at Syracuse University.
"I guess I'm getting them all in the NFL," McClain said grinning.
The undrafted free agent has been earning more and more playing time because of his football smarts and tough demeanor.
McClain's biggest impact has been on special teams, where he went in to the weekend third on the team with 11 tackles.
His biggest play came midway through the third quarter with the Ravens clinging to a tight 10-7 lead.
Baltimore had backed the Eagles to their own 12-yard line when punter Sav Rocca trotted out to kick from his own end zone.
Safety Ed Reed, rushing from the left side of the line, took up personal protector Sean Considine's block, which allowed McClain to sprint untouched up the middle to block the punt and earn the safety.
McClain was so close to the kick that it deflected off his facemask and chest.
The Ravens built off that momentum to go on and post 24 fourth-quarter points and outpace Philadelphia.
McClain's other safety came in Week 8 when he sacked Oakland Raiders quarterback JaMarcus Russell in the end zone.
Wilcox Finds Paydirt, Again
Wilcox has only five catches on the season.
Two of them have been touchdowns.
Wilcox scored on a 1-yard reception in the second quarter, marking the first Ravens touchdown of the afternoon.
"They keep telling me all I do is catch touchdowns," Wilcox stated. "One catch today, one touchdown. I'll take it either way it goes. If they're going to keep throwing me one ball a game, let's pray that it's all touchdowns. It is what it is."
Wilcox had been inactive the past three games because of a thigh injury and an illness, but No. 83 showed the athleticism he can bring to the lineup when healthy.
Facing third-and-goal from Philadelphia's 1-yard line, quarterback **Joe Flacco** rolled to his right after faking a handoff and waited for Wilcox to gain separation from his defender.
Flacco lofted a high ball to Wilcox, which he snatched with his left hand and gained possession just as he tapped his toes in-bounds before falling to the turf.
The Eagles challenged that the call, but it withstood review.
"It felt like he threw it too far in front of me, and the dude grabbed my arm to try to keep me from catching the ball," Wilcox said. "I just stuck my left arm up, I just felt like God was with me. I absolutely felt blessed, and kept my feet in-bounds, and got six points."
"I definitely knew I was in-bounds," he continued with a confident smile. "The red flag, I felt like that was useless."
In the rotating story of the Ravens' three-headed rushing attack, fullback **Le'Ron McClain** McClain totaled 88 yards off 18 carries, good for a 4.9-yard average per attempt.
What's more, his 1-yard touchdown run in the final stanza put the finishing touches on Baltimore's big fourth quarter.
"When I touched the ball I wanted to run north and south and get down hill," McClain said. "My offensive line did a great job opening holes and I just hit them."
McClain used every bit of his 260 pounds to batter away at an Eagles defense that featured a light defensive line.
"I just had that mentality going into the game, to do what I do, run North and South, and get all those guys," he explained. "They're a smaller defense, get on those guys, wear them out a little bit – that's my mentality for any team I go against."
Entering the contest, Philadelphia's 36 sacks were tied for the league lead in sacks (Pittsburgh Steelers), but an injury-ravaged Ravens offensive line held the Eagles to only three sacks on 26 passing attempts. at left tackle even though Gaither did not practice all week with a shoulder injury.
Harbaugh was effusive in his praise for Gaither's gritty performance.
"We really didn't want to play him," Harbaugh said. "He was more in there for more of an emergency type situation, because we have the other two tackles hanging on by a thread. Adam goes down and Jared jumps in and plays really, almost the whole game.
"I think it's a really courageous effort. He's a young guy that has figured out how to play through pain and play well through pain."
The Ravens did not turn the ball over, but notched five takeaways. Baltimore is 6 this year in the turnover battle. … There were mixed reactions around the Ravens' locker room regarding the halftime benching of quarterback Donovan McNabb, most of them expressing confusion. McNabb threw two first-half interceptions and lost a fumble. "The only reason I thought, was maybe he got hurt on a freak play or something early, but I didn't know why he was yanked," said linebacker **Terrell Suggs** . "I thought he was doing a pretty good job. He had a few picks, but you know, two of them weren't his fault, if you look at it. I don't know why he was yanked. At halftime, it was 10-7. They still can win. You definitely want your veteran quarterback in there. " … The announced attendance at M&T Bank Stadium was 71,379 – the second-largest crowd in Baltimore football history.