Guarding the New York Giants' top receiver and forced to deal with a stable of bruising running backs as they repeatedly broke into the secondary, Sunday's 30-10 Ravens loss was a tough one for cornerback **Samari Rolle**.
In only his second game back from neck surgery, Rolle marked the 6-foot-5 Plaxico Burress. While Burress was limited to only three catches for 47 yards, but the plays he did make definitely counted.
On the Giants' first series of the day, Burress was there for quarterback Eli Manning for a key third-and-15 conversion. Burress gained separation from Rolle and picked up 21 yards on the deep ball.
Later in the second quarter, Rolle was flagged for a pass interference in the end zone against Burress. The call moved New York from the Ravens' 7-yard line to the 1, which set up a 1-yard touchdown plunge from running back Brandon Jacobs three plays later.
Even the replay booth was not very kind to Rolle.
With the Ravens trailing 20-10 in the third quarter, Rolle looked to have made his second interception in as many weeks, as he snared a pass to Steve Smith just off the wideout's fingertips.
New York challenged the pick, and it was overturned when the ball appeared to have hit the turf after Rolle touched it.
The third-down sequence led to a Giants punt, and Ravens quarterback Joe Flacco returned the favor by throwing an interception that cornerback Aaron Ross ran 50 yards for a touchdown.
"I know I had it, because, I think, if you catch the ball and you have control, you should be down by contact," Rolle said. "I should have stayed down, instead of getting up and trying to make something happen."
Stover's Gets One Blocked
The Ravens had a chance to get on the scoreboard early and perhaps quell some of New York's early momentum, but kicker **Matt Stover's** 32-yard field goal attempt was blocked after the Giants' first touchdown.
New York went on to score on their next two possessions to run up a 2-0-point lead.
Swirling 17-mph winds forced Stover to use a low trajectory towards the goal posts. And, defensive tackle Fred Robbins burst through the offensive line to get a hand on the football as it left Stover's foot.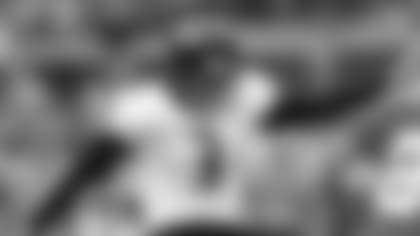 "I know I hit the ball a little low because of the wind," Stover said. "You couldn't fluff it up there going that direction. I knew I had to hit the ball going that way with a lower trajectory.
"I think the guy got back in the backfield a little bit and got some pressure on the right side 'A' gap, which is between the guard and the center, right where I was kicking it. What do you do? There is no finger-pointing here. It's all about me making a field goal."
The wind was especially blustery, and it showed with every punt and kickoff that sailed off-target in the high reaches of Giants Stadium.
"I think it was a little bit of a push, but I think Matt would say he could have kicked it higher," said head coach John Harbaugh. "That's what happens sometimes, especially when you're kicking into that wind, you try to drive it a little more and that's probably what happened."
Stover, the third most accurate kicker in NFL history, has missed five of 18 tries this year including Sunday's block. It has been a tough season for the stalwart veteran, but he remains accountable.
"I have to not worry about the past," Stover explained. "I've had seasons where I've had more misses than five. I don't desire to miss any field goal, but if you do, you have to move very quickly to the next kick and then to the next game."
Stover also bounced back later in the contest, passing longtime NFL kickers Jason Elam and Jeff Wilkins with his 372nd consecutive successful extra point for the league record.
The history-making kick actually cut sharply to the right after it split the uprights, further proof of the wind.
For the first time all season, the Ravens did not lead in time of possession. Baltimore held the ball for 29:08, while the Giants had possession for 30:52. … Linebacker **Nick Greisen**, cornerback **Frank Walker** and offensive tackle **Jared Gaither** were the Ravens' captains. Greisen and Walker were both former Giants. … Defensive tackle **Trevor Pryce** thought backup Ahmad Bradshaw ran better than Jacobs, who totaled 73 grinding yards. Bradshaw had 96 yards on nine carries, including a 77-yard scamper. According to Pryce, much of that was attributed to poor containment by the Ravens' line. "The holes were gaping…gaping," he said. "If you give any NFL back holes like that, he's going to look like Gale Sayers. It wasn't so much that they were ultra-special, but it was more that we were ultra-bad."