Outside linebacker Terrell Suggs![](/team/roster/terrell-suggs/ad26be43-1380-45f1-b047-a91e850d9761/ "Terrell Suggs") climbed another rung in the Ravens' all-time sack list in Sunday's 24-10 victory over the Washington Redskins.
Suggs sacked Redskins quarterback Jason Campbell less than a minute into the fourth quarter, giving him 51.5 for his career, which leap-frogs Michael McCrary for second in franchise annals.
But that play was simply one shining example of how the Ravens' franchise player can take over a game. Suggs also posted two quarterback hurries, two tackles for losses and batted down two passes.
One of the reasons for his defensive outburst? Suggs blames the Washington faithful.
The six-year veteran recently attended a Washington Wizards contest against the Miami Heat, and when he was shown on the scoreboard, Wizards fans booed him.
"It was kind of personal for me, because I went to the Washington Wizards game and they booed me," he said with a smile. "I was there to support their team and have a good time, and they booed me. That kind of hurt my feelings, and I'm a sensitive guy. I may be big and tough, but I have feelings, too."
Suggs didn't wait long to unleash his anger on the Redskins. On the third play of the game, Suggs beat five-time Pro Bowl left tackle Chris Samuels off the edge to tip Campbell's right arm as he wound up for a pass.
The fluttering ball was picked up by safety Ed Reed![](/team/roster/ed-reed/89ece203-7de4-4b40-9651-f16f4c3b7699/ "Ed Reed") , giving possession back to the Ravens and leading to Baltimore's first touchdown. In a way, the play set the tone for the rest of the physical battle.
"We're a defense that feeds off each other," Suggs stated. "We went out there, we played off each other and played off each other, and we played really good football."
Later, in the fourth quarter, he set up his sack with ease. Suggs beat Samuels again, but this time Campbell got rid of the football just before he got popped by the linebacker.
Samuels then had to leave the game with a triceps injury, leaving little-used lineman Justin Geisinger to face Suggs.
It didn't take a prophet to foretell what would happen on the next pass, as Campbell was downed for a 13-yard loss.
Now, the 26-year-old Suggs is only behind Peter Boulware's 70 sacks for the most in Ravens history.
"It's just amazing," Suggs admitted. "It kind of just happened. I like to think of myself as a team player. I don't really try to shoot for individual goals like that. The more I keep playing for my team, keep playing hard for the Ravens, great things like that will keep happening. Let's just see if we can keep chugging away."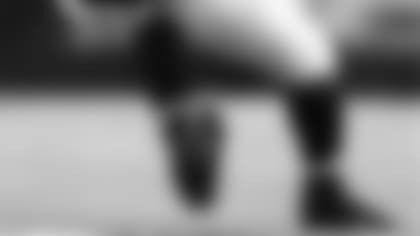 for the third consecutive week, as the 260-pounder tallied a tough 61 yards on 20 carries.
McClain's biggest impact was made in the fourth quarter, when he ran the ball 10 times for 43 yards on a 12-play, game-sealing drive.
"They couldn't stop me," McClain said. "That's my mentality. When I'm getting up, I'm telling them that I'm coming back. That's what we did. It was a great job by the offensive line and **'Lo' [fullback Lorenzo] Neal**. They blocked their tails off. All credit to them. I just ran the ball."
The Ravens also got 31 yards from rookie Ray Rice![](/team/roster/ray-rice/9d941a20-0c76-412d-85fd-165a029d59e6/ "Ray Rice") and 32 from **Willis McGahee**, who didn't get a carry last week against the Cincinnati Bengals but started Sunday.
McClain was forced to be the bell cow late in the game, as Rice had to leave with a leg bruise in the third quarter and McGahee left in the fourth quarter with a shoulder stinger and a mild concussion.
McGahee also lost a fumble on the play where he was injured.
Still, the Ravens totaled 147 rushing yards, averaging a respectable 3.8 yards per attempt and wearing out Washington by the end of the night. . "Their tongues were hanging out, and that's when you can impose your will in the running game. That's what we take pride in, that physical attitude."
Offense Carrying the Torch
The Ravens have only allowed 6.7 points in their last three games, which were all wins. On the other side, Baltimore has scored an average of 31.3 points during that span.
Seeing quarterback Joe Flacco![](/team/roster/joe-flacco/3e20766f-6520-4ca1-9901-44389aaea8b8/ "Joe Flacco") and Co. take care of business is just fine with the Ravens' defense.
"It's great that we have an offense that can finish like that," said safety **Ed Reed** , who had two interceptions and a fumble recovery for a touchdown. "We can sit on the sideline and drink some Gatorade and watch them do their thing. Now that we know that we can finish on both sides, that's huge."
The weather at M&T Bank Stadium for kickoff was marked at 29 degrees with winds up to 20 mph. "It was football weather," said Suggs. "It made me feel like it was Pop Warner, playing at 8:30 in the morning with your parents on the sideline." … A crowd of 71,438 was the largest in Baltimore football history, topping a previous high of 71,382 set on Dec. 3, 2007 against the New England Patriots. … The Ravens wore black jerseys and white pants for the first time this season. Baltimore is 4-3 in the black shirts. … Redskins wideout Antwaan Randle El's 5-yard touchdown in the fourth quarter snapped a streak of 46 consecutive drives where the Ravens' defense has not allowed a touchdown. … Head coach **John Harbaugh's** brother, Jim, was on the sideline. Jim Harbaugh is the current head coach of Stanford. "Did you see us consulting down there?" the Ravens coach said with a chuckle. "We were talking, he had a couple of ideas. I told him to lay off of the officials. He did a good job of that. It's real special. He's a great football coach in his own right."