When Nigel Carr![](/team/roster/nigel-carr/174a8708-9cbd-4044-8480-b9f4232bfdc4/ "Nigel Carr") was released from his Florida State scholarship on Nov. 18, 2010, his high school football coach, Fred Culver, came to pick him up.
As they drove from Tallahassee, Fla., back home to Jacksonville, Fla., Carr was convinced his football career was over.
"He was feeling like he lost it all," Culver recalls. "It was the lowest I've ever seen a kid. He really felt like he had let the world down."
Carr was charged with five felonies on July 26, 2010: two counts of burglary, one count of property damage, theft of a credit card and fraud.
He reached a settlement in pleading guilty to all charges that kept him out of jail, but Carr was automatically dismissed from the football team as part of school policy.
Culver kept stressing one point to Carr that night:
"It's not over, Nigel," Culver said. "This is going to be a success story."
Carr, an undrafted rookie free agent inside linebacker, has begun to write that story in Baltimore.
The Ravens didn't sign Carr in their original crop of 20 undrafted rookie free agents. But following an impressive tryout, and after Head Coach John Harbaugh heard about the young man's promise, Baltimore made room for Carr on the 90-man roster.
Carr told Harbaugh that he's getting a "changed man." Now he's out to prove it.
"I know people are always going to judge me," Carr said. "It's always going to be on Google that I got in trouble. It's my job to show everybody I'm a different person and show them I'm a good kid, a nice kid who smiles a lot and loves football."
Carr grew up in Tampa, Fla., but his mother called Culver in Jacksonville asking him to work with her talented son at First Coast High School. The family needed a fresh start somewhere else.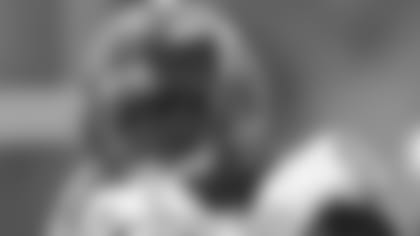 Culver remembers taking one look into Carr's eyes and agreeing to take him.
"I knew he had something in him," Culver said. "He's got something other kids don't have in them. He's a worker."
Carr, his brother and mom moved into a rough part of Jacksonville where his mom worked two jobs to make ends meet. Culver became a father figure to Carr, but he couldn't protect him from all the bad influences once Carr walked off the football field.
Carr said a lot of kids in high school were out stealing, snatching purses in school, rolling dice.
"Coming up from the neighborhood I came from, I saw a lot of stuff growing up that most kids haven't seen," Carr said. "You see people getting money certain ways. I went to college and felt that was the way to do it, so that's what I did."
Less than a month before his big mistake, Carr's football career was taking off.
The blue-chip prospect saw significant playing time as a sophomore, and was in line to be a starter as a junior. He had just been named Florida State's MVP of spring practices and the school's website said Carr, "set new standards of excellence with his work ethic and accountability on and off the field and is poised for a big season."
Then Carr was arrested on July 26.
The news spread everywhere considering he was a big-time prospect. Carr was suddenly on ESPN for the wrong reasons. He said it embarrassed him, his family, his teammates and more.
To make his situation even more challenging, Carr's girlfriend gave birth to a baby daughter just two weeks after he was dismissed. Carr remembers holding his daughter, Ariana, in his arms and crying.
They were tears of joy. But without football in his life, he said he was also incredibly scared.
"I just asked God to give me a chance and that I wouldn't mess up," he said. "I told Him that I would never make a mistake again. I'd never get in trouble again."
Carr transferred to Alabama State, where he led the Hornets to the SWAC Eastern Division Championship in 2010, marking its first division title since 2004. In 16 career games there, he recorded 73 tackles, including 9.5 for loss, three sacks, an interception and forced fumble.
He's been taking care of his business off the field too.
As part of his guilty plea, Carr is on probation until March of 2013. He has to check in with his probation officer once a month to inform him of his whereabouts and what he's been up to.
He doesn't associate himself with the people he used to. He doesn't go out at night, and says he keeps a low profile.
Before Carr signed with the Ravens and moved north, Culver would see him, his girlfriend and their baby in church every Sunday. Carr said his mistake has brought him closer to God.
He was doing community service helping the church with odds and ends, and has spoken to troubled middle school boys. If he makes the Ravens' roster, he wants to continue talking to disadvantaged youth in Baltimore.
"I want to be a role model. I'm not perfect. I got in trouble," Carr says. "You can fix it. You don't have to do what your neighborhood does. It's alright not to be 'the cool guy.'"
Culver is totally convinced Carr has shed his troubled past.
"You can see patterns," he said. "He made a bad decision when he got to college. He regrets that to this day and he's working his butt off to stay focused."
Carr's got plenty of things to keep his attention at Ravens organized team activities. He has looked impressive thus far, featuring a high motor, quick feet and good instincts. Carr often is in the right place at the right time.
One attribute that Carr hasn't showed off because he's trying to blend in with the veterans is his passion, which was one of his trademarks at Florida State. He would run around the stadium firing the crowd up. Culver compared Carr's style to Ray Lewis.
For now, Carr is simply hoping to be the next rookie free agent linebacker to make the Ravens' roster.
The Ravens have a track record of keeping such players. The list includes Bart Scott, Jameel McClain, Dannell Ellerbe, Albert McClellan, Josh Bynes, Chavis Williams and Michael McAdoo.
"It's very encouraging. I know all these guys have been in my shoes before," Carr said. "They weren't drafted and came the hard way. It's encouraging to know I have a shot."
Considering no other teams showed interest, Carr has perhaps his final shot in Baltimore
"I approach everyday like it's my last day," Carr said. "I try to take advantage of every opportunity, every rep I get, because at one point I didn't know if I was ever going to play football again."