Donte' Foster Named Ravens High School Coach of the Week
Donte' Foster, head coach of the Reginald F. Lewis (Baltimore, Md.) varsity football team, has been named Ravens High School Coach of the Week for the sixth week of the 2011 NFL season. Presented by Toyota, this is the 15th year of the Ravens' award program.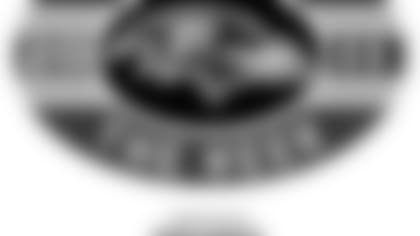 Foster earned the nod after his team's double overtime 24-18 victory over Maritime Academy on Friday (10/14). The Falcons' running game kept the Lions at bay, as RB Jamal Williamson finished with 104 yards on 11 carries and two scores. Williamson also played on defense, registering one interception and six tackles.
With the win, Reginald F. Lewis improves to 5-1, outpacing its 3-7 finish in 2010.
"The turnaround is unbelievable," Foster admitted. "My staff deserves kudos because of the time and effort that they put in these young men. Even though this is called the 'Coach of the Week' award, it really represents the efforts made by our entire staff. I feel that I have the best staff in Baltimore City."
In his first gig as a varsity football head coach, Foster has instilled a new mindset in his students, on and off the field. Even though Foster's team has already improved upon last season, the honoree has aspirations of finishing in the top spot of Baltimore City Division II.
"Although these kids know they will have a winning record for the season, they are not satisfied with just that, and we are looking forward to November," Foster said. "We have determined kids who are also outstanding in the classroom. This award is huge. We are a Division II school and not a lot of people know about us. The kids and the coaching staff deserve this award just as much as I do."
Foster graduated from Franklin High (Reisterstown, Md.) in 1998. He previously coached at several Baltimore-area schools, including St. Frances Academy, Century and Loch Raven, before getting his shot as head coach at Reginald F. Lewis.
Each week during the season, the Ravens honor a high school coach who has made a significant impact on his athletes. Each winner will be present at the Ravens vs. Browns home game on Dec. 24 for the naming of the Ravens' High School Coach of the Year. Comcast SportsNet, the official sports network of the Baltimore Ravens, will also feature a weekly segment to honor the selected coach.
Each weekly recipient receives:
A $2,000 donation to the school's football program
An award certificate signed by Ravens head coach John Harbaugh
A specially-designed Coach of the Week hat