The Ravens and the American Cancer Society (ACS) are expanding their efforts to support the fight against cancer through the Crucial Catch: Intercept Cancer campaign.
After nearly a decade of exclusively supporting breast cancer, the NFL and ACS have expanded the campaign to address early detection and risk reduction efforts for all cancers, including breast cancer, to increase their impact.
The initiative will be supported in many ways throughout October, including this Sunday against the Chicago Bears at M&T Bank Stadium. Here's how the Ravens are getting involved:
The Ravens RISE High School Game of the Week on Friday, Oct. 6 incorporated several multi-colored aspects throughout the evening, including banners from the NFL's *Crucial Catch: Intercept Cancer *campaign. In addition, both teams were provided different colored shoelaces, representing multiple types of cancer, courtesy of the Ravens. The American Cancer Society was also on site promoting the campaign and accepting donations.
Sunday, Oct. 15 vs. Bears

Prior to the game, the Ravens will recognize approximately 40 PSL season-ticket holders who have fought, and in some cases continue to fight, a wide variety of cancer types.
During the game, fans will be asked to participate in a stadium-wide moment, by displaying placards with either a pre-printed or personalized message. Volunteers from ACS will be stationed throughout the stadium to assist fans wishing to customize placards with a specific name or cause meaningful to them. (Below are several examples.) Pick up a pre-printed placard at one of the gates or visit an American Cancer Society table stationed throughout the stadium to customize a placard with a specific name or cause. Customize your placard and one of these locations:
Club Level Concierge Desks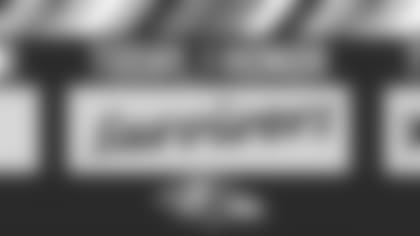 NFL-issued Crucial Catch branding and gameday apparel will sport a new multi-colored logo representing all cancers. This branding will be featured across the gameday experience through game balls with the new logo, multi-colored helmet decals, captains' patches, multi-colored ribbon pins for coaches and teams, caps and pins for game officials, on-field multi-colored ribbon stencils and Crucial Catch wall banners and multi-colored goal post padding in end zones.
Crucial Catch: Intercept Cancer efforts continue on Monday, Oct. 16, when the Ravens host the third annual "Sip 'N Paint Night" at M&T Bank Stadium for pre-registered Team Purple participants and those who are currently battling or have overcome breast cancer. The evening will include refreshments, hors d'oeuvres and a Ravens pink-themed instructional painting session provided by Trevino Paint (Pikesville, Md.).
Through the American Cancer Society, the NFL's Crucial Catch campaign has provided another year of funding to support increased access to breast cancer education and screening resources in underserved communities. ACS has awarded a $50,000 Community Health Advocates implementing National Grants for Empowerment (CHANGE) grant to the Baltimore Medical Systems facility at St. Agnes Hospital, continuing efforts to increase breast cancer screenings in the area. As part of the grant, the Ravens will participate in* Crucial Catch Day* on Wednesday, Oct. 18, a nationwide event held in cities across the country to help people receive detectable and screenable cancer education and participate in screenings. Pre-registered individuals will learn ways to reduce the risk of breast cancer and the importance of early detection at the Baltimore Medical Systems facility at St. Agnes Hospital.