After plodding through the first half of a "Monday Night Football" matchup, the Ravens burst out to a 16-0 victory over the Cleveland Browns in only five minutes.
Coming out of the halftime break, Ray Rice
scored on a 13-yard touchdown romp at the 12:35 mark.
On the Browns' next offensive snap, safety Dawan Landry intercepted a Brady Quinn pass and returned it 48 yards for a touchdown. And then, following an interception by cornerback Chris Carr in Browns territory, kicker Steve Hauschka nailed a 44-yard field goal at 7:25.
Just like that, the Ravens took command against one of the NFL's worst teams.
But even though concerns about how the Ravens got there remain, the players and coaches knew how important it was to leave Ohio as the victors.
"Anytime you go out and get a win, you feel good about it," said quarterback Joe Flacco
. "It was an ugly game, but that's the way some of these are in the NFL."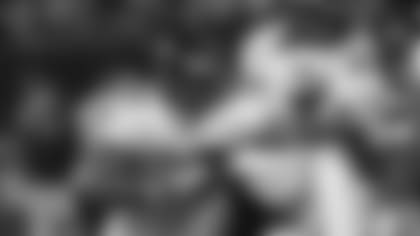 The ugliness was mainly relegated to the first half, which is becoming a disturbing trend, in front of an apathetic audience at Cleveland Brown Stadium.
Entering the Cleveland matchup, the Ravens had dropped four of their past five contests. During that span, the Ravens had scored only 23 points in the first half, while opponents compiled a combined 51.
The Ravens had trouble sustaining drives after converting only one of six third downs in the opening half.
They limited themselves by burning all three of their timeouts in the first quarter, and three first-half penalties also didn't help.
When the Ravens finally did manage to mount some sort of march – a 12-play drive that featured a 19-yard rush from Rice – Hauschka missed a 36-yard field goal.
One would think that the correct adjustments were made when Baltimore went to the visiting locker room, but the Ravens claim that they maintained their business as usual.
"To be honest with you, it was nothing," said Rice, who finished with 89 yards on 20 attempts. "It was just to come out here and play. They played well in the first half. Coach [Cam] Cameron came in here and said, 'You know what, we got their best shot. Let's go out there and finish the game.'
"Guys amped it up a little bit, the line stayed on their blocks a little longer, the receivers ran their routes a little better, Joe completed the ball and we ran the ball really well."
The Ravens were clicking as soon as they stepped on the field, both offensively and defensively.
Cleveland had possession to begin the second half, but good pocket pressure forced two incompletions by Quinn and a punt.
"We had a lot of pressure with our front four," said defensive tackle Trevor Pryce, who logged one of the Ravens' four sacks. "Then, we tried to throw the blitz in there as a change-up. They were lining up so quick that we almost couldn't blitz. It was a rush.
"It's winning our individual battles. And, they seemed worn out a little bit. They played hard. They're good players, but they seemed to be a split-second too late. Towards the end of the game, it got worse."
Wideout Derrick Mason then took a short pass from Flacco and raced 41 yards up the right sideline to set up Rice's sixth rushing touchdown on the season.
Landry robbed Quinn on the next series, as he was again hurried in the backfield and overthrew tight end Robert Royal. The football glanced off Royal's hands into Landry's waiting arms, and he went untouched to the end zone.
The extra point was actually blocked when 350-pound defensive tackle Shaun Rogers bulled up the middle to get a hand on Hauschka's try.
I'm not sure" what went wrong, Hauschka said. "I thought I hit the ball well and had plenty of elevation."
It would be of no consequence, as the Ravens turned up the heat on Quinn, who began running a no-huddle offense out of the shotgun midway through the third quarter.
The former first-round draft pick attempted only short-range throws, and when one glanced off wideout Mike Furrey, Carr logged his first interception as a Raven.
That put the Ravens in perfect range for Hauschka's 44-yarder to round out the scoring.
The Ravens may have seemed dominant when looking at the final stat sheet. Quinn completed 12 of 28 passes for only 85 yards, while he was also sacked four times. Running back Jamal Lewis could only muster 36 yards on 10 carries.
In addition, Baltimore logged its first shutout since 2006.
But with the undefeated Indianapolis Colts, defending Super Bowl champion Pittsburgh Steelers and Green Bay Packers looming in the next three weeks, a faster start will be imperative if the Ravens will want to continue a new winning streak.
"Now we have games where we know we have to start fast," Rice stated. "That's one thing we're going to start preaching is that we need to start fast. We've got Indy and we have to actually score points against them. That team is always going to be ready to play."