Both the Ravens and the Pittsburgh Steelers came to Heinz Field with brutish defenses and pounding running games, looking to beat the other into submission in front of a national Monday Night Football audience.
Like a determined prize fighter, the Ravens twice came back from deficits, even mounting a late scoring drive to force overtime.
But while Baltimore (2-1) was still swinging until the final whistle, it was the Steelers (3-1) that finally held up their gloves with a 23-20 victory.
"In this game, you have to play 60 minutes of football," said wideout Derrick Mason. "I'm not big into moral victories. You either win or you lose, point blank. I thought the momentum was going our way after halftime.
"We let them off the hook a few times, and then they swung the momentum back to their side."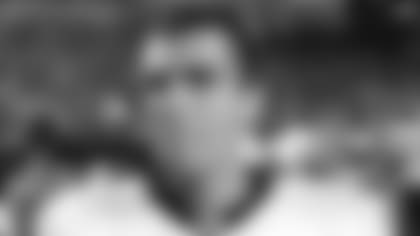 The Ravens won the all-important overtime coin toss, but two penalties and a sack forced Sam Koch to punt out of his own end zone. That allowed Pittsburgh to start from its own 43-yard line, gain one first down and set up Jeff Reed's 46-yard field goal, his third boot of the game.
In a grinding matchup between two heated AFC North rivals – where two Steelers were knocked out for the season, another was carted off on a stretcher and Baltimore running back Willis McGahee needed his chest X-rayed – missing out on an opportunity to take command in the division was definitely a body blow.
"We did leave everything on the field," center Jason Brown noted. "That's a tough opponent. It was physical all night long. You have to appreciate the fact that it was competition at its finest. To be tied at 20, with the ups and downs and adversity throughout the game, and then to lose in overtime is tough."
Reed opened the scoring with a 49-yarder on the Steelers' initial drive of the night, but that was the only bright spot for Pittsburgh's offense over much of the next three quarters. The Ravens' defensive front only allowed 69 total rush yards and harassed quarterback Ben Roethlisberger for three sacks and six hits.
Roethlisberger completed 14 of 24 passes for 191 yards, one touchdown and one interception to 6-foot-4, 340-pound defensive tackle Haloti Ngata when the ball slipped out of the 2007 Pro Bowler's hand.
Rookie Rashard Mendenhall started for explosive running back Willie Parker, gaining 30 yards on nine carries before fracturing his shoulder.
Conversely, rookie signal-caller Joe Flacco was poised despite taking five sacks from the Pittsburgh relentless zone blitzing schemes. Flacco was 16-of-31 for 192 yards and the first touchdown pass of his fledgling career.
What changed momentum was a critical span of 1:45 in the third quarter, where the margin suddenly went from a 10-point Ravens advantage to a 4-point shortfall.
After the Steelers' forced a three-and-out midway through the period, Koch flubbed a punt that only traveled 27 yards to Pittsburgh's 33. Then on the next snap, linebacker Jarret Johnson was flagged for a 15-yard unnecessary roughness penalty when he shoved wideout Hines Ward after Nate Washington was already out of bounds after an 8-yard reverse.
"Their receivers are good blockers," said Johnson. "They're known for their crack-backs, and a blocker kind of cracked-back on me. I hit him and lost vision of [Washington]. I didn't know he was out of bounds, and then I lost my cool. It's stuff you can't do. You can't give them an opportunity."
Johnson's flag was only the beginning.
Three plays later, Roethlisberger hit Santonio Holmes over the middle with a pass that went through the hands of cornerback Fabian Washington, who started in place of the injured Samari Rolle (shoulder/neck).
The third-year receiver slipped past Chris McAlister and Ed Reed in the open field en route to a 38-yard touchdown.
Fifteen seconds after that, linebacker James Harrison stripped Flacco from behind, and LaMarr Woodley waltzed 7 yards into the end zone with the fumble, making the score 20-13.
Harrison notched 10 tackles, 2.5 sacks and three quarterback hits, nearly matching his performance against his former team last year when he posted 3.5 sacks, three forced fumbles an interception and a fumble recovery in a Pro Bowl campaign.
"Before I could throw the ball away, I was getting hit," Flacco said. "I just have to take care of the ball. If we take care of the ball there, it's a different story but it happens.
Despite the loss, head coach John Harbaugh was enthused with the way his squad performed.
"There's nothing you can say about this game other than the fact that a couple plays went against us that we need to play better in," he said. "Aside from that, our guys played well enough to win. They played their hearts out."
Baltimore answered Jeff Reed's first field goal with a 33-yard boot from Matt Stover that was set up by Ngata's pick.
The 10-play, 33-yard drive appeared to end with a touchdown when Flacco found a diving Mason in the end zone. But Mason, who led all receivers with eight grabs for 137 yards, was ruled out of bounds. Replays showed that he may have tapped both feet in bounds before landing, but the Ravens didn't review.
Baltimore got another Stover field goal before putting together a six-play, 44-yard march that keyed on fullback Le'Ron McClain's 25-yard catch-and-run down to the red zone.
Sitting on the 4-yard line, offensive coordinator Cam Cameron called for the Ravens' jumbo package, with Willie Anderson in at right tackle, regular right tackle Adam Terry reporting as an eligible receiver, and the 260-pound Lorenzo Neal and McClain in the backfield.
Thinking Baltimore was running, the Steelers packed the box, allowing tight end Daniel Wilcox to sneak to the back corner. Flacco lofted a perfect shot to Wilcox for the 13-3 lead.
The Ravens came out of halftime and forced two three-and-outs before the Steelers' outburst.
Flacco remained unfazed in the hostile Heinz Field, where he played his first two years of college football with the University of Pittsburgh before transferring to Delaware. Behind seven points in the fourth quarter, Flacco connected with Mason for 15, 10 and 35 yards on a series that culminated in McClain's 2-yard touchdown rumble.
"We just decided to do what we always do," stated left guard Ben Grubbs. "We have faith in Joe, I have faith in the other guys on the offensive line. We just came out there and executed, and it paid off."
Just not enough in Monday's bout. The Ravens are happy, however, that the rematch is already scheduled (Dec. 14).
Injury Update:In addition to Mendenhall, Steelers starting right guard Kendall Simmons left the game with a torn Achilles tendon… Pittsburgh linebacker Andre Frazier was carterd off the field on a stretcher after the opening kickoff when he was hit by Ravens safety Haruki Nakamura. Frazier seemed to have movement in some of his extremities while being monitored by the Steelers' medical team…McGahee had his chest X-rayed, but no fractures showed up. **