During training camp, Ravens Defensive Coordinator Wink Martindale told his entire defense that Anthony Averett was the team's third-best cornerback – trailing only Pro Bowlers Marlon Humphrey and Marcus Peters.
The Ravens have long felt Averett would be a starter on just about every other NFL team. He was just blocked in Baltimore. Now with Peters out with a season-ending ACL tear, Averett has his chance to prove it.
Of course, it's not the circumstances anybody would want, but this is how it often happens in the NFL. A starter gets hurt and the next guy up gets his chance. For Averett, he's been waiting for a long time – three years.
"We're all confident in him. The sky is the limit for him," safety Chuck Clark said Friday. "We know what type of corner he is, what type of skill set he has. We've seen him in the past go out and cover top receivers in this league, and it's been done quietly, and now it's his time to do it all the time, consistently."
Averett was accustomed to waiting his turn. He didn't become a defensive starter until his fourth year at Alabama. Once he did, he shined playing opposite Humphrey. After Humphrey went to the NFL, Averett was the top cornerback on a defense that led Alabama to a national championship.
"Once I got on the field, I just never looked back," Averett said on a recent appearance on "The Lounge" podcast.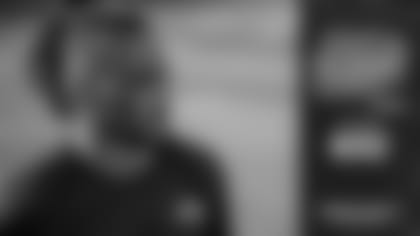 312: Anthony Averett Stops By The Lounge
Cornerback Anthony Averett talks about his unique journey, his mindset entering a key fourth season, and what it's like being part of the NFL's top secondary.
The Ravens picked Averett in the fourth round in 2018, but Baltimore already had Humphrey and Jimmy Smith on the outside.
Averett played in 11 games as a rookie and nine in his second NFL season, but almost exclusively on special teams. Last year, he became a top reserve who stepped in for Smith when he was injured, but Averett suffered a shoulder injury not long after getting his chance.
Entering a contract year, Averett knew this season was going to be big for his career, and he put together a strong training camp to show he'd be ready when called upon.
"I'm confident in Anthony Averett, for sure," Head Coach John Harbaugh said. "Anthony has had a great camp. You saw him all throughout – he's ready to go."
With Smith rehabbing from an ankle injury (he returned to practice this week but his gameday status is unknown), Averett will likely get the call on Monday Night Football in Las Vegas – and potentially for the rest of the season.
He obviously didn't know that was on the horizon when he spoke on "The Lounge" a week ago, but Averett said then that he would be ready to be a starter if needed.
"I've basically been doing it all camp, preseason as well," Averett said. "That gave me more confidence. And just running off back of last year when I started those last few games. Last year, I played real well, so that gave me confidence.
"I always had confidence. Even in college, I was quiet, but I always played with confidence. I always played loud."
Averett doesn't have the trash-talking swagger that Peters brings, but the confidence is still there. He also said that he has spent a lot of time learning from Peters, bringing him up when discussing where he's made his biggest improvements.
"Seeing more, especially my zone eyes," Averett said. "Watching MP, I watch him a lot, just to see what he's looking at, what route's coming. It's not just straight off reaction. A lot of things I used to do in the past was really just reaction because I'm fast and twitchy. Now I kind of feel like when the route is coming, I already know what's coming."
One big difference between Peters and Averett is their interceptions. Peters has 31 career picks in six seasons, more than anyone else in the league. Averett is looking for his first in the NFL and had one in college.
Asked how much he's looking forward to getting his first NFL interception, Averett laughed, "I think about it every day."