The jig is up. The Baltimore Ravens defense is once again one of the best in the NFL.
That's not opinion, it's fact.
If measuring by points allowed, the Ravens are now the NFL's second-stingiest team behind the Rex Ryan-coached New York Jets.
The Ravens earned that distinction with their second defensive shutout Sunday night against the Chicago Bears, in which they tied a franchise record with six forced turnovers.
The Ravens average 16 points per game allowed, 0.5 points more than the Jets. Since their bye in Week 6, however, the Ravens have allowed the fewest points per game in the NFL at 11.9.
"I think we've been playing good defense for a long time now," cornerback Domonique Foxworth said. "It's not widely reported, which we prefer and is fine. I like people to think we're not very good. They should keep that going."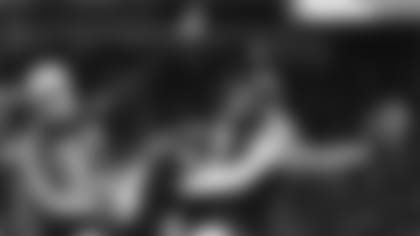 Foxworth notched two interceptions, Jarret Johnson logged his second pick of the season and Frank Walker nabbed an interception too. Haloti Ngata
forced and recovered a fumble and David Tyree had a lost ball fall right into his arms on a kickoff return.
The Ravens surrendered just 220 total yards and held gun-slinging Jay Cutler to the lowest rating ever recorded by an opposing quarterback – 7.9. It's the first time the Ravens have tallied six turnovers since Oct. 14, 2007. The franchise had done it five times before Sunday.
"We're having a great time out there," Ngata said. "It builds a lot of character when we are out there having fun. We're coming together."
Like he has before, Ngata gave credit to first-year defensive coordinator Greg Mattison for calling the right plays and putting players where they are supposed to be.
Mattison and the Ravens' defense came under fire after giving up 33 points to the Minnesota Vikings in Week 6. At that time, the defense was allowing more than 21 points per game and had been run over by back-to-back 100-yard rushers.
Ngata said it's been a process for the players to learn Mattison's play-calling and for Mattison to get used to the players.
"[Mattison] counts more on our defensive line to get pressure on the quarterback. Rex was more about confusing offenses and getting mismatches," Ngata said. "Once we knew what each other was all about, it just all clicked."
It was clicking from the start Sunday. Foxworth intercepted Cutler on the Bears' opening drive, setting up a Ravens early touchdown strike. Then, after the Bears converted on a fourth-and-1 deep in Ravens territory, Johnson tipped a Cutler pass and made the juggling interception himself. That sparked another Ravens touchdown.
Just like the first half opened with a pair of turnovers, the second half started with two fumbles that broke the game open. Following a Ravens touchdown drive to open the third quarter, cornerback Cary Williams
punched the ball out on a kickoff and it went straight to Tyree. The Ravens' offense needed just five plays to get into the end zone from there.
Then, on the second play of the Bears' next drive, Ngata stripped Bears running back Matt Forte and wrenched the ball out of a scrum. That led to a quick Baltimore field goal for the final score of the game and a 24-point lead.
"Something I think we focus on is creating turnovers on defense, and the offense definitely needs to thrive on that sudden change," Foxworth said. "I think good teams can get a turnover, but great teams convert them."
Foxworth said the Ravens' interceptions were more the result of fastidious film watching than poor play by Cutler. The defensive line also got solid pressure up the middle, which often flushed Cutler from the pocket in which he's so comfortable.
Add it all up and it's a defense that Ngata claimed is playing at the same level as last year's unit that led the Ravens to the AFC championship.
"I think we're just as good," Ngata said. "Guys are doing a great job fighting for each other and making plays we need to."