Mink: With fewer picks than usual, not many needs, and being a team that's in win-now mode, the Ravens are definitely looking for an immediate impact player at No. 22. You want your top pick every year to contribute as soon as possible, but it feels even more important this year.
I think the most pro-ready cornerback that could be available to Baltimore at No. 22 is Deonte Banks. Joey Porter Jr. is a fine player with prototypical size and ability, but scouting reports suggest that he's not a slam-dunk pick because of "undisciplined play and unbalanced change of direction," at least according to The Athletic's Dane Brugler. Porter has premier tools, but there could be a little more polish required to reach his high ceiling. Banks, on the other hand, has more position flexibility, so he could play inside or out immediately. He has the size, athleticism and physicality to match up against a wide range of receivers and was a four-year starter at Maryland. Even if he didn't start immediately outside, Banks would be a big part of Baltimore's defensive back rotation from the jump.
At wide receiver, I'm going to rule out Ohio State's Jaxon Smith-Njigba because I don't expect he'll get close to pick No. 22. Among the best of the rest, I think Jordan Addison is the readiest to step in from Day 1 and contribute. Addison's route-running is top-notch and would immediately allow him to get separation in the NFL. He also has the speed to challenge all parts of the field. I love Zay Flowers from Boston College, but his size (5-foot-9, 182 pounds) creates questions about how quickly he'll adjust to the size and strength of the NFL. To be fair, Addison does have some of those same questions at just 173 pounds. Both wideouts could immediately excel in the slot, allowing Odell Beckham Jr. and Rashod Bateman to feast outside. Both Addison and Flowers can help Day 1, but I'll give Addison the slight edge.
Downing: It's no secret that Eric DeCosta prefers to accumulate picks on draft weekend. There is undeniably an element of luck associated with the draft, and stockpiling picks is a way to help increase the odds of landing game-changing players. When the Ravens are on the clock at pick No. 22, I expect them to use their entire 10 minutes before deciding to turn in a draft card. But my feeling is that the Ravens will ultimately pick at No. 22. Yes, DeCosta and the Ravens love to add picks, but they need a trade partner to pull off the deal. Based on the depth of this draft and a perceived lack of talent difference after the first 15-20 players, there may not be teams clamoring to move up to Baltimore's spot at 22. If the phone doesn't ring, the Ravens will be prepared to pick.
The other important factor here is that the Ravens don't have room for a huge draft class. They drafted 11 players last year and have selected 29 players over the last three years. Strategically, they knew this year would be a leaner draft in terms of number. The focus for this draft is quality over quantity, so I don't expect the Ravens to end up adding a heavy collection of picks this year. If they can add a pick by sliding back a few spots in the first round, and still have a crop of players to choose from who they like, then a trade back would make sense. But I see it far from a guarantee that the Ravens end up with more than five picks in this draft.
Mink: I'll give you a few names to keep an eye on from Rounds 3-6 since the Ravens don't currently have a seventh-round pick.
Third round: Zach Harrison, Ohio State – Downing took Harrison in our seven-round mock drafts, so I'll show Downing some respect and list him too. Harrison was a massive recruit entering college (No. 12 nationally at any position). While he didn't really break out in college, the tools are there.
Fourth round: D.J. Johnson, Oregon – Johnson was a late bloomer who led the Ducks with 6.0 sacks last year. He plays with violence and hustle and fits the Ravens' mold as an athletic stand-up 3-4 rusher.
Fifth round: Mike Morris, Michigan – There's the obvious connection to Mike Macdonald, who coached Morris in 2021. He comes from "The Muck" in Florida, the same place that produced former Ravens outside linebacker Pernell McPhee and wide receiver Anquan Boldin. Morris has the area's trademark physicality and "dog" to his game and could be a strong run defender as he broadens his skills and adds some size.
Sixth round: Caleb Murphy, Ferris State – Murphy is a player I strongly considered taking in my seven-round mock. Ferris State may ring a bell because it's where the Ravens discovered Zach Sieler in 2018, and Sieler has turned out to be a very good NFL player. Murphy led college football with 25.5 sacks last season, breaking Terrell Suggs' single-season sack record and becoming the first-ever Hendricks Award (nation's top defensive end) winner from outside the FBS. Murphy finished his career with a whopping 41 sacks and 64 tackles for loss. The competition level will rise dramatically in the NFL, but that kind of production can't be ignored for a prospect who could be available in the sixth round.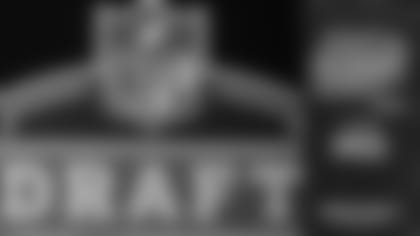 455: Our Seven-Round Mock Drafts
Mink and Garrett make their five picks and explain their reasoning for the Ravens in the 2023 draft.
Downing: *The draft room is a stressful, busy place, but the Ravens spend all year preparing for the weekend so they can make clear decisions in the heat of the moment. They are confident in the work from their scouts, so they trust the board they have built. In that regard, the scouts are an unsung hero of draft weekend. They spend all year on the road watching games, practices and tape, and learn about hundreds of players in college football. Their evaluations allow the Ravens to make the best possible decisions on draft weekend, even though much of that work happens behind the scenes.
A couple of other people who play a big role in the process are Nick Matteo and Pat Moriarty. They work the trade charts to consider the value of moving up or back in the draft, and that's a critical piece of the decision-making process. Steve Bisciotti is also highly involved in that process, and DeCosta and John Harbaugh have talked about the way he often thinks outside the box when it comes to navigating all the various scenarios of a draft.
Lastly, and this is near-and-dear to my heart, the catering staff deserves a shout-out for their work around the clock! Draft weekend is a time to load up on snacks and ice cream to get through the slow times of the draft, and the catering crew makes sure that everybody leaves the Under Armour Performance Center well fed at the end of each night.