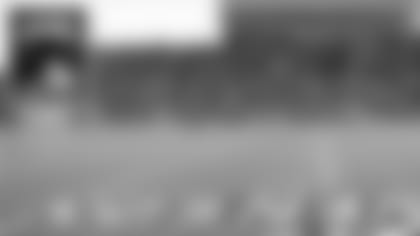 The Ravens training camp officially wrapped up on Thursday, but the team is holding one more open practice away from the Under Armour Performance Center.
The team will practice at Stevenson University in Owings Mills at 3:30 p.m. on Sunday.
The event is free, but tickets were distributed based on a lottery on the website, and all of the tickets have been assigned. Fans without a ticket will not be able to gain admittance at the gate.
Sunday's event is the third offsite practice the Ravens have held during training camp, as the team also practiced at M&T Bank Stadium and Navy-Marine Corps Memorial Stadium in Annapolis.
"It's just great to see the fans out, to see the support that Baltimore has out here," cornerback Lardarius Webb said last week.
Practicing at Stevenson will continue the budding relationship the Ravens have with the university. Inside the concourse at Stevenson's stadium is a large backdrop of the Ravens logo.
Next to the photo is a plaque with the words: "This Ravens reminds us of the discipline, endurance and courage seen on these fields both in the past and present as we grow as champions – on and off the field."