McKinney was a little-known substitute originally signed off the street last October. Freshly after being released by the San Diego Chargers, the 6-foot-2, 324-pounder filled the void left by stalwart starter **Kelly Gregg**, who was placed on Injured Reserve in Week 5 because of a knee injury that required micro-fracture surgery.
Seeing action in 11 games in 2008, McKinney admitted that he relied on his sheer size and strength at first before more experience with the Ravens' coaching staff turned him into a regular contributor.
"I think that was the biggest thing," McKinney said. "They gave me a chance. When I first got to Baltimore, I just said, line me up and I can play football. As the season went along, I grasped the technique and the defense, and I got a lot more confident in my play."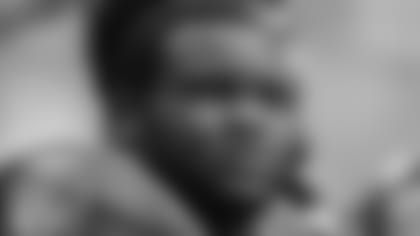 Coaches noticed his development, as well.
As a part of the NFL's third-rated rushing defense, McKinney posted 19 tackles and recovered a fumble.
"You could see throughout the year that there was steady improvement," said defensive coordinator **Greg Mattison**. "That's a trademark of the job that defensive line coach] [**Clarence Brooks** does with our guys. The pattern has been set with them. It's not acceptable to do things that way they might have done in other places, and Brandon really bought into that. There were times when he did some really good things."
McKinney's deal is for three years. The Ravens' organization does not release financial terms of contracts.
"It's always good to know that the team puts some trust in you," said McKinney, who claims he will attend all offseason workouts after training for the next few weeks in California. "It's easier to go into the season knowing that you have the backing of the team.
"But that's only the beginning. I'm ready to dig in and help this team try to win a Super Bowl this year."
The Michigan State product, entered the NFL in 2006 as a rookie free agent with the Chargers. Before joining the Ravens, he had played in 20 regular-season contests.
Now, he bolsters what is one of the league's most fearsome defensive fronts. McKinney will play alongside Haloti Ngata![](/team/roster/haloti-ngata/9225ada6-37a5-4b66-9776-1b6e4df2fb50/ "Haloti Ngata"), whom many analysts believed was snubbed from the Pro Bowl this year, Gregg, widely considered one of the most underrated tackles in the NFL, **Justin Bannan** and **Trevor Pryce**.
In addition, versatile defensive lineman **Dwan Edwards** is expected to return in 2009 from a season-ending back injury.
"We've got a lot of great guys that can play a lot of different roles on this defensive line," McKinney said. "It's probably one of the most talented I've been on."